ABOUT
Somewhere away from pollution but full of adventure this virtual paradise on earth has been unknown to the outside world until the great Mountaineer Frank S Smith discovered it in the year 1931. It is famous for its charming and embarking flowers which resembles a kind of fairyland. During ancient times, locals used to call this place 'Pushpawati Valley' because the river originates somewhere near it and was considered a place inhabited by fairies. So, people time for another fantastic floral trek-Best of Uttrakhand treks- The Valley of Flowers.
Bestowed with the rare and exotic Himalayan flora, the Valley of Flowers National Park is a bouquet of nature peacefully snuggled in the West Himalayan region of Uttrakhand. The valley of flowers is a much-sought destination for trekkers, flower lovers, botanists, photographers, and wildlife photographers. How can HikerWolf miss this and also for Smith-Frank Smith who discovered this place?
Let's be a part of the enchanting valley of flowers trek this rainy season!
25 June 2023
9  July  2023
23 July 2023
13 Aug 2023
27 Aug 2023
10 Sept 2023
DURATION
5 nights, 6 days
TRIP COST
₹7,999/- Govindghat/Joshimath to Govindghat/Joshimath
₹10,499/-  Haridwar to Haridwar
Pay just Rs. 2000/- to book this trip at a current discounted price and pay the rest 25 days before the trip date.


Note: We will provide you with complete assistance in planning your travel from your hometown to the meeting point. You are free to choose any mode of transportation, be it train, flight or bus as per your budget and convenience.
BRIEF ITINERARY
Day 1: Haridwar Railway Station -Govind Ghat/ Josimath (2450m) | Drive along Ganga & Alaknanda Rivers
Drive: 280km /9-10 hrs
Meet at Haridwar Railway Station at 06:00 Hrs and get transferred to Govind Ghat/Joshimath by vehicle. Making its way along Ganga and Alaknanda Rivers, the drive is an engaging one. Cross holy towns of Rishikesh, Dev Prayag, and Rudra Prayag. Reach the destination and relax in a beautiful lodge. Overnight will be spent in the lodge.
Day 2: Govind Ghat (3050m) – Ghangaria | Ghangaria Trek, Trail the valley of flowers trek
Drive: 1hr | Trek 4-5hrs
Today, wake up early morning for a trek to Ghangaria. Trail the valley of flowers trek through forest area and villages and the sights of the waterfall and verdant landscapes. After covering 11km in 4-5 hours, reach Ghangaria. If you wish, you can also hire a mule or use the helicopter service to reach Ghangaria.
Day 3: Ghangaria (3050m) – Valley of Flowers (3600m) – Ghangaria | Valley of Flowers National Park
Trek: 4-5hrs
This balmy day, look forward to a short climb to the valley, moderate gradient and fetching landscapes. It will take you around 2 hours to reach the famous Valley of Flowers National Park. Feast your eyes on vast meadows dotted with vibrant alpine flowers, many streams, and lofty mountains.
The Valley of Flowers National Park, with its rich biodiversity, flora and fauna, will leave you spellbound by the beauty of nature. You can spot various endangered yet majestic animals at the park such as red fox, snow leopard, and musk deer.
Right at the entrance famous Valley of Flowers National Park, stands the snowy Ratban Parvat Peak, on the left is Nar Parvat and on the right is the dense Birch Forest. Unravel the charms of the region over a good 3-4 hours. Head back to the camp/Lodge at Ghangaria.
Day 4: Ghangaria (3050m) – Hemkund Sahib (4329m) – Ghangaria (3050m) | Hemkund Sahib, Laxman Mandir
Trek: 6-7hrs
Ascend to Hemkund Sahib, a revered Sikh Shrine built next to the mesmerizing lake (ringed by wildflowers with Brahmkamal being the most popular) over 3-4 hours. Expect steep climbs at some places. Once there, soak in the beauty of the place as sip on the piping hot tea served at the Gurudwara (shrine). Visit Laxman Mandir next to the Gurudwara. By noon, retreat to Ghangaria.
Overnight will be spent at the campsite/Lodge.
Day 5: Ghangaria –Govindghat | Valley of Flowers Trek
Trek: 3-4hrs
On this day, we will trace the valley of flowers trek back to Govindghat. Plonked on the banks of holy Alaknanda and with Neelkanth Peak as the backdrop, this place of worship makes for a riveting destination, especially for those into spirituality. Here are sulfur water pools and fresh air.
Later in the evening, you head to the lodge in Govind Ghat. Take a shower and dig into a delectable meal. Overnight will be spent in the lodge.
Day 6: Govindghat- Haridwar | Valley of Flower Trip Ends Here
Drive: 280km/8-9hrs
Dig into breakfast and drive down Haridwar. The trip ends here…
Images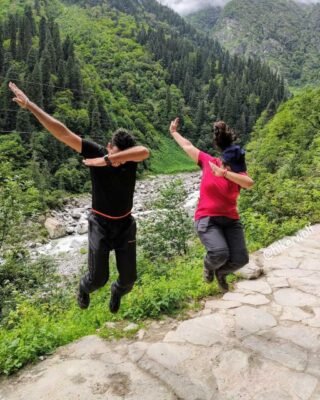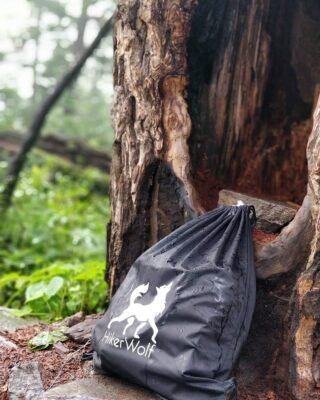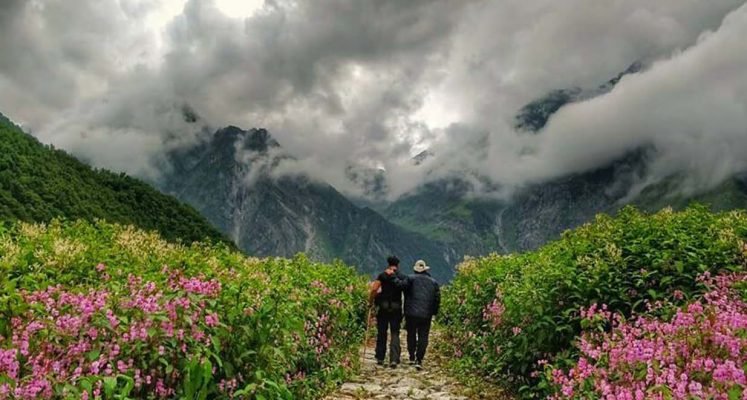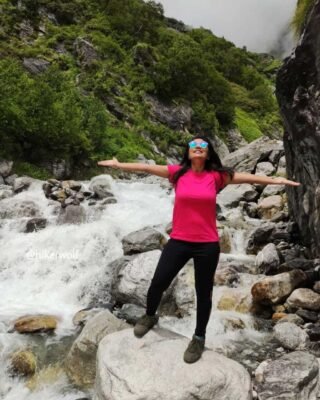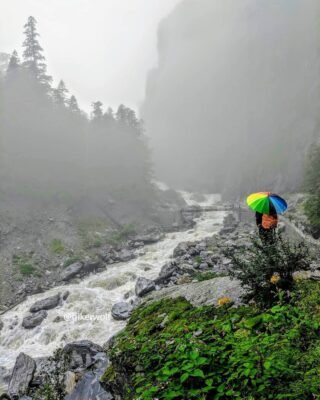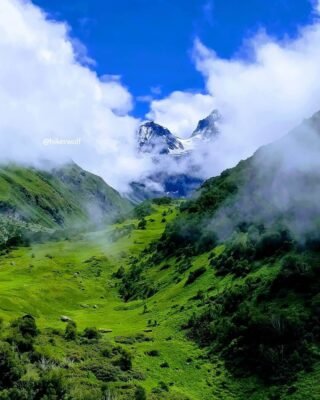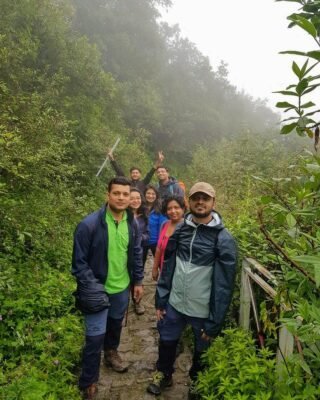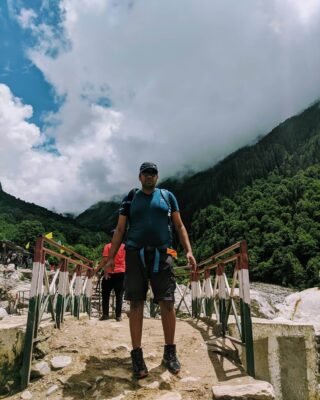 INCLUSIONS
Veg meals while on the trek
First aid medical kits,
Qualified and experienced trek leader, guide, and support staff.
All NECESSARY forest Permits.
Transportation from Govind ghat to Govind ghat
EXCLUSION
Personal expenses like portages, tips, laundry, mineral water, etc
Any activity not mentioned in the inclusions
5% GST
Travel Insurance
Additional costs due to flight cancellation/ roadblocks, Political unrest, etc
Transportation from Haridwar to Govind ghat and back. If needed, transportation will be provided (Rs 2500) and will be charged additionally.
Any kind of personal expenses.
Any kind of food during transit.
Unscheduled or extended stay due to roadblock
THINGS TO CARRY
Bare Necessities:
Trekking shoes
Backpack (40-60 litres): Rain cover for the backpack is essential.
Daypack (20 litres): You will need a smaller backpack to carry water, a medical kit and some light snacks for your trek to the Valley of Flowers and Hemkund Sahib.
The Valley of Flowers trek happens during monsoons so make sure you take a poncho for this trek.
Clothes:
Three Warm Layers
Two Trek Pants
Three Collared T-Shirt
Thermal
Accessories:
Sunglasses (Compulsory)
Sun caps
Synthetic Hand Gloves
Balaclava
Socks (2 pairs)
Headlamp/LED torch: Mandatory
Others:
Toiletries: Sunscreen, moisturizer, light towel, lip balm, toilet paper, toothbrush, toothpaste, hand sanitiser. Do not carry wet wipes since these are not biodegradable. If you do happen to use wet wipes to clean up after a trek, make sure you bring them back with you. The same holds for used sanitary napkins. Carry a ziplock bag to put used wet tissues and napkins. Bring this ziplock bag back with you to the city and do not dispose of wet tissues and sanitary napkins in the mountains.
Cutlery: Carry a spoon, coffee mug, and a lunch box. We insist on trekkers getting their own cutlery for hygiene reasons.
Two water bottles: 1 litre each
Plastic covers: While packing, use plastic bags to compartmentalize things and carry a few extra plastic bags for wet clothes.
Mandatory Personal Medical Kit:
Diamox – 10 tablets (to prevent AMS)
Dexamethasone – one strip
Nifedipine – 5 tablets
Crocin – 6 tablets (fever)
Avomine – 4 tablets (motion sickness)
Avil 25mg – 4 tablets (allergies)
Combiflam – 4 tablets (Pain killer)
Norflox TZ & Lomofen– 6 tablets each (diarrhoea)
Digene – 10 tablets (acidity)
Omez/ Rantadine – 10 tablets (antacids)
Crepe bandage – 3 to 5 meters
Gauze – 1 small roll
Band-aid – 10 strips
Cotton – 1 small roll
ORS – 10 packets
Betadine or any antiseptic cream
Moov spray (aches, & sprains)
Knee cap, if you are prone to a knee injury
Anti-fungal powder
Documents: 
Original and Copy of Identity Proof
NOTE: Do not carry any valuables. Please take care of it in case you are carrying the same. We will not be responsible if you lose them by any chance.
DETAILED ITINERARY
Day 1:

Haridwar Railway Station -Govind Ghat (2450m) | Drive along Ganga & Alaknanda Rivers
Drive: 280 km 
Let's start our journey! Here is the day, we will all meet at Haridwar railway station at @6:00 and leave for Govind ghat in A private vehicle. The trek to Valley of Flowers National Park starts a little beyond Joshimath, at a pilgrim hamlet called Govind Ghat.
The nine-hour drive to Joshimath will surely be long and arduous, but you are never going to run out of mesmerizing views. We will reach Govindghat by evening positioned at the bank of River Alaknanda. Relish the splendid scenes around and relax in the lodge and be ready and excited for the journey the next morning.
Day 2:

Govind Ghat (3050m) – Ghangaria | Ghangaria Trek, Trail the valley of flowers trek
Early morning post breakfast we will leave for our actual trek journey towards Ghangaria. It's a 4-5 hrs journey where we will pass through forest areas, and villages and before reaching Ghangaria also have fun in gushing waterfall named Laxman waterfall.
Day 3:

Ghangaria (3050m) – Valley of Flowers (3600m) – Ghangaria | Valley of Flowers National Park
Begin your day with a healthy breakfast. Scale tallness of 3,858m to arrive at the Valley of Flowers. This site is a devour to the eyes and treat for the spirit. Your ears are blessed with the sounds of chirping birds and rhythmic flowing water. There is no pollution and life of natural beauty awaits here. The valley of flowers trek is drenched with extrinsic flora and fauna and it also gives mesmerizing views of the snow-clad mountains, hilltops and edgy cliffs.
The valley of flower national park is thousand times stupendous than you might have imagined. It truly makes the Himalayan peaks lively and cherishing. Blue Poppy, Snake Foil, White Leaf Hog Foot, Himalayan Rose, Meadow Geranium, Dog Flower, and Hooked Stick Seed are the native flowers. Walk further into the valley and you will be engulfed with an amazing scent, which unfortunately cannot be captured but can only be felt. Right at the entrance of the Valley of Flowers National Park is the snowy Ratban parvat peak, on the left Nar parvat and on the right is the dense birch forest. Unravel these exotic beauties with a lot of freshness, and pictures and let your soul free to this never-before amazement
After a good 3-4 hrs exploration, we will head back to Our lodge in Ghangaria
Day 4:

Ghangaria (3050m) – Hemkund Sahib (4329m) – Ghangaria (3050m) | Hemkund Sahib, Laxman Mandir
Another big day! Today after breakfast, you'll take a precarious trail to Hemkund Sahib to visit the religious site where Guru Gobind Singh is said to have meditated in a previous life. Leave by 7 am and reach this pious Gurudwara. The high-altitude lake is a treat for nature lovers. The trail today will be similar to previous days' stone-paved and continuous ascend.
Start trek up the steep path slowly but steadily. Spot a pretty waterfall on your right falling through the rock walls on the right. After about 2 hours of walking, you are higher than the tree line and the views begin to get better. An hour of stiff climbing brings you to Hemkund Sahib Gurudwara. Hemkund Sahib is the highest gurudwara in the world. Amidst snow-clad mountains and a beautiful lake alongside, this place is serene and spiritual. The lake is reposing at an astounding altitude of 13500 ft above sea level. Let's have a dip and leave our sins and refresh for a new life.
Soak in the beauty of this place with a hot cup of chai served at Gurudwara. After spending mesmerizing time here back in Ghangaria. Overnight in the lodge.
Day 5:

Ghangaria – Govindghat | Valley of Flowers Trek
On this day we will head back to Govindghat in between enjoying Alaknanda with Neelkanth peak. This place of worship makes for a riveting destination, especially for those into spirituality. Also, we have some sulfur water pools with flavours of lush greenery and fresh air. Later head to Govind ghat lodge and recollect all your memories and spend an amazing night with our group dancing playing and whatnot.
Day 6:

Govindghat- Haridwar | Valley of Flower Trip Ends Here
The day when we will end our journey as we leave early morning for Haridwar with a pack full of fresh soul, lots of pictures new friendships and best memories.
1. What will be the group Size?
We prefer to have a group of 15-18 people as we intend to have more fun and give personal care.
We need at least 6 people to kick start our treks.
2. Who will accompany us on the Trek?
All our treks are led by certified professional trekking leaders, climbers. In addition to them, there will be a local guide, a cook, an assistant, porters, and other staff.
3. I am joining as a solo girl and/or traveling for the first time, is it safe to travel/trek alone?
Safety is of prime importance and we understand them very well. The major of our staff is a girl for that very reason so be assured you are in safe and reliable hands.
4. What type of ground transportation will be used during the trip?
We rent taxis such as Innova, Tempo Traveler, Bolero, Tata Sumo, etc. from our suppliers.
5. I can't carry my backpack/bag while trekking, can I offload it?
We always recommend carrying the backpack while trekking to help maintain body posture. If you can't, we can provide you with a mule/porter to carry your backpack. I want this service you must inform us at least 1 week before the trek. The offloading fee would be around INR 300 per person per day.
6. What shoes should I buy?
Shoes are the lifeline during the trek. It is highly recommended to buy trekking shoes for a well well-known brand. You can consider companies like Quechua, Columbia, etc. A waterproof shoe with ankle support will work well.
7. Are there bathrooms/toilets facilities available during the excursion?
During the trek, separate toilet tents will be installed on each campsite.
8. What will be the type of accommodation?
Accommodation is in dome tents/Homestay.
9. Will you provide sleeping bags and mattresses?
Yes, we will provide sleeping bags and mattresses during the excursion. Our sleeping bags can withstand temperatures down to -10 degrees.
10. How many trekkers will be in a tent?
It totally depends on the dynamics of the group. If there is a couple, we can give them a separate tent. If there is an odd number of people, then the tents would be on triple sharing basis.
11. How can I book a trek with you?
After selecting the trip/excursion, you can book by clicking the Book now button or you can contact us and we will guide you through the booking which is quite easy.
12. What kind of food is served during the trek?
We provide nutritious and healthy food during the trek. We always serve vegetarian Indian food and eggs.
13. How can I get drinking water during the trek?
Himalaya water is considered the purest and safest water to drink. But for safety reasons, we sometimes boil water and use it for drinking and cooking.
If you find clean water while hiking, always fill the water where it flows, not where the water is stable or at rest.
14. Can we change the path?
Yes, you can make suggestions. We will analyze this and, if we consider it feasible, we will apply it.
15. Can the trip/excursion be personalized?
Yes, we can customize any trip/excursion based on your needs and feasibility.
16. Will the doctor accompany us during the walk?
No, but our trekking leaders are certified in the first aid course for wildlife and always carry a first aid kit and oxygen cylinders during high altitude excursions.
17. Do you prefer to take medications with me?
Yes, it is recommended to bring your own medicines while trekking.
18. Is Diamox advisable or not?
Well, it totally depends on the person. There are usually no side effects of Diamox, but if you have previous medical conditions, it is best to consult your doctor.
Our itinerary is designed in such a way that we get sufficient time acclimatized. If in case you have any problem while trekking, inform your trek leader about your condition as soon as possible.
19. What is the minimum age limit to be eligible for the trek?
The Minimum age limit is 14 years
20. What will we do if it rains?
If it starts to rain slowly during the trek, we will continue walking as expected. Your poncho will keep you dry. If it rains a lot, we will try to find a refuge and wait for the rain to stop or subside. If it rains in the field, there would be no problems because all our living tents, our kitchen tents, and our bathroom tents are waterproof. You will stay dry inside.
21. Why is the trekking pole needed?
It differs from person to person. If you think this will help you maintain balance while trekking, bring your cane. Some people believe that walking sticks break the pace while walking. It depends on you