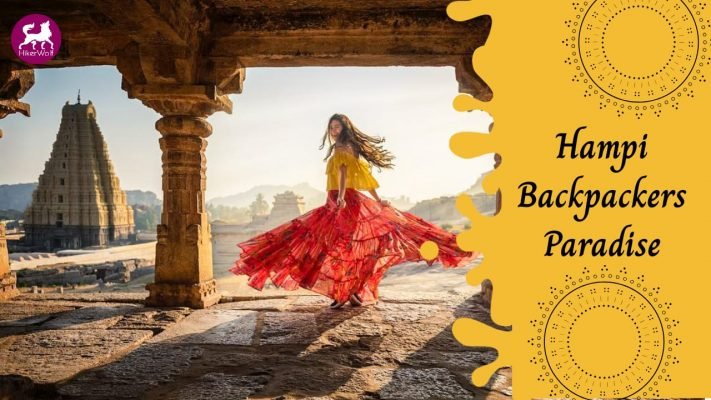 4.9 Rating on Both Google & Facebook
Young Hearted people
Hikerwolf involves travelers of all youth groups from teenagers to adults. i.e., 18-48 years only (young-hearted people)
Safe for Girls
There is majority of girls on the tour (more than 70%) and even in our staff to make you feel comfortable and safer than ever. Your safety is our prime priority.
Highly Enthusiastic Trip Leaders
The enthusiasm in the well-trained leaders itself is a wholesome vibe. Along with them even introverts turn into extroverts in no time.
Best for Solo Traveler
86% of the solo travellers join us and together they turn strangers into friends to remember.
Couple Friendly Group
We, as well as the travellers are most welcoming and cool minded towards everyone. Enjoyment and comfort are the motive all along the trip.
Free Assistance
We will assist you to plan the journey from your hometown to the destination airport and back, with our guidance and free assistance.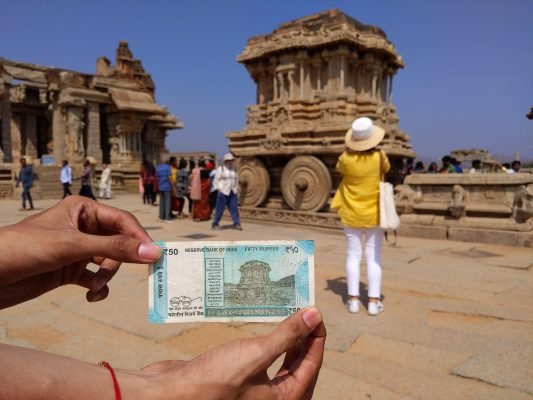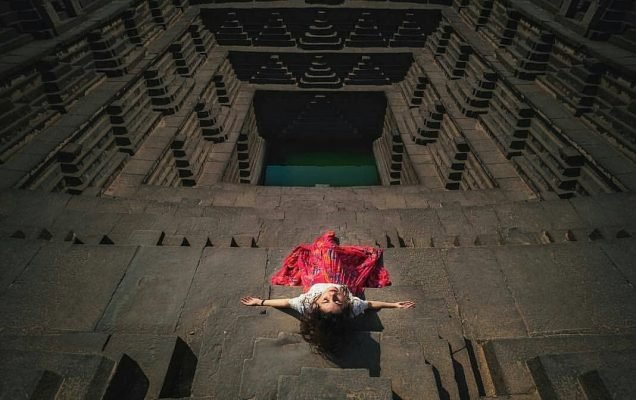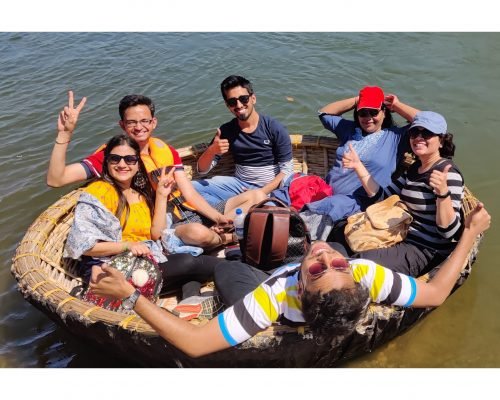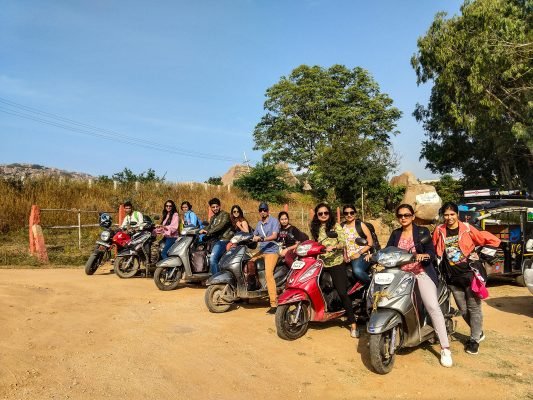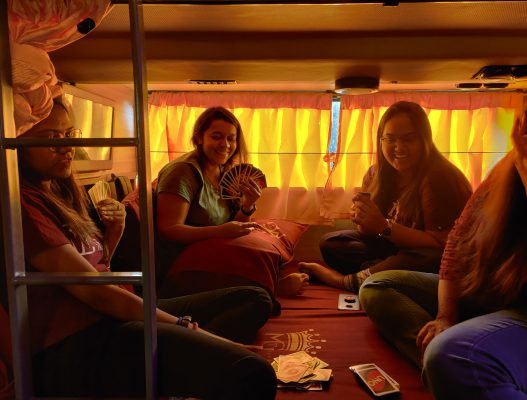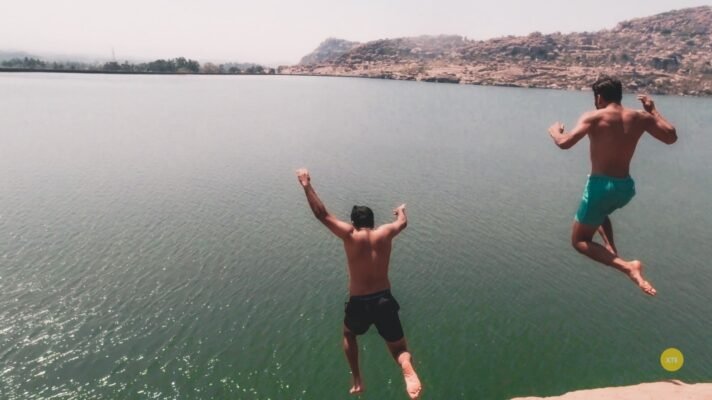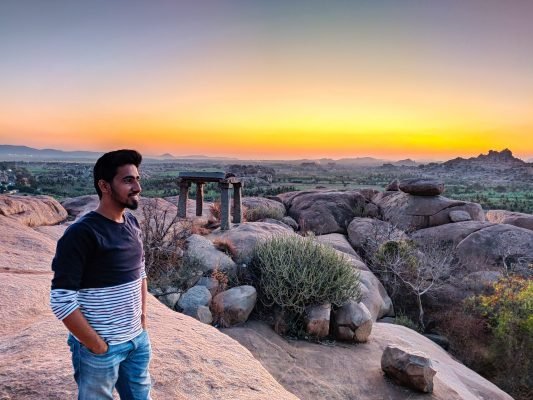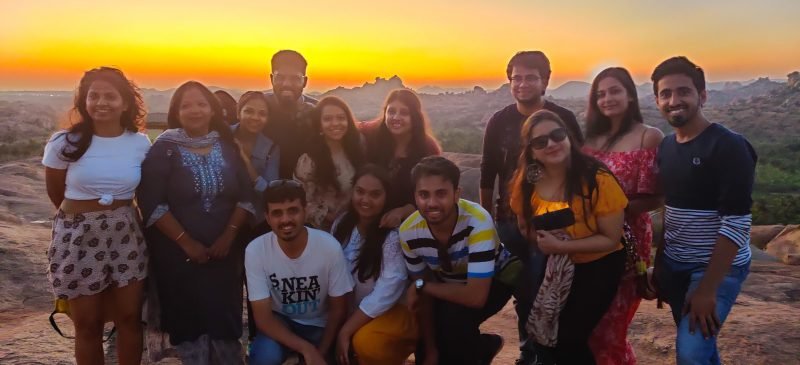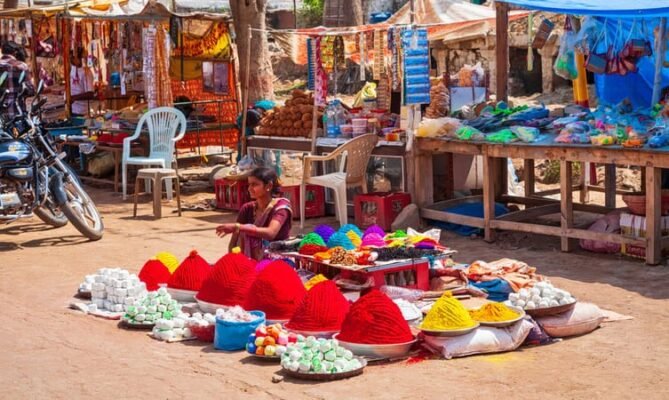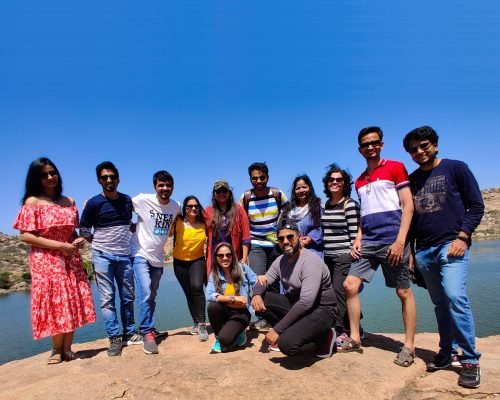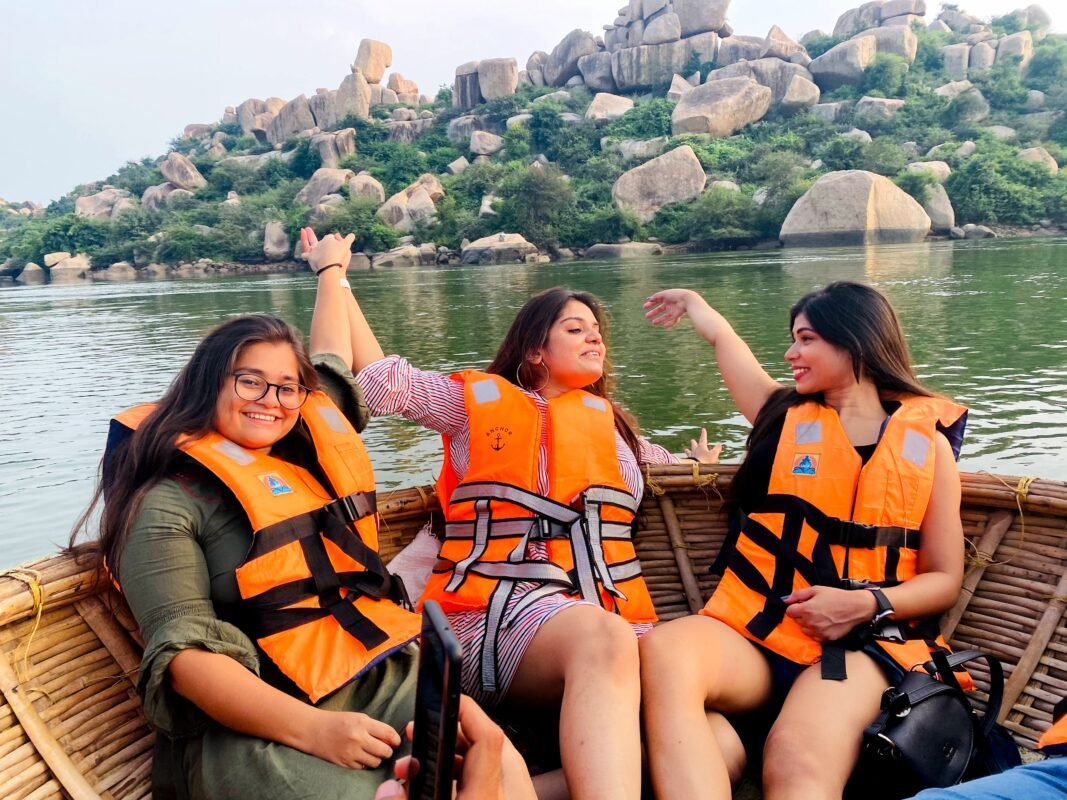 Coracle Ride
Experience the fascinating walnut-shaped boats, aka coracle rides, that sail down in the calm and serene backwaters of Sanspur lake. Hop into one of these coracles and explore the crooks of the lake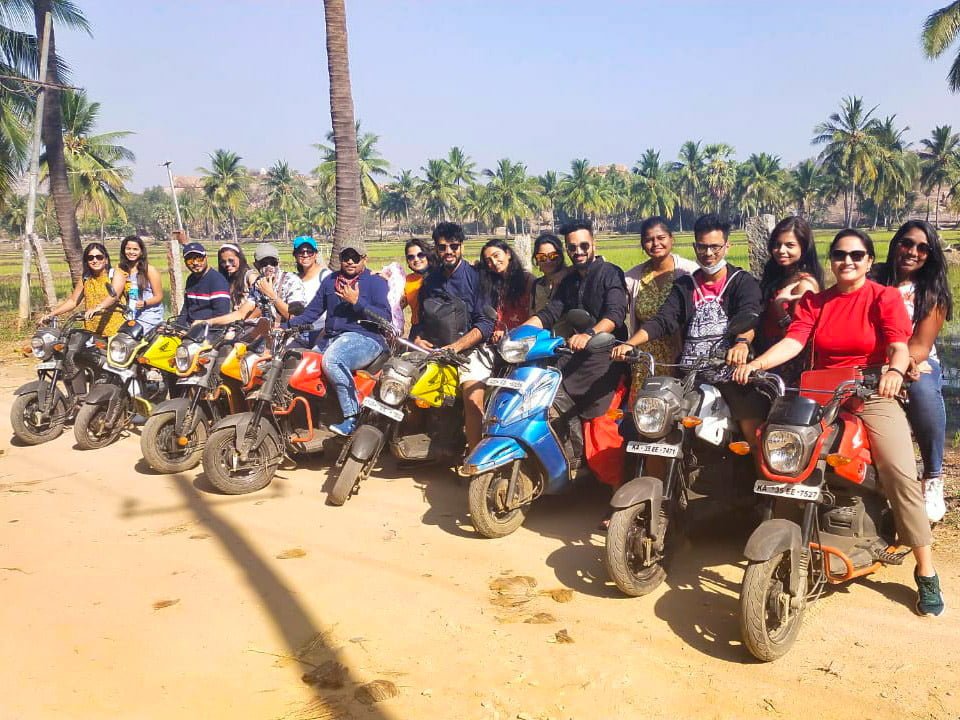 On two wheels.
Hop on a two-wheeler and enjoy the enchanting beauty. Witness the changing landscape with lush green paddy fields, brown desert-like regions, and tranquil lakes greeting you at every corner. Make sure you capture all of this on camera.
Party Dance & Music
Get ready for the party to the fullest. This night has to offer good music, great company, bright lights, and mellow vibes.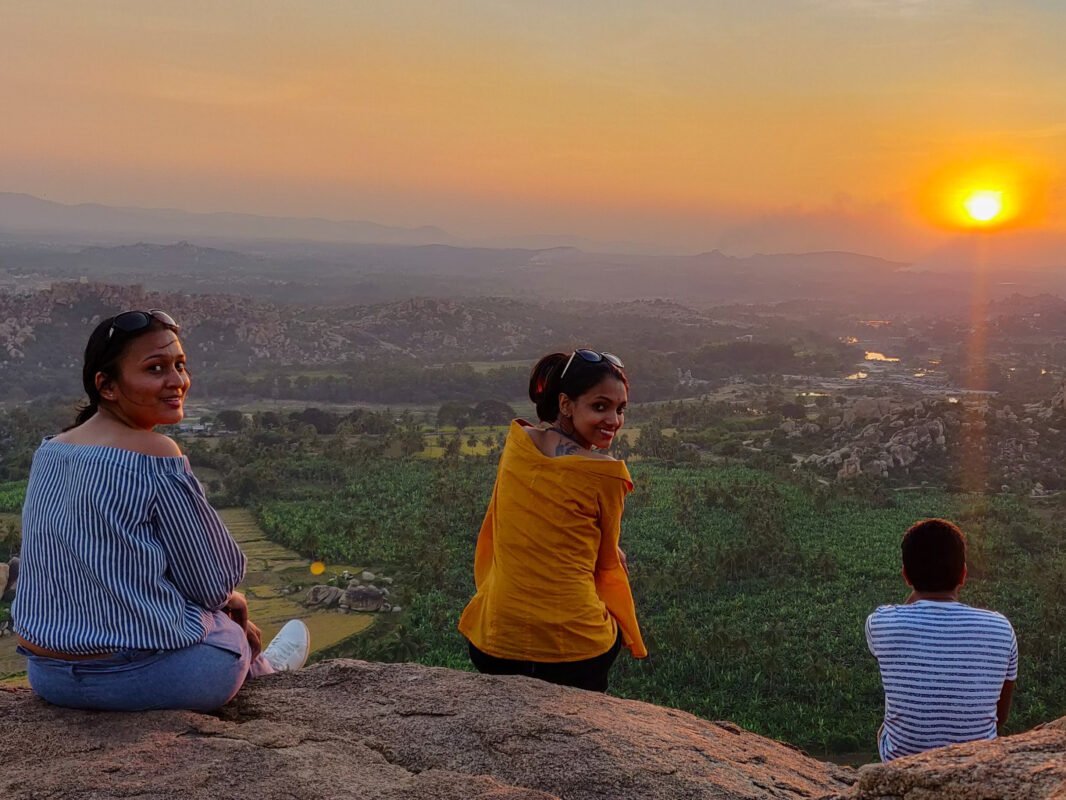 Beautiful Sunset
Watching the sunrise or sunset at Hampi is a beautiful experience. Watching the sun go down between boulders into the river is a fulfilling sight for any traveler. Hampi is heaven if you are a sunset or sunrise lover.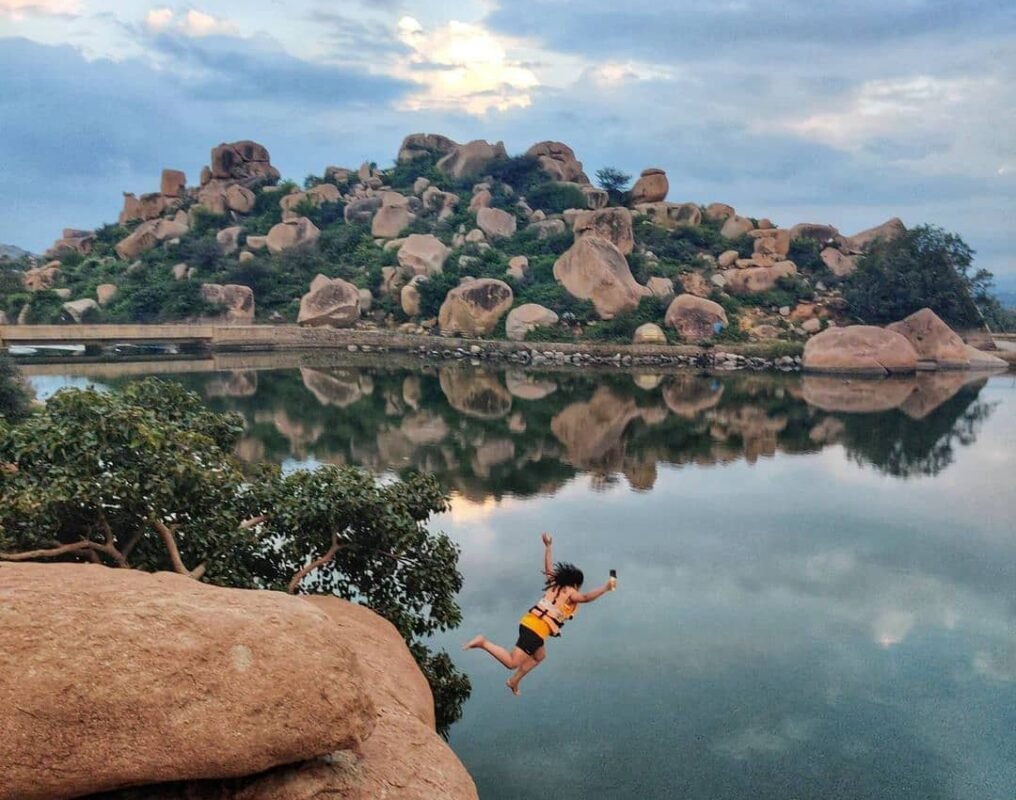 Cliff jumping
In Hampi and craving an adrenaline rush? While there are great views and rustic life to enjoy, set your destination for Sanapur Lake if it's an adventure that you have in mind and go cliff jumping. In about a second, you go from your maximum adrenaline to zero! It is going to be one 'heaven' of an experience!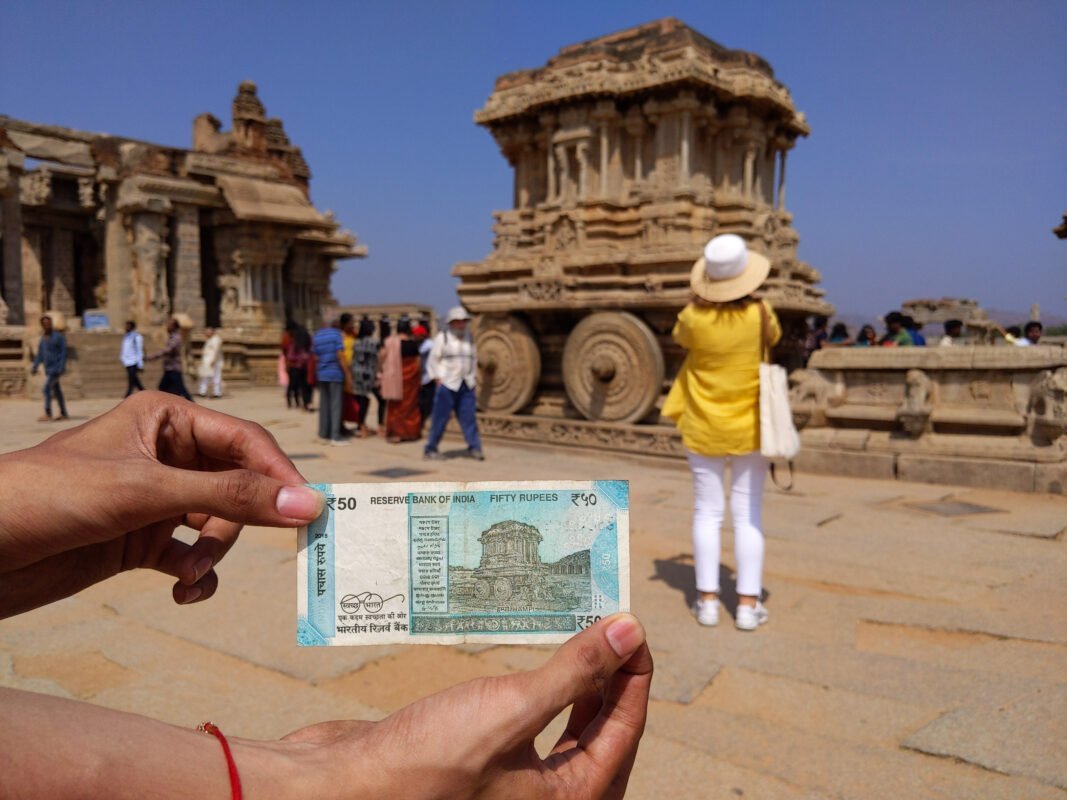 Stone chariot
Considered the most popular attraction in Hampi, this architectural marvel is located within the Vittala Temple complex. Yes, It's the same Stone Chariot that is on our 50 Rupee note. The carvings and sheer beauty of this structure make it a "must-visit" in Hampi.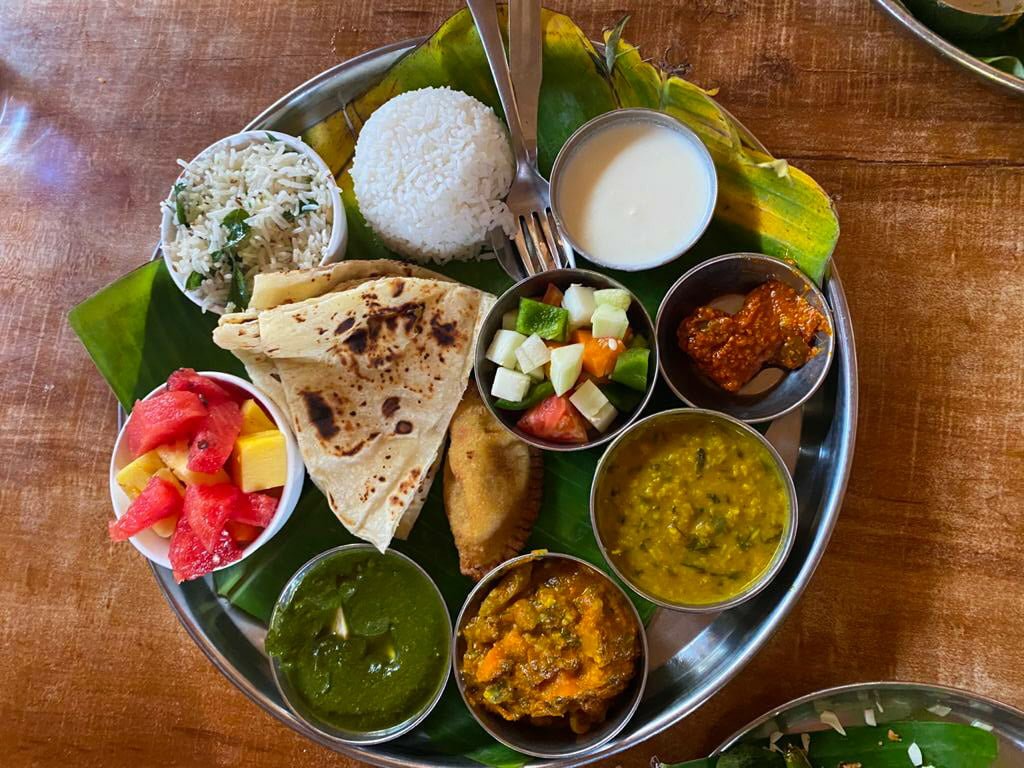 Delicious Food options
Hampi is food heaven. You will enjoy a variety of delicious cuisines in the serine cafes of Hampi. From Continental to Chinese, Italian, North Indian, South Indian, etc. you'll get a lot of variety of food options on the Menu. The most recommend dessert is banoffee pie
Comfortable journey via sleeper buses
On this trip, we are taking a convenient sleeper bus. We will cut the hassle of the journey by sleeping comfortably at the night.