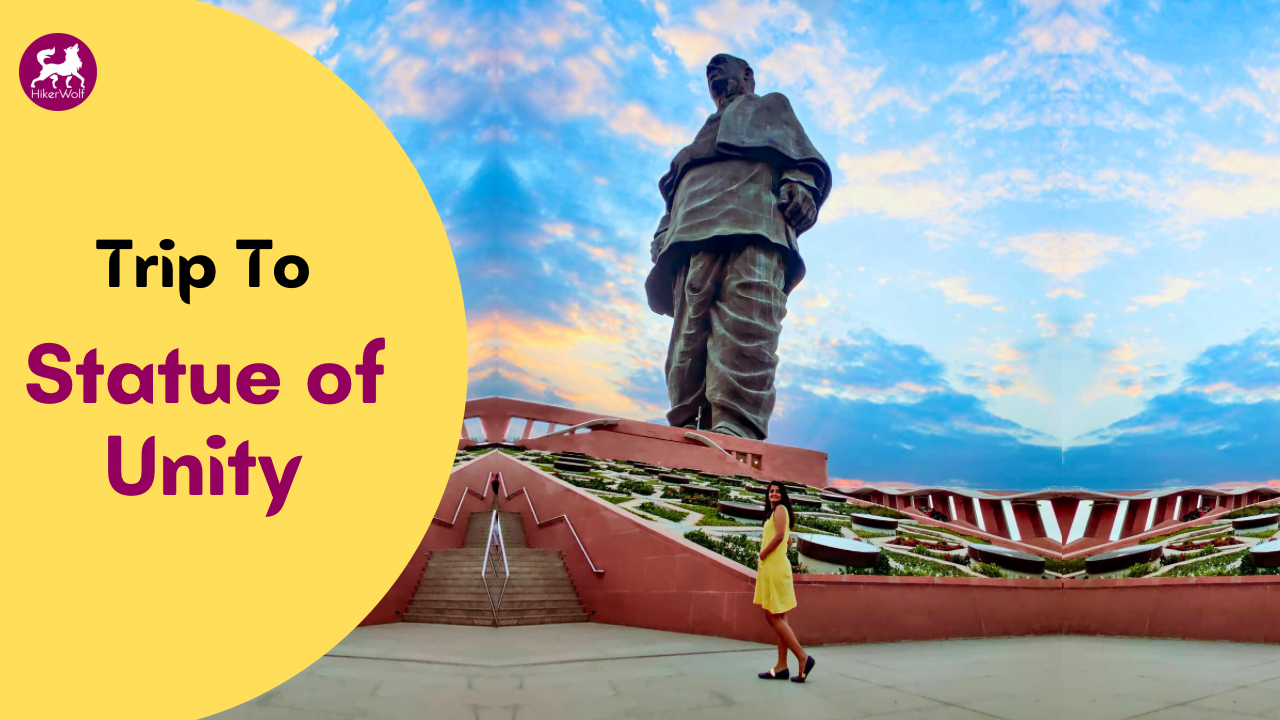 ABOUT
Embark on an unforgettable journey to the Statue of Unity with Hikerwolf, where every detail is meticulously curated for an enriching experience. With Hikerwolf, expect seamless organization, expert guidance, and a community of like-minded travelers, ensuring your trip is not only spectacular but also filled with cherished moments and lifelong memories.
Batches
Price
Without Train Ticktes-
Kids- 4999
Adults – 6000
With Train Ticktes-
Kids with SL – 6000
Kids With Ac – 7500
Adults with SL – 7000
Adults with AC – 8500
Extra amount Dual Sharing room: ₹1000/- per person
NOTE: Block your seat at just ₹2000/- and pay the rest 7 days before the event date.
ITINERARY
Meeting Point for Independent Travelers: Ekta Nagar Station at 07:30 am.
Day 0: 17-Nov, 24-Nov, 08-Dec, 22-Dec, 29-Dec
23:50 pm – Join us at Dadar train station and board the overnight train number 12927 Dadar Ekta Nagar Super Fast Express. Alternatively, you can catch the same train at Borivali at 00.06 am for a comfortable journey.
Day 1:
07:30 am: Arrive at Ekta Nagar station, hop on a quick 10-minute bus ride to Statue of Unity (SOU). Stash your luggage in the Clock room.
08:00 am: Enjoy a hearty breakfast at the Dhaba and venture to the Viewing Gallery on the 45th floor atop the statue.
12:30 pm: Lunchtime at a hotel of your choice (on your own).
01:30 pm: Check into the hotel, take a short break, and freshen up for more sightseeing.
04:00 pm: Explore the enchanting Miyawaki forest.
05:00 pm: Immerse in the beauty of Vishwa Van (Global Forest).
06:00 pm: Visit Dino Garden (If time permits) or head to Sardar Sarovar Dam View Point.
07:00 pm: Catch the mesmerizing Laser show at SOU (Fixed time).
08:00 pm: Marvel at the Glow Garden.
09:00 pm: Return to the hotel, relish a delicious dinner, and unwind for the night.
Day 2:
Begin the day with a wake-up call at 6 am, followed by a prompt checkout and a hearty breakfast at the hotel by 7:30 am.
08:30 am: Embark on a thrilling Jungle Safari and visit the Pet Zone.
12:00 pm: Get lost in the intriguing Maze Garden.
12:30 pm: Savor a leisurely lunch and then make your way to Arogya Van.
01:30 pm: Immerse yourself in the beauty of Arogya Van and explore its wonders.
04:00 pm: Discover the enlightening Nutrition Park.
05:30 pm: Wander through the enchanting Ekta Nursery.
07:00 pm: Witness the awe-inspiring Narmada Aarti and enjoy a captivating laser show.
08:30 pm: Relish a quick munch before heading to the station to catch your train.
Day 3: 16-Oct, 30-Oct, 20-Nov, 27-Nov, 11-Dec, 25-Dec, 01-Jan
Arrive at Borivali at 04:39 am, and Dadar at 05:30 am.
INCLUSION:
Non-AC sleeper class train tickets for Mumbai-Ekta Nagar round trip (if selected).
Local transportation via bus, taxi, or auto for two days.
One-night accommodation in a premium hotel on a triple sharing basis.
Option to upgrade to a twin sharing AC room with an additional charge of $1000 per couple (subject to availability).
Meals provided:
Day 1: Breakfast and Dinner (Vegetarian)
Day 2: Breakfast and Lunch (Vegetarian)
Entry fees for monuments and sightseeing.
Guide charges for a knowledgeable tour experience.
Government and local applicable charges.
Expertise charges to ensure a smooth and enjoyable trip.
Basic first aid for any unforeseen situations.
EXCLUSION:
Meals during train travel and any not specified in the inclusions.
Emergency evacuation or rescue charges (if needed).
Any incidental expenses not covered in the provided package.
Additional activities during sightseeing not mentioned in the itinerary.
THINGS TO CARRY:
Please ensure you have a valid identity proof.
Carry a minimum of 1 liter of water (Avoid plastic bottles).
Don't forget your cap, sunglasses, sunblock, scarf, spare clothes, comfortable footwear, and personal toiletries.
For train travel, bring a bedsheet or sleeping bag.
Keep your phone fully charged for communication.
Consider carrying mosquito repellent (optional).
Pack some ready-to-eat snacks like biscuits or plum cake for those in-between cravings.
Include a change of clothes and anything that ensures your comfort throughout the tour.
Bring any necessary medications; we'll also have a basic first aid kit available. Don't forget items like Glucon D, Electrol, or Enerzyl Powder.
Opt for a backpack or trolley bag, and a smaller pouch for your essentials.
Finally, the most important thing to carry is your enthusiasm and a team spirit ready for adventure!
Note: Do not carry any valuables. Please take care of it in case you are carrying the same. We will not be responsible if you lose them by any chance.
STILL, HAVE QUESTIONS?
Request a callback