Every time a question like "What place would you like to visit?" comes up, the names go around the globe from Switzerland to Japan and whatnot. How about if I told you that all those enjoyable experiences around the snowy Alps and the blossoms of Japan can be experienced within India itself? Chopta, an off-beat destination in Uttarakhand is a place that went synonymous with the beauty of Switzerland. A humble region of settlement with meadows and forests located about 210 kilometers from Rishikesh and 465 kilometers from the common starting point of Delhi. At an altitude of 2,680 meters, Chopta acts as the base point for two infamous trekking spots – Tungnath and Chandrashila treks.
The place is very easy to access as it's situated around motorable roads. It can also easily be located due to its contrasting pine and rhododendron forests.
Why Visit Chopta?
The answer to this could go on and on. Different from any other tourist destination I've been to, this place is an off-beat spot with every touristy aspect attached to it.
What is different about it is that while being completely off-beat, Chopta also has all the facilities and provisions set up for tourists. The perfect go-to for solo travelers, the settlement is never really crowded with tourists, and at the same time is never really an empty land.
Solo traveling to an off-beat destination always means double-checking every option I had. As a woman, my safety is always a primary concern to me, and I had to ensure my trip wasn't placing that factor at a stake.
Not too far away from civilization, Chopta has a population that believes in treating guests on the same parallels as the gods they believe in. Garhwali people are the most down to earth and welcoming people I've come across. This is one of the reasons why safety is never an issue around Chopta.
It is a part of the Kedarnath Wildlife sanctuary, and so, can be easily accessed through public transport. This adds to the next feature of why one should choose Chopta for their next trip.
Never the place that would burn a hole into your pockets, this budget-friendly spot rather takes more of your time and appreciation. Even the activities around do not demand much of spending as it's not a common tourist spot. With less spending, they provide immeasurably exciting adventures!
How to reach Chopta:
Reaching Chopta requires crossing Rishikesh, after which there are two commonly taken routes. A direct bus to Chopta has not yet been made available, so you might have to switch between buses to reach the destination. Since the people are really helpful, it would not be a tiring task to ask for directions and follow the route as well.
If you are driving yourself to Chopta it becomes easier and worth the experience. Considering Delhi as the starting point, you can take the main highway or the upper Ganga canal road and then follow the route to
Haridwar-Srinagar-Rudraprayag–Agastamuni- Duggalbitta and then finally Chopta.
A second route follows the map via Lansdowne to follow a similar way through Srinagar-Rudraprayag-Duggalbitta to Chopta. These are all picturesque spots where you might want to halt and click pictures before reaching the actual destination.
When to visit?
This depends mostly on personal preferences. I had visited Chopta during May and June. This is the period when Chopta experiences the most pleasant weather within the year. The snow would've melted off gradually and it's the right amount of cold and warmth.
Sprinkled around the perfect weather are various colors in the form of dewy flowers. The melting snow makes the scene even more lively and vivid. If snow is on your mind though, the mid-week of January to February would be the perfect timing to visit Chopta.
In October, Autumn gives the rustic nostalgic feel in Chopta. Walking amidst the fallen leaves and hearing them crunch with your strides itself is therapeutic. The valley exhibits its beauty in every shade possible and understanding what experience suits you best is the best time to visit Chopta.
Monsoon visits are never really recommended as it is among the harshest period and extreme care has to be taken while traveling. Especially if you're driving to Chopta, the risks double if you do not plan the routes properly
Where to Stay in Chopta
Tailored to fit into preferences, the accommodation options vary from a humble tent at a campsite to completely facilitated resort houses. Around Chopta itself there are several hotels and guest houses. Many other resorts can be spotted around Duggalbitta and Baniya Kund. Just like I had mentioned earlier most of them are pretty budget-friendly and depending on your requirements the price can vary from Rs.800 to Rs.8000 per day.
Camping can be done around the Deoria Tal or in campsites that fall before Balkan. Since my trek itinerary was directed towards Tungnath, I had pitched my camping equipment en route to Tungnath. Here, there are also the facilities of local dhabas which provide warm food and a Karak chai in the chilling weather.
If you're traveling in the form of groups, there are dormitory facilities that charge you upon the number of beds required. Many among these options are available as there's not much of a tourist rush.
Since I was traveling with the trekking group including the guide, we had opted for this stay during the beginning and end of the trek. It is quite peaceful and cost-effective too.
Things to do:
Chopta in a nutshell is all about taking a break from the crowds and relaxing in the meadows. Spending some time strolling barefoot on the grass, picking the fallen flowers, and keeping one between the pages as a memory, the beauty here lies in the most simple things.
Based on the period you choose to visit the place, you can indulge in other activities as well. Trekking and camping are among the common ones and can be done in every season except for the monsoons.
The trekking plan was divided into three halts –
1. Deoria Tal

This is a shorter and easier trek starting from Deoria Tal till Chopta. The lake area is beyond mesmerizing and the trails set for trekking will engulf you with towering green trees.
The trek would take at least 2 hours because of the steepness that comes along with the altitude of 1300 ft. The period is taken on the assumption that not many pit stops are made en route.
Deoria Tal is also one of the perfect spots for pitching a tent and camping under the stars.
2. Tungnath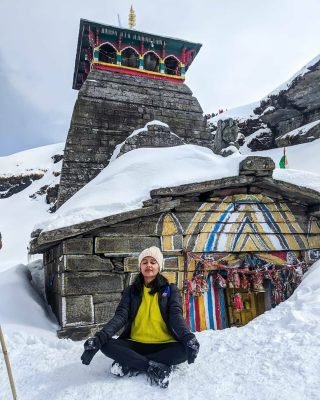 From Chopta there aren't many halts to the trek to Tungnath. So you might have to carry some essentials such as water so that you don't get exhausted.
This is one of the important pilgrimage spots in Uttarakhand. It is home to the highest Shiva temple in the world, at a height of 12073 ft. So there's always several devotees coming by here. Legacy has it that the Pandavas themselves laid down the foundations of the great Tungnath temple
3. Chandrashila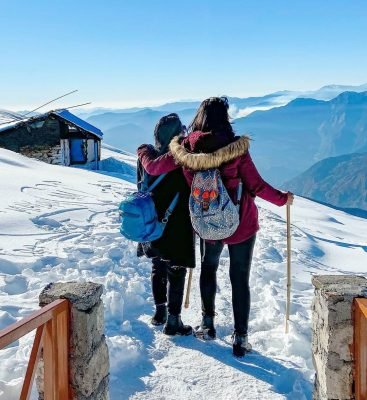 The peak that offers an unfiltered view of the valley below, is a moderately difficult task to ascend. As it is one of the highest points, it receives heavy snowfall, and might not be recommended for trekking by the late months of winter. For a regular trekker, it might take around an hour to trek from Tungnath to Chandrashila. The view of the snow-capped mountains complementing the backdrop is worth all the effort!
Other activities enjoyed here include Rock craft, rock climbing, rappelling which can be arranged with prior planning and on special requests. During the months of snowfall, adventure enthusiasts can strap on their gumboots and go skiing.
If there's one category of people who never fail to visit here, it's the photography enthusiasts. With the interesting culture, mesmerizing landscapes, and natural lightings, it's a paradise for photographers. Trekking from here to the Kanchula Korak Musk Deer Sanctuary is another beautiful experience. Sheltering the rarest Himalayan species, it was beyond the aesthetic to watch them.
Even though not a professional photographer, the view was beyond beautiful that it was almost impossible to not capture it on my device. Chopta and the region surrounding it are of utmost religious and cultural importance. People going on pilgrimages to the Panch Kedar temples are a common sight around here.
I had trekked to these temples and was more than elated to witness their cultural celebrations. From the Pandava dance to the Mahabharata narrations, people were dressed in dramatic costumes and portrayed with such starry extravagance.
4. Facilities near Chopta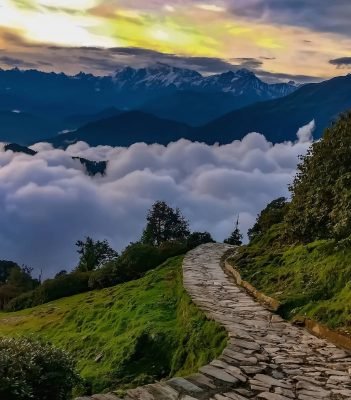 While Chopta doesn't have many such facilities other than a few small shops. On the route towards Chopta all kinds of necessary services are available. The last ATM can be spotted easily around Kund, and there are few around Ukhimath and Chandrapuri as well. These ATMs may not have guaranteed cash every day though. Hence to remain on the safer side I had withdrawn some amount from an ATM at Rudraprayag.
The only sim that had a decent network here was that of BSNL. The rest of them remain completely out of range. Chopta runs on solar-powered panels, which is their only source of electricity. There wasn't any kind of deprivation of facilities for charging my mobile, or even a geyser with running warm water. For a precaution though, it would always be advisable to carry a personal power bank with a full charge.