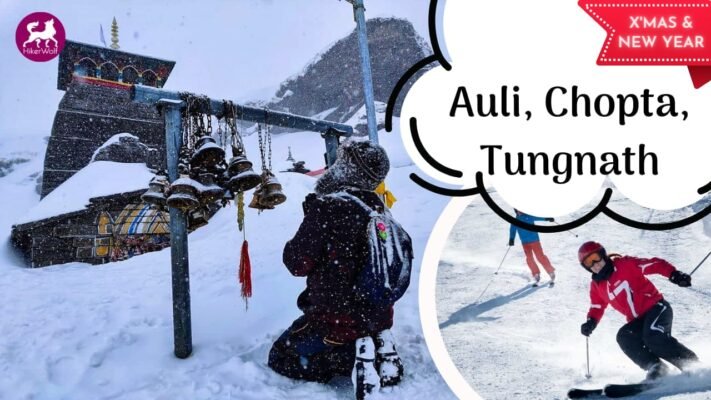 ABOUT:
Imagine yourself in between snow-capped mountains as chilling air brushes past you. That's Auli trip for you my friends. Some people call it heaven, some people compare it with Switzerland, and also it is a dream place for ski-lovers in India. Well, we suggest you why not just visit us and decide for yourself. Let's raise a toast to the infatuating Auli trip, with the HikerWolf family! Starting off with the drive from the rugged terrains of Haridwar and Chopta Tungnath to the snow-dusted Auli, HikerWolf takes you through one of the most bewitching Garhwali experiences. 
This soulful Auli tour traces the path from Sari, Deoria Tal, Chopta Tungnath, Chandrashila, Joshimath to Auli. Each place is like the extra layer of frosting to the cake, and it is the most mystical escapade.
So, strap up your bags to join the most memorable Auli trip with an extremely enthusiastic bunch of people! 
DURATION
4 Night/ 5 Days
BatcheS:
If Train Tickets are included, your journey will commence Two day before the initially mentioned date.
Price:
Triple Sharing With Train tickets – ₹18,499/- per person
Dual Sharing With Train tickets – ₹20,499/- per person
Triple Sharing Without Train tickets – ₹16,999/- per person 
Dual Sharing Without Train tickets – ₹18,999/- per person
NOTE: Block your seat at just ₹5000/- and pay the rest 25 days before the trip date. 
Note:

"We're dedicated to ensuring you have a seamless journey, and the adventure truly begins when you arrive at your designated pickup points, Haridwar . As a gesture of our commitment to your satisfaction, we're pleased to offer you a special package that includes sleeper class train tickets from Mumbai."
BRIEF ITINERARY:
Mumbai to Delhi
Passengers traveling from Mumbai, Surat, or Vadodara will arrive in Delhi by afternoon. Please note that they will have to arrange and cover the cost of the bus from Delhi to Haridwar, as this expense will not be covered by Hikerwolf.
Here are the 5 days of an exciting journey in brief,
Day 1: Haridwar – Joshimath | Auli Trip Begins
Reach Haridwar station by 6 am. Start driving to Joshimath and reach in the evening. Relax for a while. Style yourself up and shop in the market of Joshimath. Visit Joshimath Temple, and if time permits visit Vishnuprayag which is the Sangam of two mighty rivers, and enjoy the rest of the night. Overnight stay in Joshimath.
Day 2: Joshimath – Auli.
Wake up and hop in the vehicle, in 15 mins we will reach and visit the Bhavishya Kedar temple and learn about its Rich Stories. begin with the much-awaited Auli tour. We'll arrive in Auli by car, immersing ourselves in thrilling adventure activities. Our overnight stay in Auli/Joshimath promises an unforgettable experience.
Day 3: Joshimath – Chopta 
Say bye to Joshimath and start driving towards Chopta.On the way watch the beautiful Sangam of rivers at Rudraprayag. Reach Chopta early in the evening. Relax for a while and go exploring the beautiful village of Chopta. The night will be for ghost stories & lots of Masti at our campsite in Chopta
Day 4: Chopta – Tungnath – Chopta | Tungnath Trek, Explore Chopta
Early in the morning, we embark on the Tungnath Trek. We wander towards Tungnath and Chandrashilla. Explore the rich cultural heritage and cascade down to camp at Chopta. Enjoy a good night's sleep at the Chopta camp. 
Day 5: Chopta – Haridwar | Auli Trip Ends
Bidding farewell to Chopta we drive back from Chopta to Haridwar, bid our goodbyes to our new friends, and fall back into the comfort of our home with all the beautiful memories from the trip. You can book a return journey post 8 pm.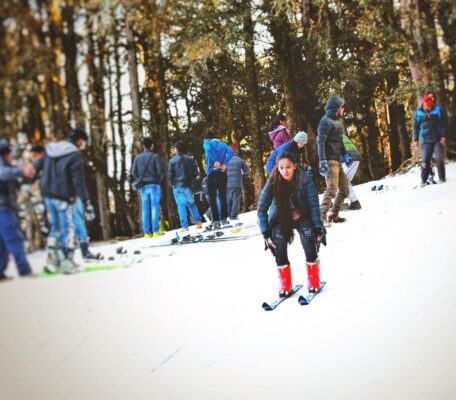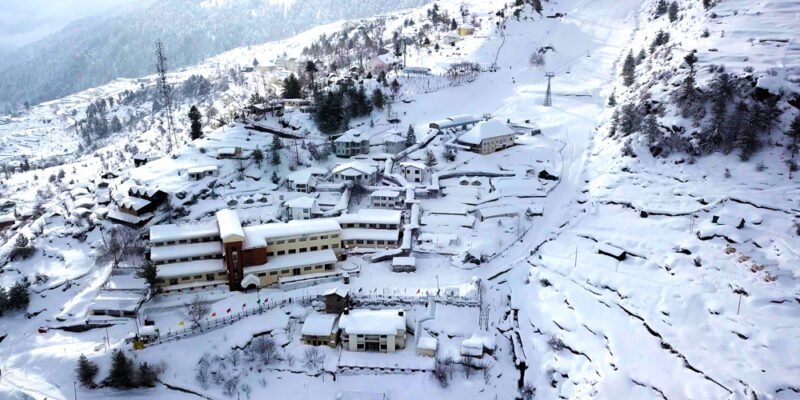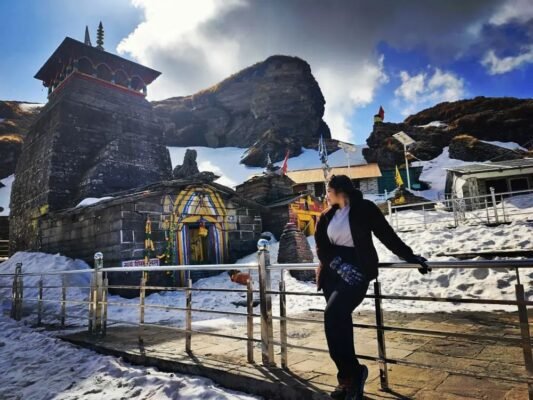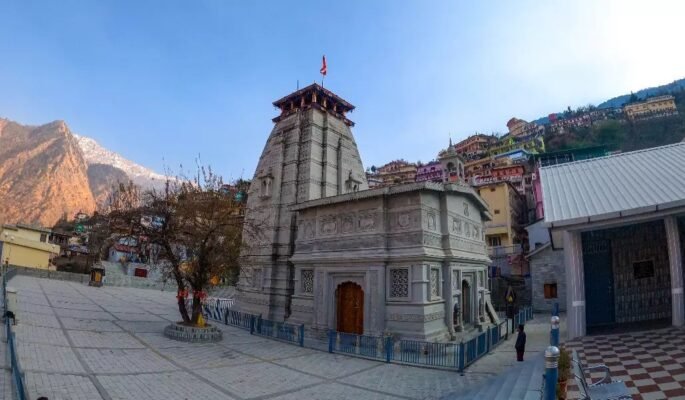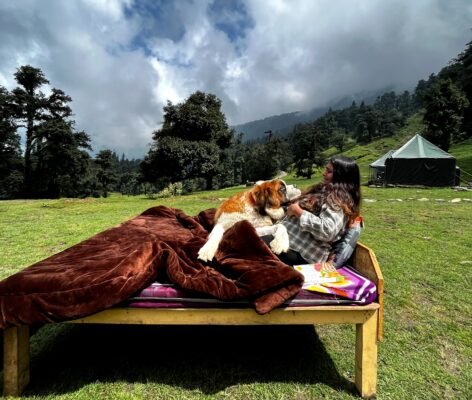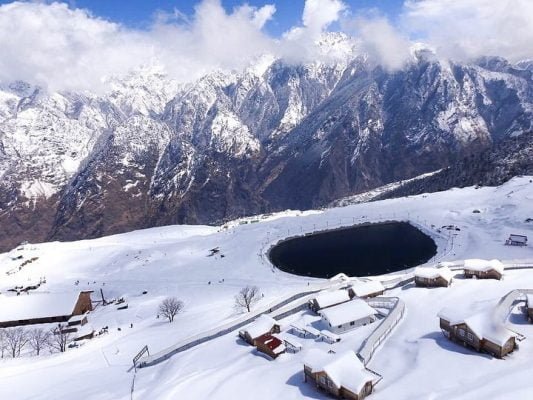 INCLUSIONS:
Pick up from Haridwar through Traveller. 

Sleeper class train tickets from Mumbai to Delhi and Back.
Stay facilities for the Four Nights are arranged in the form of camps/homestay/hotels. 

Breakfast For 4 Days.

Dinner for 4 Nights.

Parking fee, Fuel Charges, Driver Included.

Basic first aid kit in case of sickness or injuries.

Entrance tickets wherever necessary. 

HikerWolf Expertise

Complete assistance in all other activities for the best possible rates

Government taxes and service charges
All permits 
EXCLUSION:
Any additional Transfers.

Bus tickets from delhi to Haridwar and back
Meals onboard the Train.

Extra Food & Beverages.

Adventure Activities: Cable car rides, Skiing at the resort.

In case of heavy snowfall, normal vehicles may not be permitted on the route from Joshimath to Auli. In such instances. HikerWolf can facilitate a chained vehicle, but the cost will be handled by the guest.
Heaters
Personal Expenses: Laundry, Internet Usages, Phone calls.

Additional expenses arise due to unforeseen crises.

5% GST

Anything which is not mentioned in the above Inclusion. 
THINGS TO CARRY:
Trekking Shoes compulsory

Poncho

Crampons

Thermal

Comfortable clothes

A sun cap and a woollen cap

Sunscreen lotion or any other skin moisturizers

Water bottles, backpack, and energy bars/snacks

A pair of sunglasses

Caps or hats

Camera

Personal toiletries

Flashlight

Insect repellent

Personal medication if any

Power Banks

Sweater/Jacket

Synthetic hand gloves

Bluetooth Speaker

At least 2 trek pants and cargo pants

Extra Bags to keep Wet clothes
Note: Do not carry any valuables. Please take care of it in case you are carrying the same. We will not be responsible if you lose them by any chance.
IRCTC Rules:
HikerWolf provides its train tickets through the IRCTC app.
The tickets confirmation depends on the number of days left until the trip.
While it's important to understand that there is no 100% confirmation guarantee for waitlisted and RAC tickets on every occasion, please be aware that HikerWolf does not have control over the confirmation process for tickets.
It's important to acknowledge that there's always a possibility of receiving an RAC (half seat) or a waitlisted ticket instead of a confirmed seat. Please note that HikerWolf is not accountable for unconfirmed tickets, as IRCTC is a government entity over which we have no control.
If the train is canceled or its route is changed for any reason, HikerWolf will not assume responsibility, and alternative solutions will be offered at an additional cost.
To enhance your chances of securing a full seat on the train, it's highly advisable to book your trip well in advance, preferably at least 20 days prior to your travel date.
HikerWolf cannot be held responsible for changes in your travel plans, and therefore, if you choose not to take the same train we originally booked for your return journey, there will be no refunds\change for ticket dates or prices.
NOTE :
HikerWolf reserves the rights to cancel the trip if the minimum batch size does not suffice. 
Trip Leaders will only accompany you if there are people more than the minimum batch size otherwise, the trip will be handled virtually.
1. What will be the group Size?
We prefer to have a group of 15-18 people as we intend to have more fun and give personal care.
We need at least 6 people to kick start our treks.
2. Who will accompany us on the Trek?
All our treks are led by certified professional trekking leaders, climbers. In addition to them, there will be a local guide, a cook, an assistant, porters, and other staff.
3. I am joining as a solo girl and/or traveling for the first time, is it safe to travel/trek alone?
Safety is of prime importance and we understand them very well. The major of our staff is a girl for that very reason so be assured you are in safe and reliable hands.
4. What type of ground transportation will be used during the trip?
We rent taxis such as Innova, Tempo Traveler, Bolero, Tata Sumo, etc. from our suppliers.
5. I can't carry my backpack/bag while trekking, can I offload it?
We always recommend carrying the backpack while trekking to help maintain body posture. If you can't, we can provide you with a mule/porter to carry your backpack. I want this service you must inform us at least 1 week before the trek. The offloading fee would be around INR 300 per person per day.
6. What shoes should I buy?
Shoes are the lifeline during the trek. It is highly recommended to buy trekking shoes for a well well-known brand. You can consider companies like Quechua, Columbia, etc. A waterproof shoe with ankle support will work well.
7. Are there bathrooms/toilets facilities available during the excursion?
During the trek, separate toilet tents will be installed on each campsite.
8. What will be the type of accommodation?
Accommodation is in dome tents/Homestay.
9. Will you provide sleeping bags and mattresses?
Yes, we will provide sleeping bags and mattresses during the excursion. Our sleeping bags can withstand temperatures down to -10 degrees.
10. How many trekkers will be in a tent?
It totally depends on the dynamics of the group. If there is a couple, we can give them a separate tent. If there is an odd number of people, then the tents would be on triple sharing basis.
11. How can I book a trek with you?
After selecting the trip/excursion, you can book by clicking the Book now button or you can contact us and we will guide you through the booking which is quite easy.
12. What kind of food is served during the trek?
We provide nutritious and healthy food during the trek. We always serve vegetarian Indian food and eggs.
13. How can I get drinking water during the trek?
Himalaya water is considered the purest and safest water to drink. But for safety reasons, we sometimes boil water and use it for drinking and cooking.
If you find clean water while hiking, always fill the water where it flows, not where the water is stable or at rest.
14. Can we change the path?
Yes, you can make suggestions. We will analyze this and, if we consider it feasible, we will apply it.
15. Can the trip/excursion be personalized?
Yes, we can customize any trip/excursion based on your needs and feasibility.
16. Will the doctor accompany us during the walk?
No, but our trekking leaders are certified in the first aid course for wildlife and always carry a first aid kit and oxygen cylinders during high altitude excursions.
17. Do you prefer to take medications with me?
Yes, it is recommended to bring your own medicines while trekking.
18. Is Diamox advisable or not?
Well, it totally depends on the person. There are usually no side effects of Diamox, but if you have previous medical conditions, it is best to consult your doctor.
Our itinerary is designed in such a way that we get sufficient time acclimatized. If in case you have any problem while trekking, inform your trek leader about your condition as soon as possible.
19. What is the minimum age limit to be eligible for the trek?
The Minimum age limit is 14 years
20. What will we do if it rains?
If it starts to rain slowly during the trek, we will continue walking as expected. Your poncho will keep you dry. If it rains a lot, we will try to find a refuge and wait for the rain to stop or subside. If it rains in the field, there would be no problems because all our living tents, our kitchen tents, and our bathroom tents are waterproof. You will stay dry inside.
21. Why is the trekking pole needed?
It differs from person to person. If you think this will help you maintain balance while trekking, bring your cane. Some people believe that walking sticks break the pace while walking. It depends on you
STILL, HAVE QUESTIONS?
Request a callback