ABOUT
May is the Best Season to Observe Milky way Galaxy Flowing through the night sky, Observe clusters, nebula, planets, and other deep sky objects through our telescope. Also, learn how to identify your zodiac signs and other Greek constellations.
About the Activity:
This engrossing weekend escapade lets you try your hand at barbecuing, even as you watch the sunset over the horizon and experience Stargazing by the beach, under twinkling stars.
It includes, Stargazing from Professional Telescope, DIY Smartphone Astrophotography
Wow! Learn how to identify your Zodiac signs and other Greek constellations in the Night Sky
Observe Rings of Saturn, Jupiter's Satellite, Mars, Venus
Shoot Star Trails and Milky Way Galaxy
Moon Craters Photography
A swim in the azure sea welcomes you to replenish the body and soul.
Partake in the various adventure water and beach sports (Banana Ride, Jet Ski, and Bumper Ride)
Stargazing activity can be fully enjoyed in the presence of an expert. An expert will help you in observing stars, planets, and other objects in-universe with the help of a telescope. He/she will inform you about several constellations and how to find directions by observing stars.
DATES
6th Feb 2021

20th Feb 2021
For other dates click here
1 Night/ 2Days
OFFER
Mumbai to Mumbai: ₹2̶4̶9̶9̶/- ₹2299/-
Campsite to Campsite: ₹1̶9̶9̶9̶/- ₹1799/-
Note: The above offer is valid only for 1st 10 bookings of each batch
Book your seat at just  ₹500/- and pay the rest 5 days before the event.
We've made it easy to change your weekend travel plans up to 10 days prior to your trip's departure date.
You can choose new dates and/or a new destination or get a full refund without any penalty for up to 10 days before the trip date.
ITINERARY
Day 1:
12:30 PM: Reporting at Gateway of India for people joining from Mumbai.
04:00 PM: We reach the Alibaug camping site and freshen up with some delicious snacks and a welcome drink
05:00 PM: We'll have an interactive icebreaker round to get to know your fellow travellers better. The soothing twilight will lure you to stay in, take in the beach aura and click photos of the fifty shades of sunset.
07:00 PM: Let's Party!!! We have arranged a special musical evening for you folks.
08:30 PM: Time to warm up the grill and get Barbeque going! (Jain/Veg/Non-veg)
09:00 PM: Start stargazing with the observation of planets, Deep sky messier objects, clusters, nebula, and Constellation.
10:00 PM: Discuss the night sky with experts and know more facts about the Universe
10:30 PM: Delicious dinner to be served (Jain/Veg/Non-veg unlimited food). We have live music, guitar night at the campfire (campfire jam), lantern fest on all our Alibaug event. We have invited musicians to make the night much more blissful, enjoy their melodious tune and sing in resonance with them.
11:00 PM: And finally, the most waited moment to counter the chill around sizzling, hot, and burning campfire with Stargazing from the Telescope by the beach! And this experience will be locked forever in your heart and Mind!
Day 2:
12:30 AM – 4:00 AM: We take a break from our stargazing session and have some time for ourselves besides the bonfire.
04:00 AM: Before Dawn, Stargazing for Moon Craters and Astrophotography
08:00 AM: A hot cup of tea and tummy full breakfast with the sight of alleviating beach is a just perfect weekend treat!!
08:30 AM: Enjoy the pleasant morning along the beachside, play games, and lots of fun.
10:30 AM: With a bunch full of beautiful experiences and lasting cheerful memories, we bid a final goodbye to the mesmerizing segment of the life journey in the chaotic mundane routine!!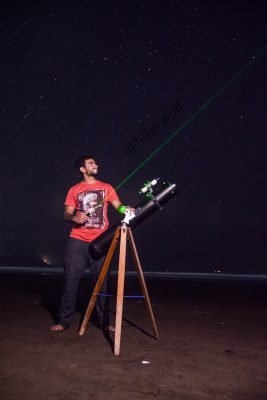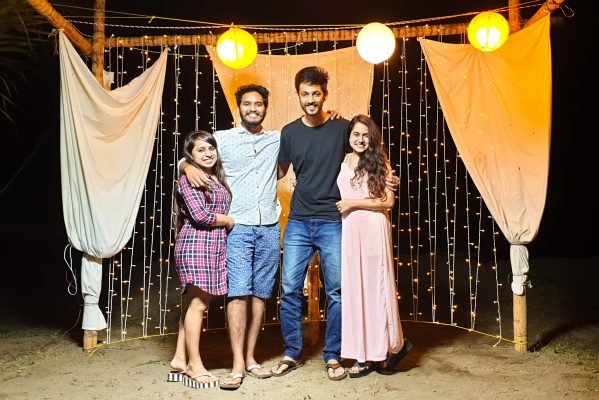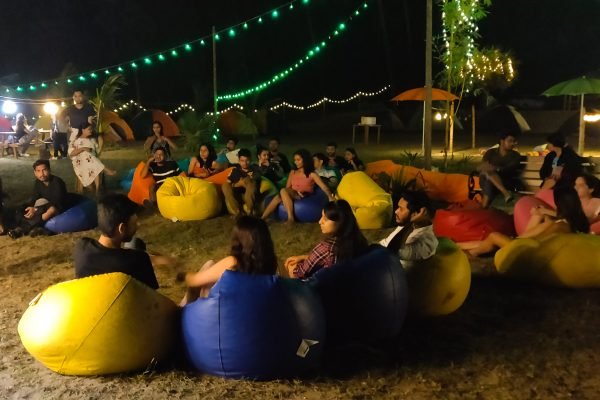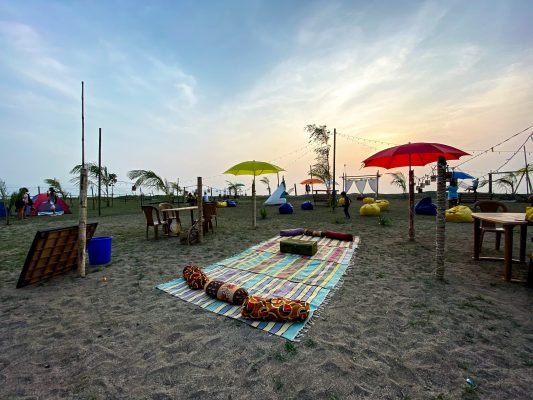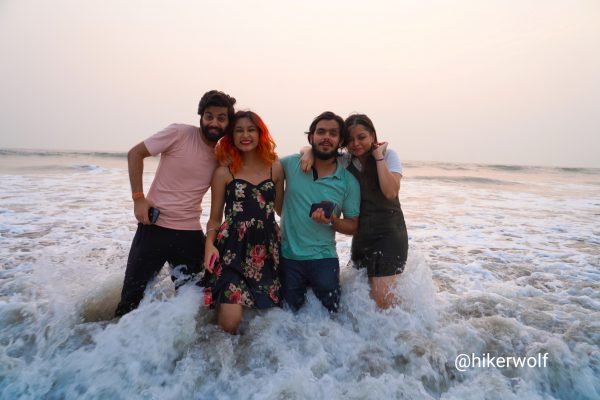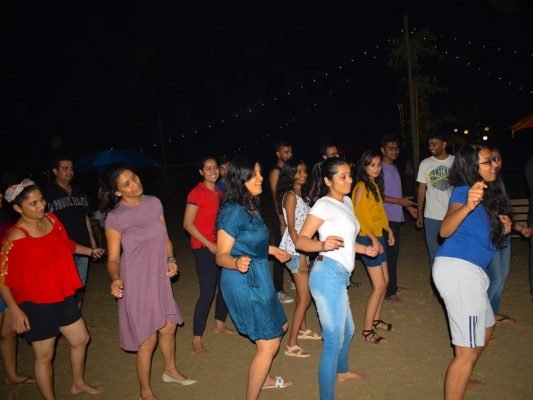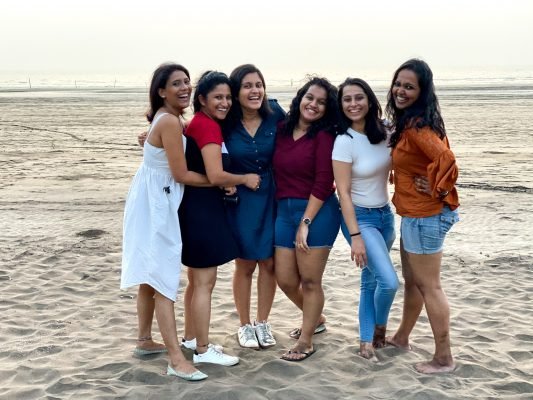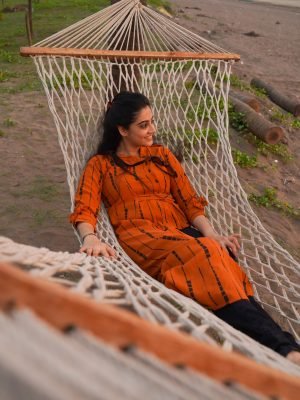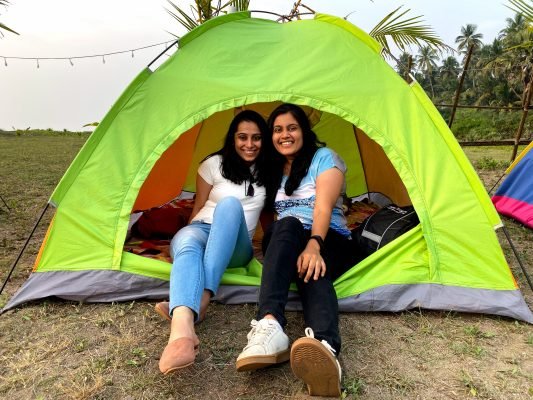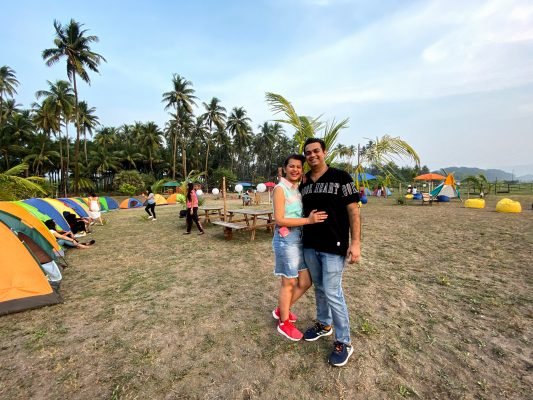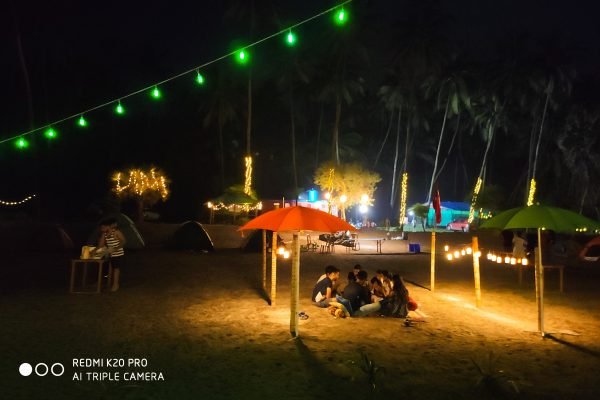 INCLUSIONS:
Stargazing by the beach
Beachside Camping
BBQ (Veg/Non-Veg)
Bonfire
Tent Stay
Fun Games
Dancing the night away
Music
Toilet facilities
Drinking water
Barbeque
Meals (Evening Snacks, Dinner (Jain/ Veg/ Non-Veg), Breakfast)
Basic First Aid
Parking
Pet-friendly
EXCLUSIONS:
Insurance
Water sports
Anything not mentioned in the above inclusions list
Review Video
MEETING POINTS:
1:00 PM: Gateway of India Mumbai
4:00 PM: Alibaug
How to get there
From Mumbai: You can catch a ferry boat from Gateway of India to Mandwa jetty. From Mandwa jetty a bus will take you to Alibaug camping site(bus fare is included in your ferry ticket). From Alibaug you can catch a rickshaw directly to the campsite.
THINGS TO CARRY:
Comfortable Footwear
Mosquito Repellent
Extra Set of Clothes
Sunscreen
Sunglasses
Waterproof Bag
Flip Flops
Towel
Camera
Basic Toiletry
Mobile Charger
Power Bank
An extra bag to keep your wet clothes
Personal Medicines if any
Note: Do not carry any valuables. Please take care of it in case you are carrying the same. We will not be responsible if you lose them by any chance.
FAQ:
1. Can I join solo?
Of course, you can, we always have people joining solo and they go back home making many new friends.
2. Is this event kids friendly?
Yes, the event is kids friendly
3. How much do I have to pay for my kid?
The price of the ticket for any kids below 5 years has no cost (Free), for kids from the age of 5-12 years get 30% off from the ticket value. You need to purchase the full ticket for kids above 12 years.
4. Can we get a 2-person tent?
Yes, if you'll are joining as a couple
5. Is this event happening on private property?
Yes
6. Are drinks allowed at this event?
Yes, but you'll have to bring your booze
7. Is this event pet-friendly?
Yes
8. Is car parking available at the venue?
Yes
9. How and when will your team coordinate with me?
We make a WhatsApp group of all the participants, one day before the event and share all the necessary details in it.
10. Will I get Jain food?
Yes
11. Are there proper washroom facilities on the camping site?
Yes, there are well-constructed Western and Indian toilets available at the campsite.
12. Will you be providing us with blankets and bedding?
Yes
For more such exciting events Click here
STILL, HAVE QUESTIONS?