If there's a place I could think of which is so fully packed yet never fails to look calm, then that'd definitely be Baga beach in Goa.
Surely nobody goes to Goa just to calmly sit by the beach and get a tan. I mean, who are we even kidding? Goa is all about doing every stupid thing we would've otherwise never done in our sane or sober mind.
It's about dancing the nights off and not having a single memory of it the next morning.
That's exactly the kind of tricky spell Baga would have us under. Peacefully nestled between the Baga river and Calangute beach, this "Hippie's Paradise" is more than what it looks.
It's an interesting mashup of sights to me. Tourists chilling under their umbrellas stumped in the sands, trying to escape from their daily work routines. Then there are the party go-getters walking around with tickets to some real live celebrations at night.
There are few things you might want to be pin down before your visit to Baga though.
Best time to visit
The beach is pleasant throughout the year but the most preferential period would be between December-February. This is the most favourable time for adventure sports here.
During monsoon, I'd need a lot more nerve to go for water sports as the tides get rougher in comparison. Added to this is the rise in humidity, which I'm not much a fan of.
Unleash your sporty side!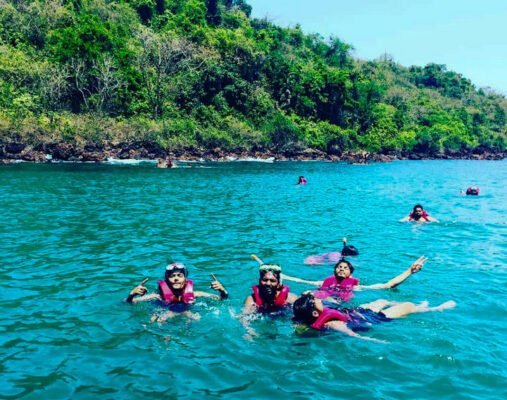 Land, water and air, you throw your dart at your choice, and Baga beach would have the sport for you.
Most preferred thrilling sports here are water adventures. With a list that ranges from Kayaking to Body-boarding, the beach answers to all the sea lovers out there.
For the risk-takers, there's Jet skiing, parasailing, speed boat rides, kneeboarding and other exciting activities on the go.
There are activities on the safer side as well, which can be taken as a group or even solo. Wind-sailing, Banana riding, Bumper riding, Kayaking, Paddleboarding and so much more!
Tan lines and good times
A good share of time can be spent on the waters and lying behind in the fine grain sands. The lifeguards and the sports instructors are always around to avoid chances of possible dangers.
If you'd ask me, Baga beach is the place where you try new things or things you've been really scared about before. There's absolutely no one to judge you out there, and it's all about learning and unlearning.
What I find more fascinating about Baga is, doing practically nothing is also a charm here.
Not in the mood for any sports? Take a walk across the cold blue waters of the beach…
Plugging in your earphones to some blissful reggae music and mindlessly walking for about 20 minutes would lead you to a small river separating Baga from yet another beautiful beach called Anjuna.
The first time I went about to explore and found myself here, I was pretty excited. It felt like I had found a zone all to myself. Gave me low scale Columbus like feels.
The idea of the walk is that it leads you to a less crowded and a rockier terrain of Baga beach. Sitting on top of one of the rocks placed at the height and watching the sun disappear into the waters is an irreplaceable experience.
'Liveliest of all' kind of nightlife!
Going back to Baga beach after sunset, be prepared to take in the nightlife enthusiasm. The beach never sleeps, and remains hyped up for all the right reasons!
The night clubs have a magnetic vibe, and it's definitely not something you'd want to miss out on. Be it partying the night away or chilling with a beer and some REALLY GOOD quality seafood with a beach view, the clubs have got it all.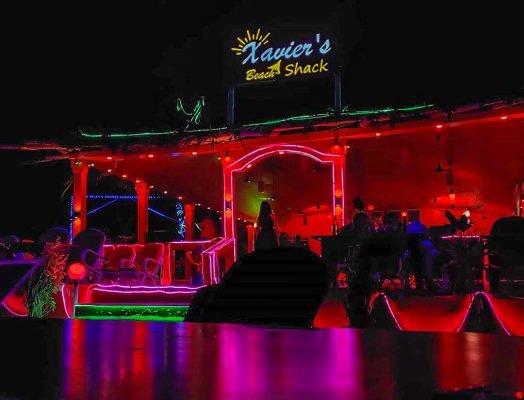 With never-ending beach shacks and coffee bars, the hangover left behind from the night is also taken care of. A warm cup of bean coffee and some spicy tropical baji pao, and I was good to go for the rest of the day.
Goan cuisine is an explosion of amazing flavours! It's rich in flavours, be it the freshly caught fish cooked to perfection with coconut gravy or the classic plate of white rice.
Explore the magical stalls
Around the beach, I was also able to spot several interesting shacks. Those of Palmistry and magic. I'd say even if you didn't believe in them, a visit to these places would surely not disappoint you.
With tarot cards all laid down and a simple prediction of your future, it's fascinating to watch the number of belief people hold on towards the bits of magic dusted off by stars.
Like most of the beaches in Goa, you can also find stalls and spa centres here. For those who feel the beach is too crowded to their preference, relaxing at the spa would be the go-to.
Just a few meters away are the flea markets and bazaars as well. All set for the shopaholics, you could go on a hoarding spree here and not feel even a tinge of guilt.
So while you're at Goa living the Goan life, the music, colours and magic of Baga beach would be the first on your list of favourites and that's for sure!
Tips
Always remember you are visiting a coastal area. Keep your electronic gadgets locked in waterproof bags.
Carry a medical kit to tackle any bruises or cuts.
Stay alert in public gatherings
Always be closer to other visitors to avoid a lurking attack.
When it comes to medical facilities and attention, hospitals and pharmacies in and around Baga are second to none. Multi-specialist hospitals are available in Panji and in proximity to the beach. Most of the hospitals have residential doctors who arrive immediately on call in case of emergency.