ABOUT
Hampi is a fantasy world of rocks and ruins; a carnival of cravings. The magnificent ruins of Hampi dot an unearthly landscape that has captivated travelers for centuries. Heaps of giant boulders perch precariously over kilometers of undulating terrain, their rusty hues offset by jade-green palm groves, banana plantations, and paddy fields. Let's pack our bags to get adventurous with the Hampi trip.
BATCHES
13th Aug 2022
26th Aug 2022
2nd Sept 2022
9th Sept 2022
16th Sept 2022
23rd Sept 2022
30th Sept 2022
7th Oct 2022
14th Oct 2022
21st Oct 2022
28th Oct 2022
4th Nov 2022
11th Nov 2022
18th Nov 2022
25th Nov 2022
2nd Dec 2022
9th Dec 2022
16th Dec 2022
23rd Dec 2022
30th Dec 2022
6th Jan 2023
13th Jan 2023
20th Jan 2023
27th Jan 2023
DURATION
3 Night, 3 Days
PRICE
From Mumbai / Pune: ₹7999/- per person
From Bangalore: ₹6499/- per person
From Hospet: ₹4499/- per person
NOTE: For Dual Sharing extra amount of ₹500/- per person is to be paid.
NOTE : Block your seat at just ₹2000/- and pay the rest 25 days before the trip date. 
3:30 pm

Borivali

3:35 pm

Kandivali

3:40 pm

Malad

3:45 pm

Goregaon

3:50 pm

Jogeshwari

4:10 pm

Andheri

4:15 pm

Vile Parle

4:20 pm

Santacruz

4:25 pm

Bandra

5:00 pm

Sion Chunabatti

5:10 pm

Chembur

5:20 pm

Vashi

5:25 pm

Sanpada

5:30 pm

Juinagar

5:35 pm

Nerul

5:40 pm

Belapur

5:45 pm

Kharghar

5:50 pm

Kalamboli

5:15 pm

Khalapur Toll Naka
7:40 pm

7:50 pm

7:55 pm

8:45 pm
22:00

Anand Rao Circle

22:15

Majestic

22:30 N

avarang

22:45 Y

eswanthapur

23:00 G

orguntapalya

23:15 J

alahalli cross

23:30

8th mile

23:45

PARLE GE TOLL

23:55 M

adanayakanahalli
Note:
Pick up points are subject to change as per availablity of the travels available. This is just an assistance that we are providing for your convenience.
Please get in touch with the team for more details!
BRIEF ITINERARY
Day 1: Hampi Trip Begins
Start our journey to Hospet from our respective pick-up points.
Day 2: Arrival at Hampi | Explore Hippie Island, Lake Viewpoint, Cliff Jumping, Coracle Ride
Once we reach Hospet in the morning by 9:00 AM we begin the Hampi tour; we transfer to Hippie Island and check-in to our hotel for the day.
Explore the island and visit Lake viewpoint, Cliff Jumping point, Anegundi
village, and Malyavanta Raghunatha Temple. We shall also go for the thrilling Coracle ride. The night will be for music, dance, and fun with friends. Overnight stay at the hotel.
Day 3: Departure from Hampi | Hampi Tour & Sightseeing
Post breakfast, check out of the hotel by 07:30 hrs. Explore Hampi Bazaar, Hemakuta Hills, Virupaksha temple, Monolithic Nandi, Kings Balance, Stone Car, Vitthal Temple, Badavi lingam, Ugranarsimha, and Underground Temple, Pushkarni, Lotus Mahal, Elephant stables, Hajari Rama Temple, and Watch Tower. Concluding the Hampi trip we leave at 5 PM to our hometowns.
Day 4: Reach Mumbai 
Reach Mumbai around 9:00 am with lots of new friends and memories from the trip!
IMAGES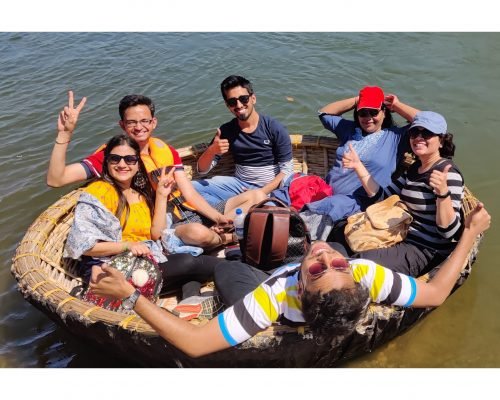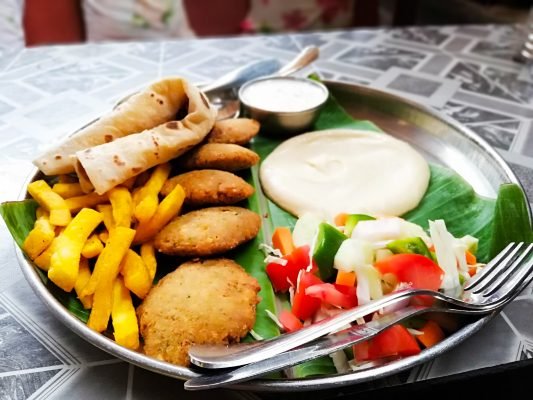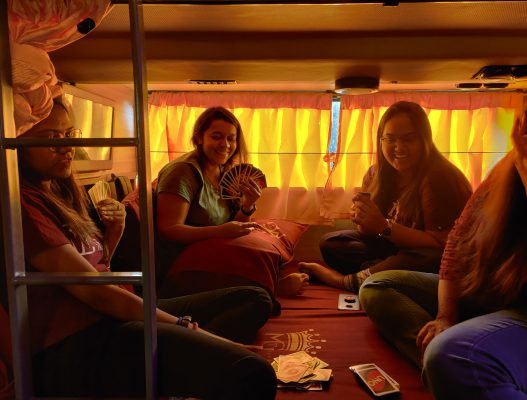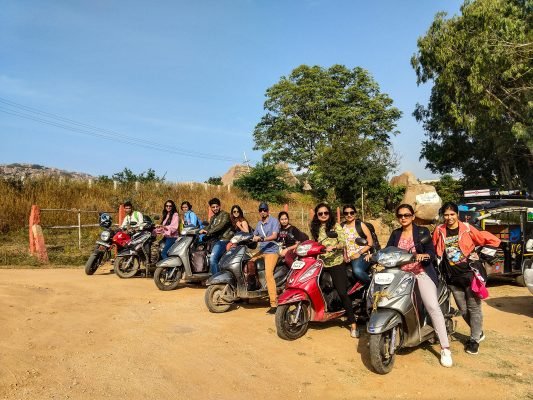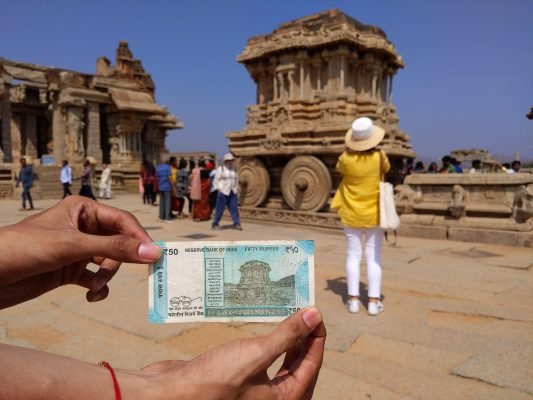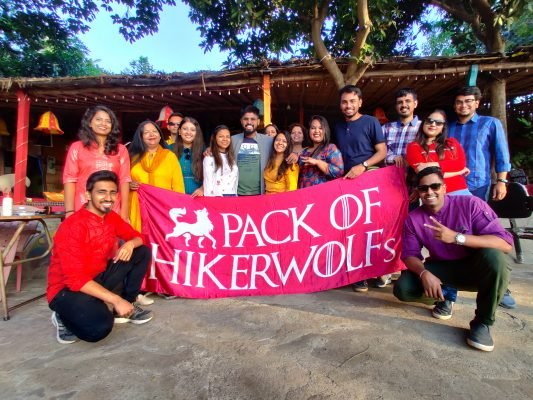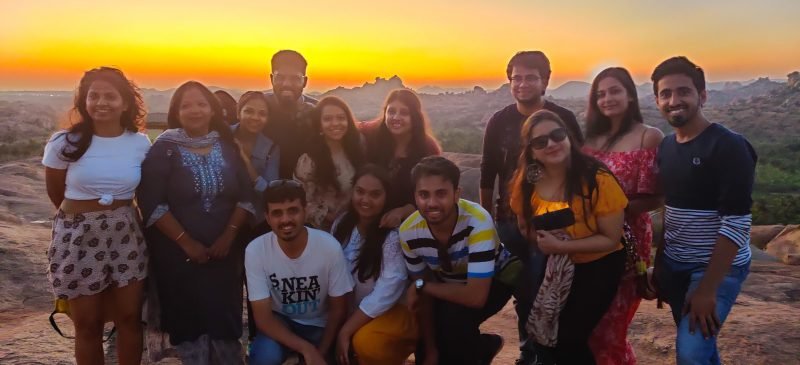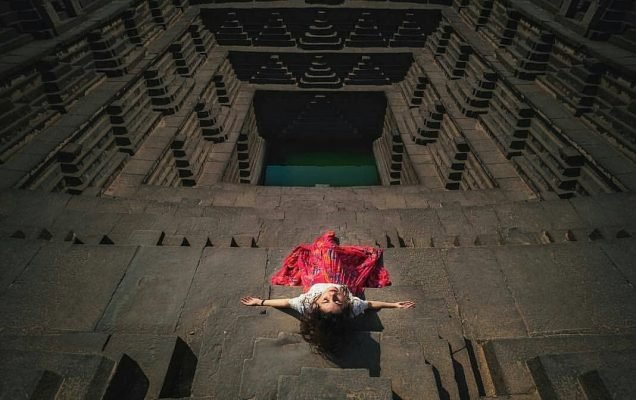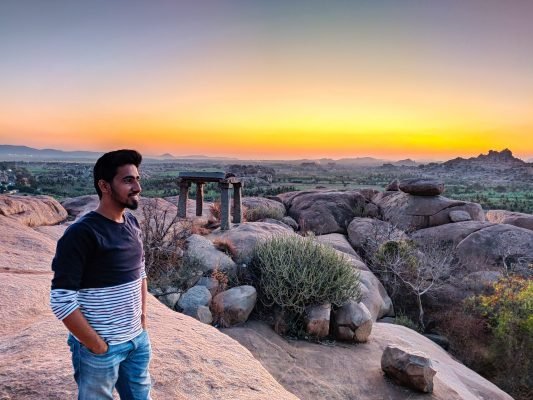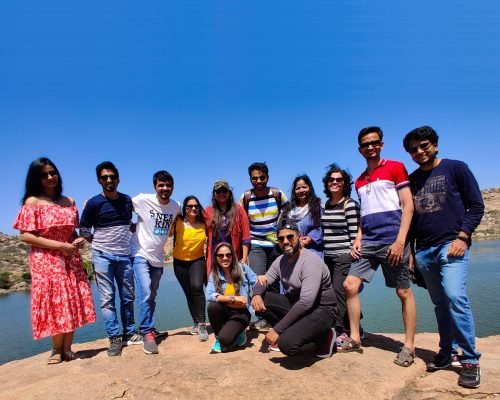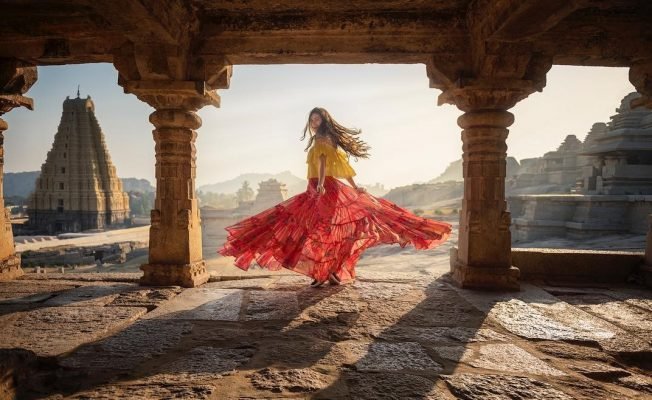 INCLUSIONS
Transportation in

non a/c

sleeper buses from Mumbai / Pune and back
Transportation from Hospet to Hampi and back
2 days sightseeing tour
Accommodation
Entry charges to the monuments
Campfire
Breakfast for day 2
Coracle ride
Cliff Jump
Rent for sightseeing auto
Bike charges (except fuel)
All internal transfers
Fun games
HikerWolf expertise
Guide charges
EXCLUSIONS
Meals not mentioned above
5% GST
Anything not mentioned under inclusion
Note: There are a number of cafes with amazing ambience and variety lips smacking delicious food options available, you can try them all at your convenience.
THINGS TO CARRY
Most Important your ID proof
Cap/Hats
Sunscreen, moisturizer
Glares
Pair of clothes
Towel
Casual shoes and flip-flops
Sanitary Kit
Personal medicines (if any)An extra bag to keep your wet clothes
Note: Do not carry any valuables. Please take care of it in case you are carrying the same. We will not be responsible if you lose them by any chance.
HOW TO REACH HOSPET
(This is for people joining us directly at Hospet)
By Air: The nearest airport is Hubballi about 150 km. Other airports near Hospet are at Bangalore about 350 km and Belgaum about 200 km well connected by Indian Airlines flights to most parts of India.
Rail: Hospet Railway Station is well connected by rail line to Bangalore, Hyderabad, Hubli, and Vijapur.
Road: One can hire a taxi from Hubli till Hospet.
For participants joining from Mumbai
Multiple Sleepers and semi-sleeper buses are running from Mumbai (All locations) to Hospet and back. Board Bus that starts between 17:00 hrs to 18:00hrs to reach Hospet by 09:00 hrs the next day. Various bus operator like VRL and SRS provides this service. Kindly visit redbus.com to book your tickets now. of course, we will be there for your assistance.
DETAILED ITINERARY
If you were given a chance to time travel, would you like to visit the past? 'Cause if past means a place as enchanting as Hampi, it's a cherry on the top! A Hampi tour is equivalent to time-travelling to an era when magic was a real thing. The air, the corners, the soil & also the part beneath the soil, all of these clubbed together reflect a heritage so beautiful, so intriguing, that you are sure to regret belonging to the 21st century at all. Nonetheless, Hikerwolf does not want to miss you on your best time-travel experience.
Hampi tour has adventure-filled in every spot, be it trekking the hills to watch the sunset or hopping around the island to indulge in the scenery. Hence, get ready to board your customized time-machine. Buckle your seat belts as we are gearing up for the most unmatchable journey ever. We are going to Hampi!
Day 1:

Hampi Trip Begins
Ready to venture out on the most amazing journey with the most amaaaaazzzing group of peeps in our Hampi trip? Then hey, pack your bags and get ready as we head towards our pick-up spot for the next day. While you are on the move, you should flutter with joy. As on the following day, you are going to meet some of the most enthusiastic, like-minded, and free-spirited travellers who are going to write their Hampi chapter along with you! Doesn't that sound special?
Day 2: 

Arrival at Hampi | Explore Hippie Island, Lake Viewpoint, Cliff Jumping, Coracle Ride
Welcome friend. We have been dying to see you! After all those days of waiting and creating the best itinerary for you, we finally meet. It is the day when we start the Hampi tour and get it etched in our hearts forever. As we reach Hospet early at 9 a.m., we meet and greet each of those souls who are going to be a part of the backpacking trip. Following this, we vroooom towards Hippie Island. Hippie Island is situated across the  Tungabhadra River.  Hence, we cross the Tungabhadra River by boat to reach the island where we check-in for the day.
What makes Hippie Island really striking is that it is far away from the tourists' eye. It's a delight for backpackers and a go-to spot for hippies who are seeking laid-back vibes. And for a place as calm and soothing as this, nothing's better than to explore the island with fellow travellers. Hence, post breakfast, all of us leave to explore the island.
Travelling with like-minded travellers is more like a blessing. Because every place you visit will have a fresh perspective. And a blend of perspectives often results in the best stories. We'll have fun together, dance together,   watch the sunset together and even write a new chapter together.
The best part? Bikers get to explore the island on a bike! For non-bikers too, we have the best-in-class arrangements to ensure you that you enjoy till your heart's content. As we explore the island, we cross several points like Lake viewpoint, cliff jumping point, the beautiful historic village of Anegundi, and get lost in the back-in-time beauty of the Malyavanta Raghunatha Temple. This temple derives its mythological significance from the epic Ramayana.
The highlight of the trip is the coracle ride! Many of you must have heard of the walnut-shaped boats that are extremely fanciful and fun. And it's true. Imagine getting lost in the sun as all of us venture out for one of the most thrilling boat-rides. During our boat ride, we shall engage in clicking the most picturesque panoramas as we row our way through the sunny glittery river and pass through caves and mighty boulders from years ago!
As we wrap up one of the amazing days of our Hampi tour, we come back with fresh memories from the past to cherish until our future! Once we are back in our hotel, we relax for a while and gear up for a fun night again! Tonight, we party at our stay in the middle of nowhere. We laugh and dance over sumptuous dinner and lit music and have fun with the most happening group ever.
Woof, the day has been pretty long. So all of us deserve a good night's sleep. So toodles, until the next day!
Day 3: 

Departure from Hampi | Hampi Tour & Sightseeing
Good morning, sleepyhead. Tired of the last night's shenanigans? Well, you shouldn't be. Because with Hikerwolf, there's always scope for more. We make sure that your following day is even better than your previous day. And it can't be untrue when you are in a place like Hampi.
We check out from our hotel after we warm up our souls with a delicious breakfast in the Hippie island, and then, we set off for our Hampi trip! Today, we shall head to the other side of the town. It's the part of the town that you have been waiting to explore, and you are sure to get blown away as we travel from one part of history to the other!
We have loads of fun as we explore the Hemakuta Hills, Virupaksha temple, Monolithic Nandi, Kings Balance, Stone Car, and the Vitthal Temple in this Hampi tour. Most of these temples were built during the Vijaynagara era. But even thousands of seasons later, they stand mighty with full glory under the sun. Everywhere you look, you find a landscape filled with large stones with intricate carvings and tales from the past.
Today, we also visit the Hampi Bazaar that's located adjacent to the famous Virupaksha Temple. All of these lanes were thriving with glory during the Vijaynagara era. Hampi Bazaar boasts some exotic stones, jewellery, and silk attire that remind you of the bygone days.
During today's Hampi tour we also walk past huge monuments and pavilions and immerse in a culture that's extremely fascinating and vintage-like. Later in the day, we visit many other historical places like Lingam, Ugranarsimha and Underground Temple, Pushkarni, Lotus Mahal, Elephant stables, Hajari Rama Temple, and the Watch Tower.
By evening, we will wrap our day after excavating the most spectacular history of Hampi. What felt fascinating to hear as tales and stories from others, have now unfolded in front of your eyes. And the newest friendships that blossomed in a faraway historical landscape are sure to have made your Hampi trip even more memorable. At night, we board our bus back to Mumbai and head back home with freshly written pages.
Day 4: Reach Mumbai
Today, we part. On the final day of our Hampi tour, we bid each other goodbye. We reach Mumbai at 9 am. But don't worry mate, the journey isn't over yet. Our journey has just begun. We have begun a brand new journey with brand new friends, and a brand new journey of travelling together for years to come. So let's enjoy life in full swing until we meet again. Hasta la vista!
STILL, HAVE QUESTIONS?
Request a callback
NOTE :
HikerWolf reserves the rights to cancel the trip if the minimum batch size does not suffice. 
Trip Leaders will only accompany you if there are people more than the minimum batch size otherwise, the trip will be handled virtually.
FAQ's