ABOUT
When you look around, the clouds will bow down to kiss you, the trees will conspire to hug you, and the people will come together to make you smile. A place as magical as its name, Meghalaya is truly about romancing with the clouds. With a beautiful sunrise at 5 a.m. in the morning and sunset at 5 p.m., Every day we will start our journey as early as possible for the best views.
It's a place where every single step you take is an exploration within yourself, where every single day you live is a fulfilling experience, and every single minute you spend urges you to think: "Is this my imagination? Or am I really living this? Meghalaya tour will make you live your wildest imaginations.
So why just imagine? Let us make it into a reality. Join us, as we take you on the journey of your dreams, the Meghalaya trip!
DATES
14 Nov 2021 (Full)
21 Nov 2021
23 Dec 2021 (New Year Week Price)
29 Dec 2021 (New Year Week Price)
16 Jan 2022
22 Jan 2022 (Republic day Special)
12 Feb 2022
20 Feb 2022
26 Feb 2022
14 Mar 2022 (Holi Special)
20 Mar 2022
09 Apr 2022
15 Apr 2022
DURATION:
5N/6D
TRIP ROUTE:
Guwahati – Shillong – Cheerrapunjee – Nongriat Village – Dawki- Shongpedeng – Shillong – Guwahati
Meghalaya Tour package:
Triple Sharing: 18999/-
Dual Sharing: 21499/-
On or before 15th November 2021
For Triple Sharing – ₹24,999/- per person
For Dual Sharing – ₹27,499/- per person
From 15th November 2021 to 30th November 2021
For Triple Sharing – ₹27,999/- per person
For Dual Sharing – ₹30,499/- per person
After 30th November 2021
For Triple Sharing – ₹30,999/- per person
For Dual Sharing – ₹33,499/- per person
NOTE : Block your seat at just ₹2000/- and pay the rest 25 days before the trip date. 
Note: We will provide you with complete assistance in planning your travel from your hometown to the meeting point. You are free to choose any mode of transportation, be it train, flight or bus as per your budget and convenience.
BRIEF ITINERARY
Day 1: Guwahati to Shillong | Sightseeing in Shillong
Report at Guwahati Airport at 10 am and prelude the Meghalaya trip. We will visit Umiam Lake which is situated in the North of Shillong with lush green Hills all around. Overnight stay at Shillong.
Day 2: Shillong to Cherrapunji | Elephant Falls, Garden of Caves, Wei Sawdong
Drive from Shillong to Cherrapunji. There are ample local places for sightseeing in Cherrapunji. We will witness the beauty of the Elephant Falls and Arwah Caves and explore Nawlikai waterfall or the garden of caves. Also, visit Wei Sawdong Falls and admire the beauty of Dainthlen falls on the way. Overnight stay at Cherrapunji.
Day 3: Cherrapunji | Seven Sisters Waterfall, Double Decker Living Root Bridge
Enjoy the beautiful view of the Seven Sisters (Nohsngithiang) waterfall. Travel to the   Nongriat village & trek to the Double Decker Living Root Bridge and to the Rainbow Falls. Overnight stay at Nongriat village in a homestay and live a life like locals for a day.
Day 4: Nongriat to Shnonpedeng | Umngot River
Explore crystal clear Umngot River in Dawki. Spend the night in a camp at Shnonpedeng.
Day 5: Shnonpedeng to Shillong | Krangshuri Waterfall
After breakfast, we drive to Jowai. Trek to the Krangshuri waterfall and a lot of masti in water. We visit the Phe Phe Falls if time permits and head for Shillong. Overnight stay at Shillong.
Day 6: Shillong to Guwahati | Laitlum Canyon
Drive back from Shillong to Guwahati. If time permits, on our way back we relax and rejoice our moments of the trip at Laitlum Canyon. Head back home with happy memories from the enchanting and eventful Meghalaya trip; memories that will last a lifetime.
Note: If any places are closed due to Covid 19 then HikerWolf will not responsible for the same.
IMAGES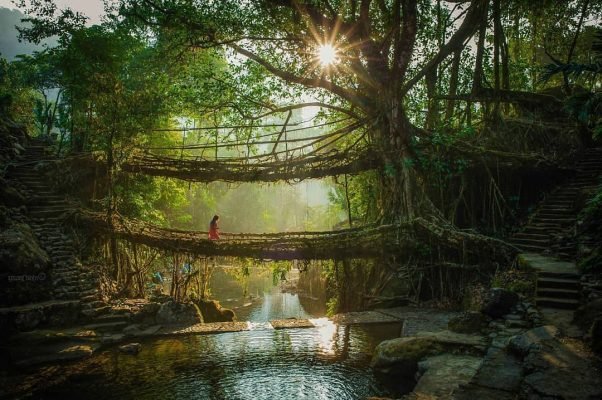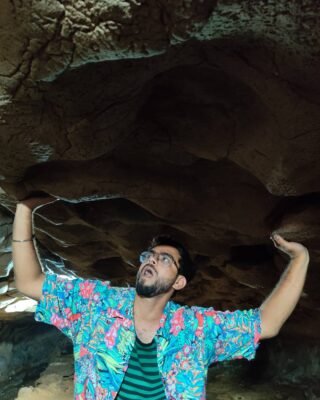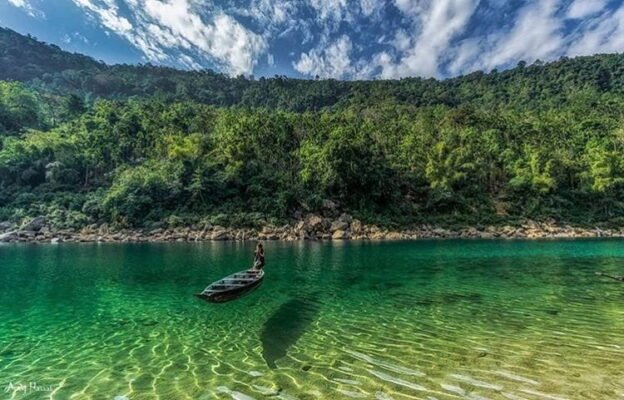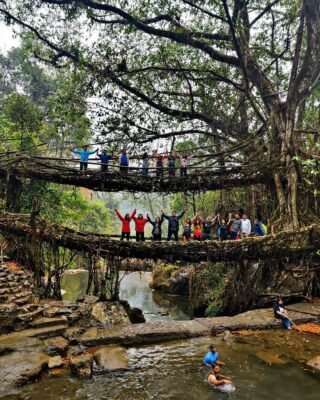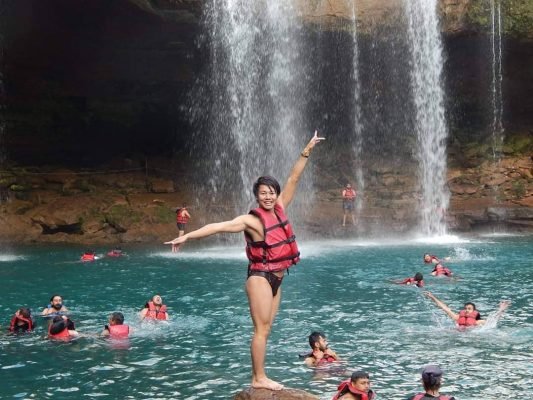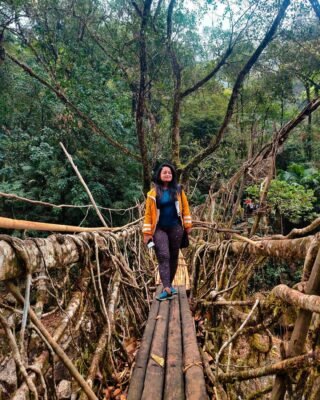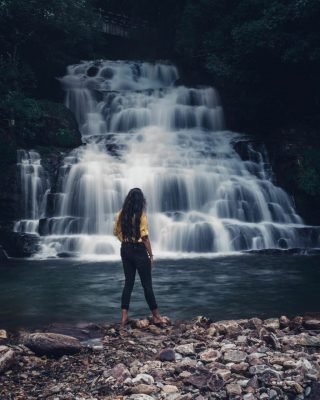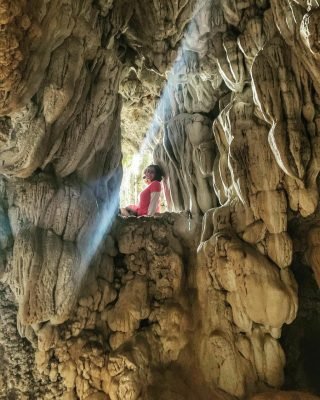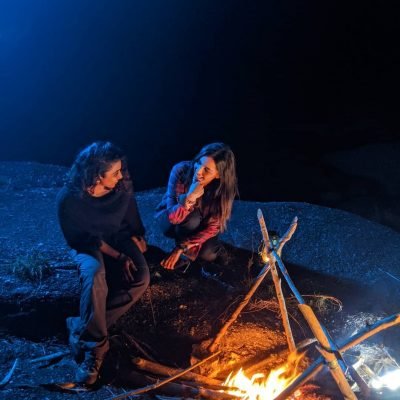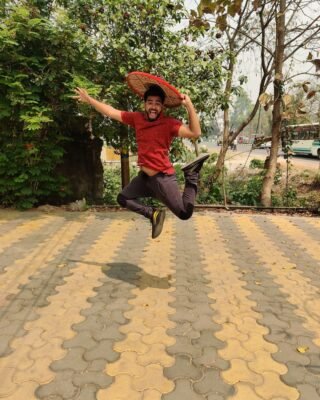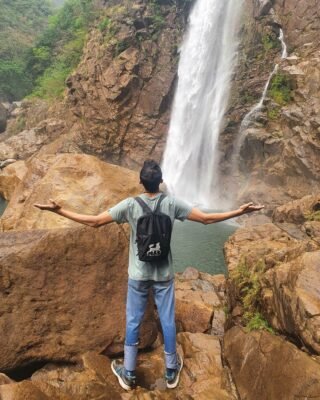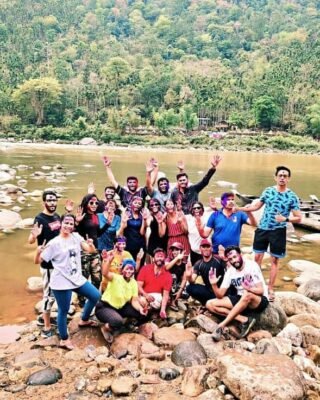 INCLUSIONS
Transfer to and from Guwahati Airport
All internal transfers
Accommodation for 5 days in homestay/Hotels/Guesthouse/Camps on a Twin or Triple sharing basis. (1N at Cherrapunjee, 1N at Shnongpdeng/Dawki & 2N at Shillong)
Dinner at Dawki
Taxes
Driver allowance
Guided Trek to various points
Basic first aid
HikerWolf expertise
Services of HikerWolf trip leader
EXCLUSIONS
Anything not included in inclusions
Entry Fees for sightseeing 
Any other food or beverage charges that are not included in the package
Mineral Water
Insurance
Any other costing involved due to any kind of natural calamity forced circumstances, which are out of our control
THINGS TO CARRY
Most Important your ID proof
Cap/Hats
Sunscreen, moisturizer
Charger
Camera
Power-banks
Bluetooth speakers
Torch
Glares
Insect repellent
Rainwear
Sweater/Jacket
Pair of clothes
Towel
Casual shoes and flip-flops
Sanitary Kit
Please avoid wearing Gold and other costly jewellery (at your own risk)
Personal medicines (if any)An extra bag to keep your wet clothes
Water bottle (Minimum 1-2 litre)
Note –
1. In winters the water flow of the waterfalls will be comparatively less.
2. As its a backpack trip, the stays will be provided accordingly.
3. On this trip you will find sunrise at 5 am and sunsets at 4:30 pm so be ready to start your day very early!
DETAIL ITINERARY
Day 1: Guwahati to Shillong | Umiam Lake
Namaste! We're happy to crossroads with you after days of containing the excitement. Today, as soon as we meet at Guwahati airport at 10 am, we're pumped up like never before. With all that energy and excitement we start the Meghalaya trip, soon, we are onto a road trip to Shillong. You must have heard of the North-East part of India being untouched by human exploitation. You'll realize that it's very true as you breathe in the fresh air and see nature at its rawest and meet the warmest of locals who love to be in harmony with nature.
Baithe baithe kya Kare Karna hai Kuch kaam, and apart from getting to know this beautiful scenery, we will get to know each other's naam.
We vroom through the road with the jazziest of songs and get lost in the surrounding beauty. By now, we would have indulged in some fun gossips with our fellow travellers. And just like that we reach Umiam Lake in the Hills 15 km north of Shillong. It's a man-made reservoir that can beat the best of nature's creations! Everywhere you look, you feel magic. Here, we spend our time staring at the magnificent lake, boating and photo-bombing each other like crazy, and bonding over stories from here and there. This lake is surrounded with lush green East Khasi hills that adds to the majesty of the lake and makes for the best panoramic views for all you nature lovers. 
Following the meandering route, we soon reach our hotel and check-in for the day. We rest and relax for a while, and jazz up for our next exploration around the city. The magical first day of the Meghalaya trip has us brimming with the fervour of life already.
Next what? Abb bass bhi… Chalo abb waapis chalte hai!
Now that we are done for the day, let's not forget that we got the night to ourselves. Time for some mini-party, and dancing over Ritviz Bacardi House Party sessions while playing some games. We spend an enthralling night in Shillong and gear up for the next day.
Day 2: Shillong to Cherrapunji | Elephant Falls, Garden of Caves, Wei Sawdong, Seven Sisters Waterfall
Today, you wake up amidst the breezy mountains and the chirping birds! We are only onto the second day of the Meghalaya tour but we all are so quickly dwelled in. We hop out of our beds, savour some delicious breakfast, continue with the blessed and beautiful Meghalaya trip. We ride for Cherrapunji at 6:30 am. Halfway through the drive, you will realize that we are driving on one of the most beautiful roads in India. The journey will be filled with joy, fun, and laughter over the lamest of jokes.
If there's one thing we can assure you, it's how even after days, looking back at North East India will give you an essence of untouched rawness and long-lasting purity. And this feels especially absolutely true when we visit the Majestic Elephant Falls named after an Elephant like a stone at its base. The journey becomes mysterious and wonderful when we walk inside the Garden of Caves which is an area that has a combination of Caves, Waterfalls and rock/stone formations making it one of the most mystical and sought after adventures in Cherrapunji. Undeniably the most beautiful caves in Cherrapunji, the structures and formations are the epitomai of the most beautiful creations on earth!
Later in the day, we also visit the Arwah caves and Danithlen Falls. The peace here is enigmatic. The whole aura feels so fresh and pure that it makes you forget your worries for a long time! It makes you feel like you're on the edge of the hills- looking at the

panorama from here gives you an adrenaline rush like no other! The Meghalaya trip will make you feel like journeying through heaven on earth.
We then head towards the enchanting and one of the sights to behold at Wei Sodong waterfall. To witness the falls, which is beautiful beyond expression, you will have to pass a not-so-intense physical ability test. You will need to trek 200 meters stretch of almost a 75 to 90-degree angle. The villagers have made the path using bamboo trees, and so we would suggest you wear shoes which has an excellent grip. We splish splash in the waterfall and lose ourselves in the beauty of the place. Could this trip get any better? Yes, it can!
You will realize that our gang consists of some brilliant people who are not only crazy photo-bombers but are also great photographers! As we splash water onto each other, we dance and make the most of the moment. After all, every moment of this Meghalaya tour is precious and we treasure them in our palms like trying to hold onto the pristine water slipping through our fists. Only the traces of memories will remain.
The serene Meghalaya tour will serve you with a generous slice of heaven. Lush green stretches of hills and the clouds surrounding and blending with the mist beneath the waterfall- it's like a treat to your senses.
After a long day full of madness, we finally check in to our hotel in Cherrapunji. I'm sure by now guys would have formed a great bond that we will have to tell you to retire for the day.
Day 3: Cherrapunji | Explore Cherrapunji
Another day, another exploration! The sun greets us with a mouth-watering breakfast at our table, which energizes us for our day hike. You read it right!

Day 3 of the Meghalaya tour will start with our journey of covering the local tourist spot, we will also come across the much-awaited Seven Sisters (Nohsngithiang) Falls. This is the waterfall where you literally feel like you're in the abode of the clouds!
Post that we will travel to the Nongriat village and hike to the Double Decker Living Root Bridge in the village. It's a legendary bridge that is the heart of the Khasi tribes. This entire trek will fascinate you like no other- you will see lush greenery all around you, with strangled roots of trees and water so clear that you will be able to spot some beautiful fishes swimming in them. You'll cross numerous stones, rain-fed rivers, and surrounding forests. As the bridges shake and swing over the river, it would almost be like living through an adventure.
Adventure enthusiasts are sure to fall in love with this 150-year-old man-made wonder, that's no less than any creation of nature. Surrounding the bridge, there are waterfalls, dense forests, and natural swimming pools where we can swim until our souls have been purified! If you are afraid of water, don't you worry! There will be someone crazy enough to give you swimming lessons.:P
After exploring the beautiful village for a while, we head back to our hotel tired as never! But no matter the exhaustion, our JOSH will be still at its peak. So let's now lose our crazy minds over some fab 'Never have I ever session'. Are you nervous?
After some fun nights, we sleep with the magical memories from the hike, ready to celebrate life on the next day of this enigmatic Meghalaya trip.
Day 4: Nongriat to Shnonpedeng |  Umngot River
There's a different kind of beauty in waking up amidst the hills! As soon as morning strikes, we have our breakfast and soon after, we continue our journey towards a hidden gem of Meghalaya, Dawki. With some more songs and masti in the car, we reach Dawki. Yay! The Umngot River at Dawki meanders through lush green Khasi and Jaintia Hills. It shines like a bright emerald stone under the sun. The water is so clean that you can literally see its bottom!
Several boats dot the surface of the water to offer you the most magical boating experience of your life. Once you see Dawki, you'll start believing in fairy tales. At night, we camp at Dawki or Shnonpedeng to relish the most out of each other's company while gazing at the stars. Soon, we feel an eerie feeling consuming us all as not all camping experience is complete without those spine-chilling ghost stories! evil grin Are you afraid?
Day 5: Shnonpedeng to Shillong |Krangshuri Waterfall
Dance underneath a majestic waterfall. On this day of our Meghalaya trip, we are going to tick your fancies off your bucket list. Early morning, we savour a sumptuous breakfast, post which we head to this majestic waterfall called the Krangshuri waterfall. The shimmering blue sapphire like water will lure you until you are absolutely spellbound! Soon, we put on our lifejackets, hold each other's hand tight, and at the count of one, two, three…. You go, pal! Take that leap of faith!
While you leap, all of us will cheer you like mad- because that's what friends do! You might have witnessed several beautiful waterfalls, but swimming in nature's paradise is an incomparable experience. This will be the prime adventurous moment of your Meghalaya tour.
Once we fulfil our hearts by swimming in Meghalaya's most beautiful waterfall, we shall take the route back to Shillong.
This is the last night in Shillong. At night, we explore the world-class cafes and get into the fanciest of all moods. We reminisce about all the nights we've spent with each other on our Meghalaya trip and realize that we're gonna miss them for ages to come. So how can we let go of tonight so easily? Let's spend the next one hour playing some crazy Dumb Charades with each other and obsessing over SRK and Bhai ke movies! Who's going first?
Day 6: Shillong to Guwahati | Departure from Guwahati
It's the last day of our Meghalaya tour, yet a memorable one. Our eyes are restless to soak in the beauty of the hills for one last time, following which, we meet each other for breakfast. Once we pack up, we check out of the hotel and start our journey back to Guwahati. If time permits, on our way back we head towards Laitlum Canyon. Situated at the edge of a cliff, this canyon gives a glimpse of the beauty of Shillong from a bird's eye perspective that you will absolutely love. Situated in the Smit Valley, this canyon is almost always covered in fog which adds to the beauty of this place. With amazing company, is perhaps one such moment that we will cherish years from now as treasured memories from our unforgettable Meghalaya trip. The three hours journey back to Guwahati will be all about hippie songs and recollecting the memories made in the last few days.
By 6 pm, we leave and bid each other goodbye with the tightest of hugs. Today, we promise to stay in touch and go on many more trips like this. We board our flight and head back home with the happiest of memories of the Meghalaya trip. So here, hasta la vista- until we meet again!

Note: If any places are closed due to Covid 19 then HikerWolf will not responsible for the same.
NOTE :
HikerWolf reserves the rights to cancel the trip if the minimum batch size does not suffice. 
Trip Leaders will only accompany you if there are people more than the minimum batch size otherwise, the trip will be handled virtually.