An exotic strip of land spread across the south of Mumbai – Mahabaleshwar. The hill station is blessed with a range of natural sights. These are enhanced by the localites, which then sets up the dais for one of the most enchanting shows that's been put up.
Elevated viewpoints as the stage, silver waterfalls tumbling down like draped curtains, colourful little boats and forts like artistic props, the vast expanse of strawberry fields adding the dramatic effect, and finally the grand showstopper as 5 rivers converge in Mahabaleshwar.
It's a place that'd make you not want to blink even for a second in the fear of missing any bit of its magic.
It's a cluster of the villages of Malcolm Peth, Old Kshetra Mahabaleshwar, and Shindola. This also makes it among the few untouched evergreen forests and a sacred pilgrimage spot in India.
Location
This hill station is among the pristine forest belts of the Satara district of Maharashtra. It's visited by a good share of tourists as it acts as a base point for those who come by to visit heritage sites such as the magnificent Pratapgad Fort.
This sought after the place is among the ideal weekend getaways in the Western Ghats.
A must visit trip
At an altitude of 1372 m above sea level, Mahabaleshwar is the largest hill station in the Sahyadri range. Along with the second-longest river in peninsular India – Krishna, it offers a view which is nothing less than breathtaking.
Adding to this beauty is the garden-fresh strawberries. Contributing to about 85% of India's strawberry production, Mahabaleshwar is also known as the land of strawberries.
If not for the view, you'd definitely fall for the freshly plucked strawberries served along with the cream. It's a simple moment that'd be cherished for years.
How to reach
The Pune International Airport and the Chhatrapati Shivaji Maharaj international airport are at close proximities from the hill station and can be accessed through public transport facilities.
There are daily flights from major cities such as Mumbai, Bangalore, Hyderabad, Chennai, Kochi, Delhi, Kolkata and so on.
Distance from Pune International airport – 140 km
Distance from Mumbai International airport – 235 km
Train's are one of the most viable public transport options, considering its frequency and feasibility.
The nearest railway station to Mahabaleshwar is the Satara railway station. There are other railway options such as the Pune and Kolhapur station which then provides proper connecting facilities. There are trains that pass through Goa, Delhi, Mumbai, Pune, Hubli, Kochi, Kolhapur, Tirunelveli, Mysore, Pondicherry, Bangalore, Ahmedabad, Ajmer and so on.
Distance from Satara Railway station – 70 km
Distance from Pune Railway station – 117 km
Distance from Kolhapur Railway station – 190 km
In case you're planning to drive down to Mahabaleshwar, you'd be passing through a series of picturesque spots. There are well-connected networks of roads leading to many important hubs of the state and the neighbouring states.
Distance from Satara – 68 km (1 hour 40 mins drive)
Distance from Pune-Satara road – 130 km (3 hours drive)
Distance from Kolhapur – 188 km (3 hours 30-minute drive)
Distance from Lonavala – 190 km (3 hours 50-minute drive)
Distance from Mumbai – 222 km (5 hours drive)
Distance from Nashik – 340 km (7 hour 15-minute drive)
Best time to visit
It's a trip you can look out for throughout the year! Falling under the umbrella of a moderate climate, each season here appears prettier than any other part of the country.
The rivers and waterfalls can be visited in all its glory post-monsoon.
Summer brings to us the lush greenery of the hill station in all its magnificence.
If you wish to walk on a carpet of exotic florals, then spring is a perfect time.
Following the monsoon season, the bustle around here also starts with activities such as boating, horse riding and so on.
The scenic beauty of Mahabaleshwar is retained in every season, making it an even more convenient getaway.
Top 10 things to do around Mahabaleshwar
From locations that are strategically located to capture the panoramic views to the simple plains studded with activities that attract hordes of tourists, we have enlisted 10 must-go places and things to do around Mahabaleshwar.
1. Explore the hills from Lodwick Point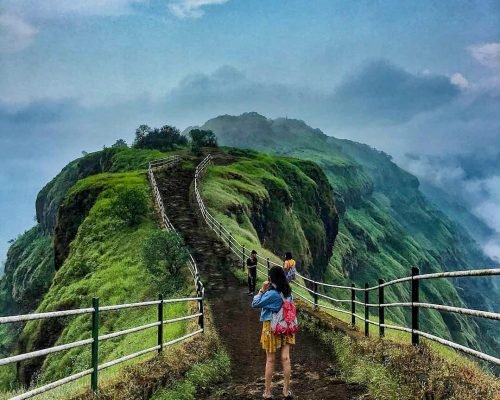 Hike your way about 5 minutes west of Mahabaleshwar, and you're in for a treat in the form of the Lodwick point. It is a combination of two beautiful vantage points Lodwick and Elephants head point.
It was named so to honour the first British officer who climbed the hill. Earlier known as Sydney point, this place still treasures its colonial remnants.
Standing tall in proof of that fact is the 25 ft. memorial pole with the marble sculpted tag of the British General.
This point lies at an elevation of 4087 feet above sea level, offering the mesmerising view of the station along with the Pratapgarh fort.
Distance from Mahabaleshwar – 1.9 km
Timing – 06:00 am – 08:00 pm
Entry Fee – No Entry Fee
2. Boating at Venna Lake
Explore the man-made the beauty of Lake Venna through a paddle or rowing boat. While this experience is not available during the monsoon season due to safety reasons, the lake is always a sight to behold.
Even then, charting your plans accordingly will make the trip much worthwhile.
It's among the most visited places in Mahabaleshwar, and so be prepared to find quite a number of nature lovers here.
The scenic lake is a complete package with several other fun activities and some really delicious street food stalls.
Perfect for a sunset picnic, get yourself a picnic mat and relax here watching the lake tranquillize everything around it.
Distance from Mahabaleshwar – 2.8 km
Timing – 08:00 am – 08:00 pm
Entry Fee – No Entry Fee (Boating charges Rs. 250 for 30 Mins – Rs. 500 for 1 hour, Rs. 440 for 1 hour for Peddle Boat)
3. Seek blessings at the Kshetra Mahabaleshwar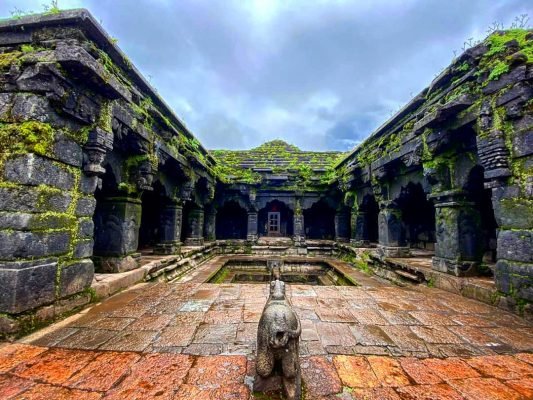 The infamous three spiritual abodes are located around the old valley of Mahabaleshwar.
Locally known as the Kshetra Mahableshwar, it is home to the Panchganga temple, Mahabaleshwar temple and Krishna temple. All three beautifully constructed in their own unique manner.
The Krishna temple is one of the oldest temples built around the 13th century. Savour the architectural experience along with offering your prayers.
Mahabaleshwar temple was built in the ancient Hemadpanti style to make a comfortable home to Lord Shiva's bed, Dhamru and Trishul.
Panchganga temple is believed to be the origin point of the 5 holy rivers – Krishna, Venna, Koyana, Savitri and Gayatri. If you're in luck, you'd get to see these mystical rivers converging here.
Distance from Mahabaleshwar – 5.7 km
Timing – 5:00 am – 12:00 pm / 4:00 pm – 9:00 pm
Entry Fee – No Entry Fee
4. Capture the rainbows at Lingmala Falls
If a place could look like a de-stress pill, it'd be the Lingmala falls. Cascading from above 500 ft., the waterfalls provide an overlooking view of the Dhobi and Chinamans waterfall.
It's an ideal picnic spot as it is located just beside the forest Bungalow of Lingmala. While you're lounging over here, don't miss out on the rainbow effect the falls create. The first few sun rays falling through the misty silver thread of the falls creates mini rainbows that look very much straight out of a fairytale.
You can also trek around here and watch the water peacefully flowing into the valley of Venna.
Distance from Mahabaleshwar – 7.3 km
Timing – 08:00 am – 05:30 pm
Entry Fee – Rs. 20 per person. (Extra charges for still camera)
5. Experimental trek to Arthur's Seat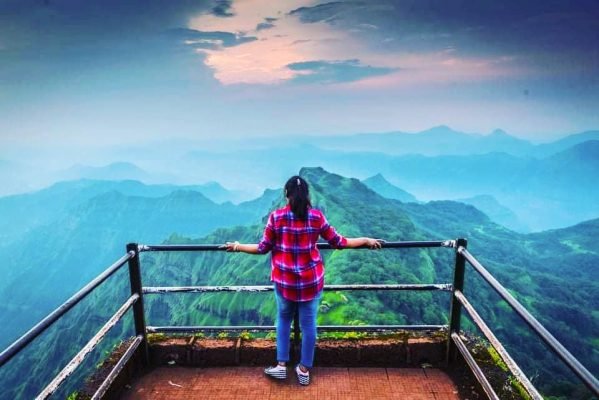 This is one of the must-visit places around Mahabaleshwar. Known as the Queen of points, Arthur's seat has 6 points that carry its own personal charm.
At an altitude of 1340 metres above sea level, the vantage point is encircled by the spectacular views of Savithri gorges and Bramhaaranya forest.
It portrays the geological contrast between the Deccan and Konkan platforms like a masterpiece painting.
What makes this trek even more interesting and fun is the experimental ideas that evolved here. Try throwing a light weighted object, such as a bottle cap, from a stop and it'd float back to you due to the air pressure at the highest point.
Distance from Mahabaleshwar – 7.6 km
Timing – 09:00 am – 08:00 pm
Entry Fee – No Entry Fee
6. Trek to the Elephant's Head Point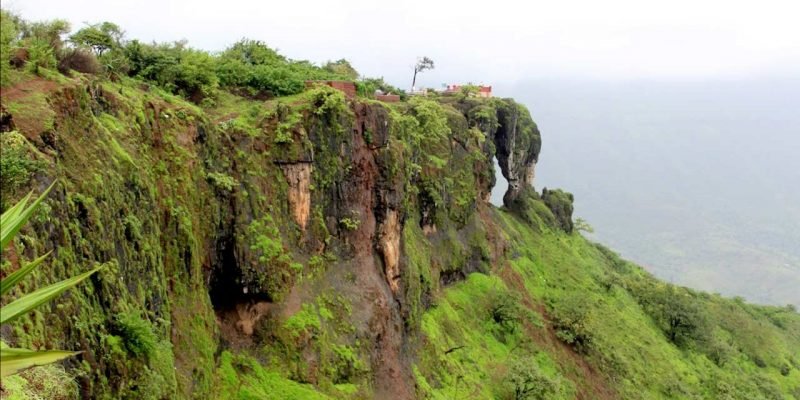 Elephant's Head Point is one of its kind natural vantage points. The tall standing boulders covered in mossy greens is definitely a highlight, but there's more to it.
Shaped unusually in the form of a head of an elephant, the point is often compared to the fictional structures in the movie Bahubali. And so comes along the royal feeling from the viewing point.
It's enveloped in the foliage of greens that leads to the aerial view of the hill station. The overhanging cliffs also act as an echo point, so be ready to scream your heart out and have it echoed back to you.
Distance from Mahabaleshwar – 10 km
Timing – 09:00 am – 06:00 pm
Entry Fee – No Entry Fee
7. Taste explosion at Mapro Garden
Short for Mahabaleshwar Products, this is a place that exclusively brings the freshly plucked products to the markets.
Covered in vivid colours, the garden is a gem of all kinds in Mahabaleshwar. From exotic to native flora, ornamental water fountains, lily ponds, it's a place that'd make you want to stay longer for its subtle beauty.
With the increasing number of tourists, the garden also created a welcoming space for them. Offering a healthy twist to fast food, to a narrative and dramatised show arranged every now and then, there's everything that'd keep your eyes glued to the gardens.
There's also a surprise element for those with a sweet tooth. Mapro is home to a really fascinating chocolate factory, from where you can witness the crafting of some heavenly chocolate and take some back home as well.
Distance from Mahabaleshwar – 13 km
Timing – 08:00 am – 08:00 pm
Entry Fee – No Entry Fee
8. Go filmy at the Table Land
Located at close proximity from Mahabaleshwar, is this strip of land from the Deccan Plateau.
Tableland is a very common shooting spot for many mainstream Bollywood movies, and there's a good chance of you having seen this scenic beauty through screens already.
While you're around Mahabaleshwar, jump on to your chance to pull off your best filmy tricks here.
Crowned as Asia's Second Highest Mountain Plateau, Table Land is a place you can go around exploring the old-school way. The flattened hills are a perfect venue for horse riding, so you're in for some really fun activities out there.
The motorable road uphill is surrounded by hills and flat laterite rocks that'd pave way for an aerial view of Panchgani. From here you'd also get some kick-ass photos and videos that'd go on the gram.
Distance from Mahabaleshwar – 20 km
Timing – 06:00 am – 06:00 pm
Entry Fee – No Entry Fee ( Rs. 800 –  2500 for horse riding)
9. War Tales of Pratapgad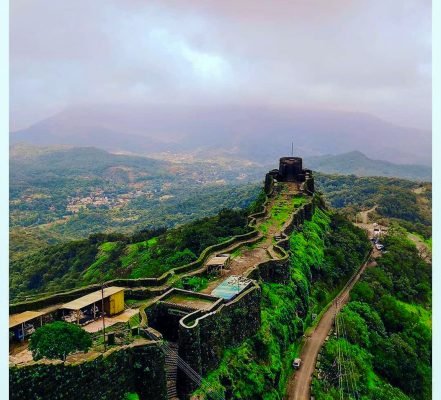 If there's a place in Mahabaleshwar that cocoons the entire valley's glory, it'd be the Pratapgarh fort.
Whether or not you're a history buff, the fort is sure to capture your fancy with its grandeur. Located at an elevation of 3454 ft., it's an easy trek up to the fort surrounded by sheer cliffs.
To reach the peak point, you'll have to climb 450 steps and carry lots and lots of water.
The best time to explore the fort would be from September to March. During these months, you'd be welcomed by the freshwater lake of the fort, Rahat lake. Around here you could also pitch your tent and camp for a day or so.
Racing to the top, there'd be stone structures built strategically around a gigantic watchtower and the great Shivaji Maharaj's statue proudly holding the reins of his horse.
The fort is said to have played a very pivotal role in the Battle of Pratapgad. There onwards it has remained an important fragment of the Maharashtrian culture.
Distance from Mahabaleshwar – 21 km
Timing – 10:00 am – 06:00 pm
Entry Fee – No Entry Fee
10. A historical walk through Rajapuri Caves
The Pandavas are believed to have stayed here during their exile, making it an important pilgrimage spot.
A group of four caves surrounded by sacred water (Kund). There's always a few pilgrims who'd be washing off their sins in the Kund and the sight in itself makes for a great story.
Added along with these are the stone inscriptions and the Karthikeya temple. Believed to be built purely out of the sand taken from the caves, this temple is a marvellous architectural as well as religious structure.
Distance from Mahabaleshwar – 25 km
Timing – 06:00 am – 06:00 pm
Entry Fee – No Entry Fee
Tips
The weather can get a little unpredictable at times, so carry along proper clothing and an umbrella/raincoat with you.
If you're planning on trekking around Mahabaleshwar, carry shoes with a comfortable grip. Even though the climb is easy, it'd always come in handy.
Monsoon season is peak season and hotels are usually expensive during this point. In case you plan on travelling to Mahabaleshwar during the monsoon period, advance booking would reduce the hassle and inconvenience.
Exploring at night is not suggested as the hill station is less populated. It's quite a safe area, but unless you go in groups, travelling at night wouldn't be an ideal option.