Through the valley where the magical Parvathi river flows is this trek to the humble abode of Lord Shiva – Kheerganga.
It is an easy 2-day trek, following trails through iconic temples, enchanting waterfalls, picturesque deodars and hot springs.
I had covered the distance of approximately 15 km with the help of a trekking guide and a group. The trails are beyond fascinating, and there is a good share of a chance of getting lost here if you've not been here before. The locals are familiar with the trails and shorter routes, so it'd be easier to trek along with a group.
At an altitude of 2950 m above sea level, the terrains are quite steep but an easy climb until the waterfalls.
Maximum Elevation: 2690 Metres
Difficulty Level: Easy
Best Time to Visit: April–June and September-November
Duration: 2 days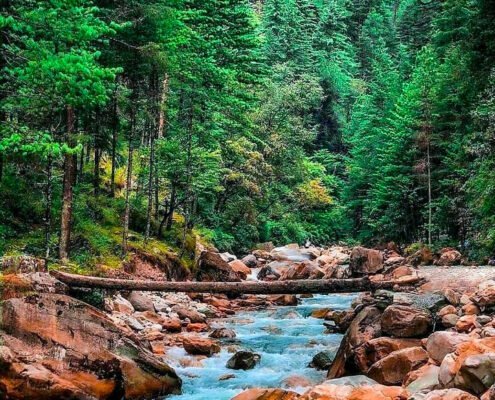 The ideal time to visit
It's a feast of all seasons at Kheerganga, as it can experience the extremes of all. Winters can get extremely cold with snow being sprinkled over you very often. If you're used to the Himachal climate, Parvathi valley can hold quite the normal scale of temperature drop to you.
Take extra precaution during winters as the trails get covered by snow and you might find a hard time figuring out the route if you're travelling solo.
During summers of early June, the temperature can rise up to 45° and the snow melts off in the form of glacier rivers.
So be it the December chills or the May heat, based on your preference, you can choose to trek at any point of time to Kheerganga.
How to reach Kheerganga
Flights, even though one of the most convenient options, are not the most reliable ones due to the fluctuating nature of Himachal climate.
The nearest accessible airport is the Kullu Manali airport in Bhuntar. At a distance of 53 kilometres, the airport has frequent domestic flights.
From here on, the onward journey will be facilitated through public transport services such as cabs or buses.
The nearest railway station is Joginder Nagar railway station, from where you can reach Kasol within 4-5 hours via NH154. Kheerganga is another hour drive away from Kasol.
The rail-network has trains connecting major cities with the town such as Chandigarh, Palampur, Ghatasni and so on.
If you have the provision of a personal vehicle, taking the road to Parvati valley is always the best option. It is one of the most convenient ways to get to the valley.
There's also an unavoidable personal space and choice of pit-stops. The travel might get longer than it was charted, but to me the longer I was around Himachal, the merrier it was.
From Delhi, it'd take approximately 13 hours to reach Kasol without much interruptions other than the few halts en route.
Through the Delhi-Manali highway, the roads that lead to the village of Bhuntar are pretty smooth. It gets a lot steeper from Bhuntar to Parvathi valley.
The last motorable road is Manikaran.
Staying around Kheerganga
During the months of summer, Kheerganga is crowded with those seeking the perfect summer retreat. Hence it's quite important to know the stay options and their feasibility before-hand.
There are various options available from resorts to ashrams, but most of them would be filled, so try pre-booking your stay.
The most cost-effective and peaceful stay in Kheerganga is what the common rooms of the Ashram provide. Maintained by the monks and sadhus, this place is a common option opted by trekkers. Rooms are accounted for on a daily basis and can cost barely Rs.150.
Food can cost quite a fortune in Kheerganga and the rates of everything, beginning from a simple bowl of Maggi to a full-fledged thali, will be double.
The ashram is among the very few places that gave a decent North Indian platter for a meagre price.
Amidst the rudimentary settings, are almost a dozen huts that facilitate a stay at Kheerganga. Private huts start at a rate of around Rs. 500. These huts have all basic necessities, and for extra services, you might have to pay extra, like an additional blanket or a room heater.
Simple lodges can be found along the route, and most of them also have an open-air cafe attached. The places were simple in nature but did not compromise quality or accommodation capacities. They seem to have the capacity to hold around 100-150 people at one go.
Most of these cafes also have a very hippie vibe to it, with vivid coloured doodles, wind chimes designed like dream catchers, and a very common image of Bob Marley.
If you're directly moving for the trek, you can find tent facilities around Kheerganga itself. In case that's the plan, you could also carry your own camping gear and pitch a tent by making a minimal fee.
Endless stories

Passed down like a family heirloom, the traditional culture of story-telling lives through the people here. While I was sipping on to some homemade wine and munching on the cheese coated snacks, I was told the stories and mythological importance of the place.
Kheerganga is also a lot more like wine that just got better over time. The antiquity it holds, added along with its pristine beauty, Kheerganga's popularity has grown over time.
Among the stories that were shared with me, is my favourite of the mythological reference regarding this place.
Karthikeyan, son of Lord Shiva and Parvathi, is said to have meditated and conducted prayers at Kheerganga. After years and years of meditation, his parents came by to visit their beloved son.
Overwhelmed by his dedication, his mother stayed by to cook for her son. With the help of the hot water spring that flows by Kheerganga, she cooked Kheer (rice pudding) for him.
A lot of them associate the name of this place to this expression of the love of the Goddess.
The name in itself can loosely be translated to "Milk like sacred water".
Considered as sacred as the holy Ganga, the springs here made me feel like I was dipping my feet into warm milk. The shades are a blend of pure pearl white along with the roughness of graphite-like rocks.
The trek
Kheerganga is relatively less steep than other trekking experiences in Himachal. At an altitude of 2950 m, the entire distance that will be covered will come around 7-9 kilometres. Based on your speed of pace the duration will vary for about 4-6 hours.
The base camp is Barshaini. Reaching here is not much of a task as there is frequent transportation available from Bhuntar to Barshaini.
With several deviations and shortcuts, the trails might feel a lot like a confusing maze, if you don't have a proper route map or a guide.
From Barshaini itself, there are more than 3 routes to reach Kheerganga. The locals know most of these routes like the back of their hands.
The trek can also be shortened to the duration of a single day. This would require you to reach the spots much earlier than planned. Taking the proper routes after asking the locals would reduce the time you'd take to get back to Barshaini from Kheerganga.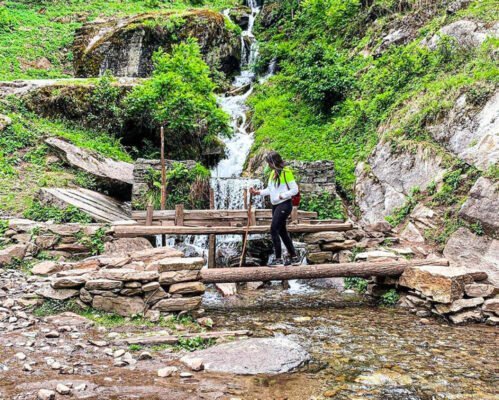 Day 1
Barshaini – Kheerganga
The base camp has many facilities including decent network, Dhabas, accommodation, and small scale provision stores.
Buy necessary materials from here and leave off for the trek as you may not find any shops en route. Just a few miles from Barshaini is a bridge that paves the way to Nakthan village.
A different route than Nakthan is the Kalgha village, which can be accessed by taking a deviation from the same bridge. This route is taken by very few trekkers and more by the localites.
The Nakthan route is mostly preferred as it is the shortest and most convenient trails. Due to the village settlements along the line, it becomes easier to ask the villagers to guide you as well.
It's an easy climb to the village, amidst the fresh apple orchards and small cafes for trekkers to stop by and relax.
With the beautiful Parvati river gushing down the gorges and neatly arranged huts alongside it, Nakthan is a paradise disguised in the form of a hamlet.
Barely a 30-minute walk from here is the infamous shrine of Lord Shiva – Rudranag temple. There's always a good share of localites welcoming you to this abode of Shiva, and over the time it has become a ritual to halt here.
This place is one of the important milestones for yet one more reason.  The humble stone temple leads the way to the Rudra Nag waterfalls. Waters here can be used to refill your bottles, it's that crystal clear and pure.
A 100 m steep ascend from here is the Kheerganga camping site.
Once you've pitched your tent and unpacked, you can rest for a while before leaving for the hot water spring – Parvati Kind. Warm water creating ripples around your feet with the snow-covered mountains in the background is the perfect way to relax after the trek.
Day 2
Kheerganga – Barshaini
I was awake by the early hours of 6 am because of the cold air that had breezed into the tent. Waking up this early has its own perks. I could spend a few extra peaceful hours at the hot water spring, before trekking back to Barshaini.
While I sat there, not wanting to go back, I remembered one of the infamous quotes of Henry Thoreau.
"On tops of mountains, as everywhere to hopeful souls, it is always morning."
I had not understood the quote until that very moment when I had reached the summit and saw the first rays of sunshine make their way through the marshmallow clouds.
After a warm cup of chai and some filling breakfast, we walk back through Rudranag and Nakthan villages.
Almost half an hour from the Rudranag temple, before the bridge you could spot a small Dhaba like setup. You can halt here and munch onto some snacks before tracing your route back to Barshaini.
On the way back I had spotted several shepherd's who were walking their cattle to the mountains. Every morning they pick up their sticks and take their sheep's and goats to the meadows of Thakur Khan, that falls after Kheerganga.
One thing to keep in mind is to never follow unorthodox trails and take shortcuts to reach earlier. Unless you're sure about the routes and have proper assistance, never depend on such trails to get back to your base camps.
From Barshaini, at a trekking distance lies the village of Tosh. This is one of the best places to shop for little souvenirs and also an easier route to Kasol, which lies about 4-5 hours drive away.
In case you're opting for public transport from Barshaini to Bhuntar, make sure you communicate about it and remain informed about the last bus from Barshaini. There are not many buses after evening, so make sure that you access the bus by the timings enlisted on the Himachal Road Transport Corporation website.
Things to keep in mind
If you're a beginner, it would be best that you prepare yourself for the trek with light warm-up exercises.
Always carry water along with you on the trek. Don't depend on purchasing water bottles on the route.
Refilling points are available around the Ashram and the waterfalls.
Keep necessary first aid in your backpack in case of mountain sickness or injuries.
Make sure you carry energy-providing foods, and particularly something sweet. Candies will prevent your throat from going dry and the sugar will also provide with the necessary energy for the climb.
If you're carrying your own camping gear, make sure it has waterproof tents and sleeping bags.
There is no good network around Kheerganga. If there are important calls or messages that you have to make, do it from the base point.
Keep the trails clean and do not litter it up, this way even others can enjoy the unadulterated beauty of Kheerganga.