Down south, one of the destinations that always tops the list would be Pondicherry, or the more lovingly known "Pondi".
It's a city that holds the clash of relaxed hippie culture with the aesthetics of French legacy. You can experience either of it as preferred or walk-on the line between both.
This is also the city that'd welcome you to their mustard-colored dwelling with a chilled beer and a view of the palm-fringed beaches. Beaches are something that they've definitely got in plenty, and here are the top 10 beaches in Pondicherry you must visit for an unforgettable experience!
Location
The French Riviera of the East lies by the borders of Tamil Nadu. Quite literally away from the hustle and chaos of City Life, the union territory is made of four serene coastal regions.
The four regions are situated on the coastline of Tamil Nadu, Andhra Pradesh, and Kerala, making it a very easily accessible spot.
From the Chennai international airport, the Beach Haven can be reached through the National Highway at a distance of 140 km.
How to reach here
By air
While there's an airport in Pondicherry, the most opted for option is the Chennai airport. Pondicherry Airport is barely 5 km from the main beach but accommodates only a few domestic aircraft. In case you're flying down from Delhi, Mumbai, Kolkata, or Kochi, you can avail of connecting flights.
Chennai is the second nearest and has well connecting public transportation to Pondicherry. It also has more frequent flights from many major parts of the city.
By train
The nearest rail station is Villupuram, which lies about 35 kilometers from Pondicherry town. There are connecting trains from stations of New Delhi, Kolkata, Mumbai, Chennai, and Trivandrum.
You can also pre-book your cab service from Pondicherry station, in case you're picking up on your pace and want to spend less than a day here.
By road
Roads are undeniably the best option because of the even and motorable roads. There are frequent buses from many parts of Tamil Nadu such as Chennai, Trichy, Thanjavoor, and so on. If you're driving to Pondicherry, the distance will be convenient as well as a feasible option.
Distance from Vilipuram – 40 km
Distance from Chidambaram – 64 km
Distance from Chennai – 163 km
Distance from Trichy – 200 km
Distance from Kochi – 583 km
Distance from Trivandrum – 596 km
Top 10 beaches
1. Auroville Beach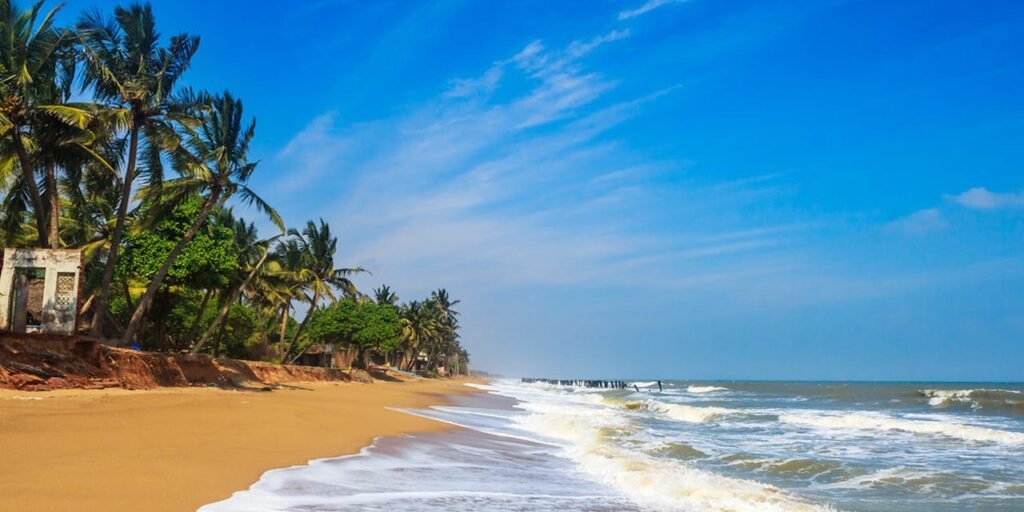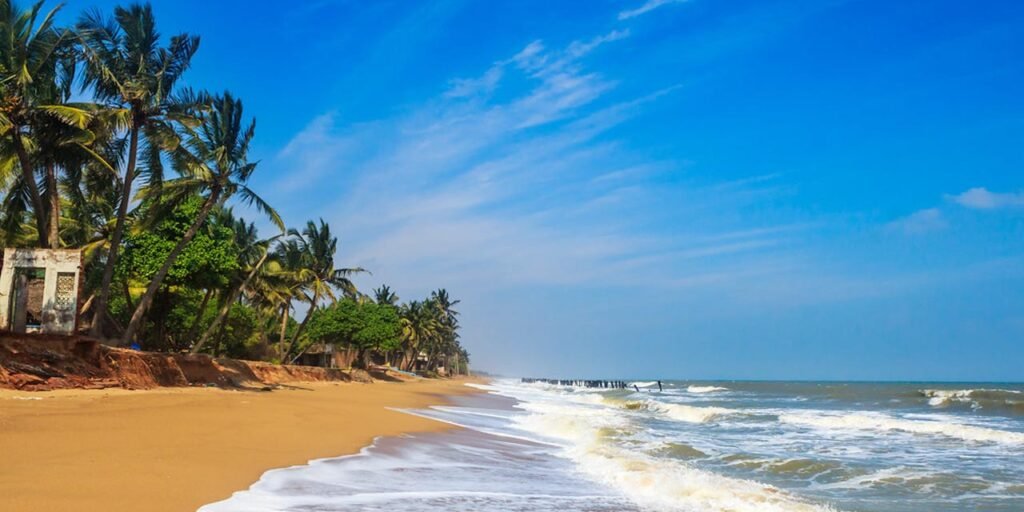 The first stop for most tourists is the Auro beach that's located near the Auroville.
While the sun-kissed shoes are welcoming enough to relax, the tides quench the thirst for adventure seekers.
Surfing is one of the exciting activities around here. Grab on a surfboard or swim through the shallow waters studded with seashells, and you'll understand what all the hype around Auro beach is about.
It also has a line of quality shacks and resorts with beach views.
2. Promenade Beach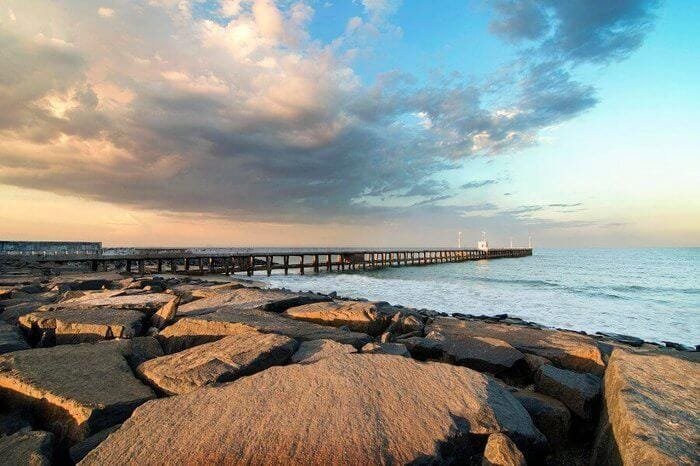 A popular rock beach stretching from the War memorial to Dupleix park. Promenade beach is a common sunset viewpoint around Pondicherry.
The charm of this beach remains in its simplicity and subtlety against the exemplary grandeur with which many spots around the town portray the sunset.
Facilitated by a walkway for morning exercises and evening strolls, it has become a common spot for people to come by and chill.
3. Paradise Beach
True enough to its name, this beach is a paradise for all beach lovers. It's a privately managed beach and also one of the cleanest in Pondi. The crystal turquoise waters blending in with the flawless white sands look like someone painted them across over years.
Paradise beach goes synonymous with tranquility and in recent times, features such as showering and changing rooms were added for those who would want to go swimming here.
Do try your hand at water sports, boating and dolphin spotting here, you'd for sure be leaving with some of the most treasured memories.
4. Serenity Beach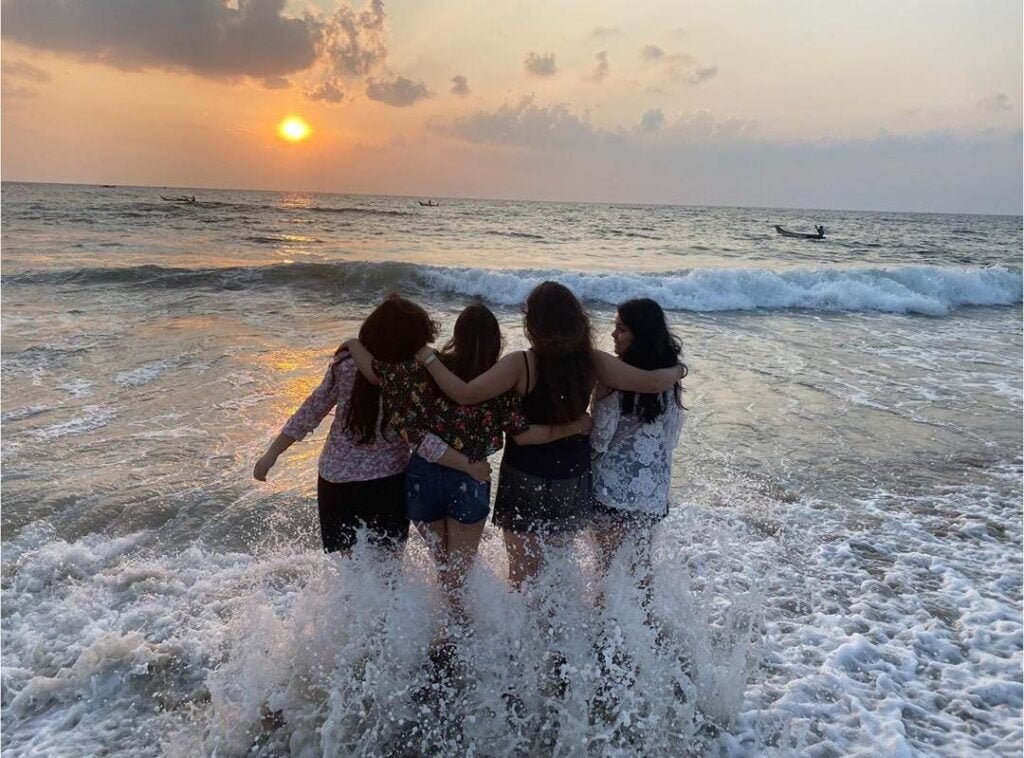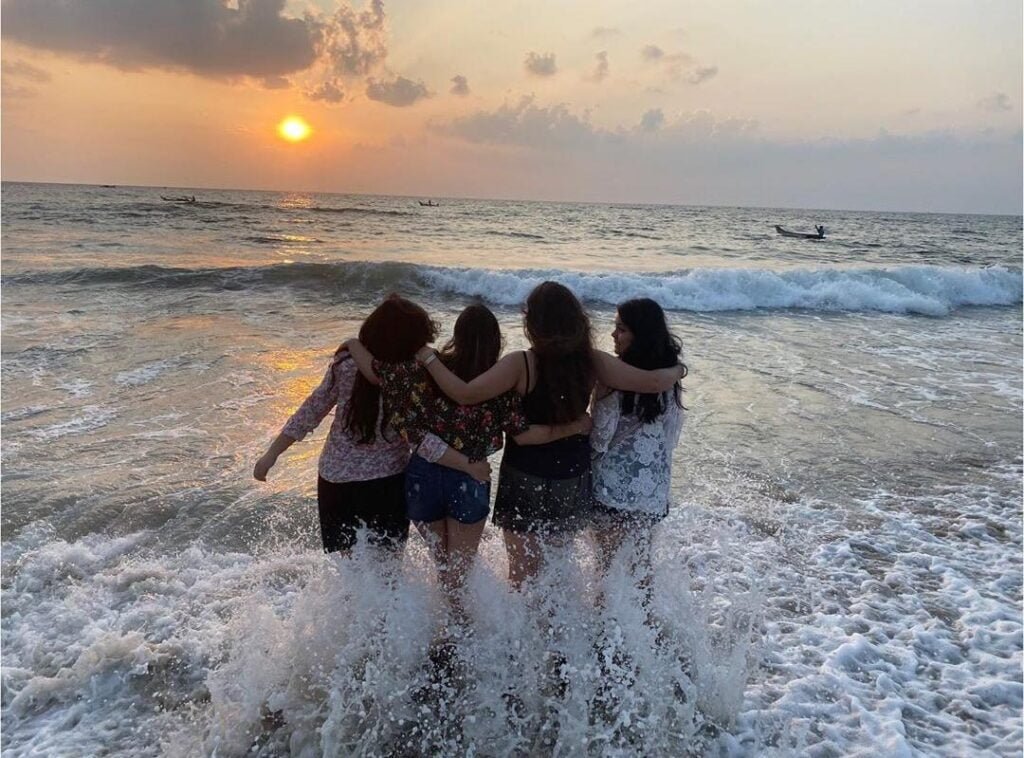 If you're looking for beaches with classic old-school vibes, then this is where you go.
Ideal for a quick getaway, there's a lesser crowd here who come by looking for some solitary time. The grainy golden sands with waves flattering it and makes it one of the most beautiful spots around Pondi.
You can choose to laze around the shores, go shopping around the flea markets, or even learn surfing under professional training.
5. Mahe Beach

Mahe beach radiates small scale Island like feel. It's lined with rich green foliage that leads to this pristine beauty brushed up by palm trees.
The spot is open for fishing as well and it's a completely different kind of experience to take a stroll around the fishing villages around Mahe beach.
There are almost zero commercial setups around the beach which makes it a perfect picnic spot.
You can pack in your own umbrella/towels, food, Sunscreen lotion, and other essentials. This place is the physical representation of what's called "Tan lines and good times".
6. Karaikal Beach
This beach brings out the child in you, and that's guaranteed. Almost always you can spot a bunch of people passing around a football or smashing a volleyball.
The salty breeze from the beach and the fine grain sands just makes it way more exciting. You can also indulge in watersport activities and spend some time trying new things!
It's among the happening beaches in Pondi and definitely a must-visit.
7. Quiet Beach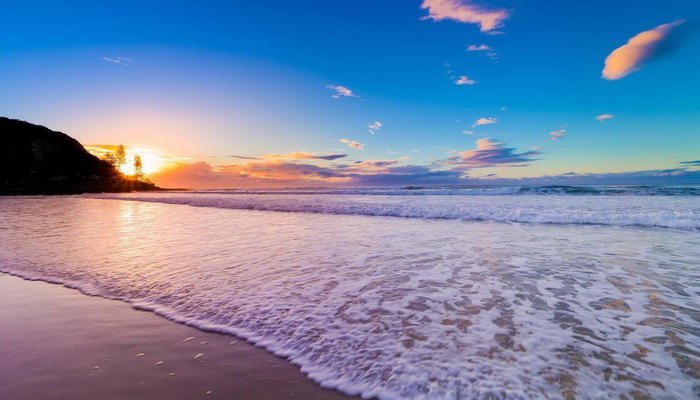 If you had to throw a dart at a place in Pondi where times stays still, it'd be a quiet beach. Not a lot of people come here, so a stroll around the beach during sunset would feel like ultimate nirvana.
It's also one of the cleanest beaches considering there's not much tourist activity here. So you get to soak in some good time along with the sunkissed shorelines.
8. Reppo Beach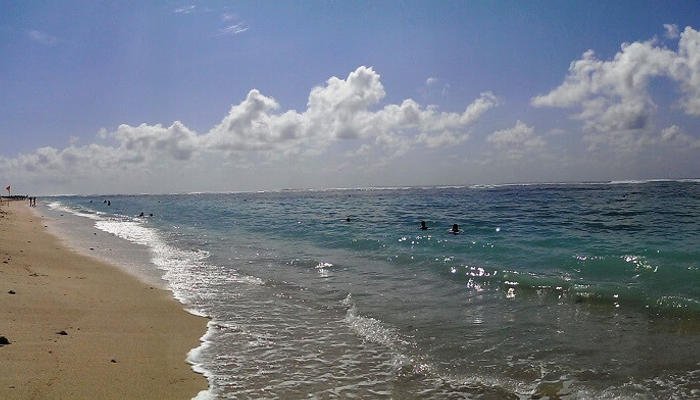 An entire day sitting by this beach would pass by like seconds. Reppo beach is relaxing and at the same time thrilling. You've got an array of options here in terms of sightseeing.
Apart from the tourist attractions around, there's pin-drop silence that's occasionally filled with the sound of the waves crashing onto the rocks.
It's an ideal place whether you travel solo, with friends or with family. Unruffled and welcoming, everything about this beach makes it beyond perfect.
9. Veerampattinam Beach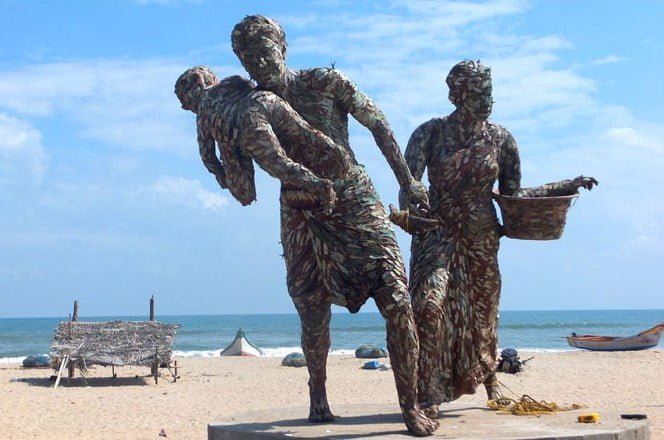 A beach pavillion amidst the coastal village, adorned by several colorful boats and fishing nets. It is among the longest beaches in Pondi and attracts quite a bunch of enthusiastic tourists. Most of them come by to either sunbathe and relax or to go about with the fishermen and explore the lesser-known sites of Veerampattinam.
Without any doubt, this is the most colorful and sublime beach of Pondicherry, and a visit here would add on to the unforgettable memories you create at Pondicherry.
10. Rock Beach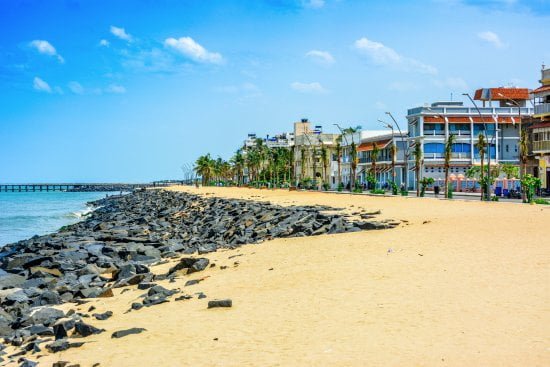 Last but not the least, Rock beach. It's the pride that the town holds close to its heart.
Sun rays falling across heavenly. Studded by polished rocks where you could lounge back and watch the beautiful sunset. Feet soaked in the beach water that unwinds new colours every now and then.
You'd be left at a dearth of words that could describe how mesmerizing the Rock beach is.
There's quite a number of food joints and shacks not far away from here. So brace yourself for an enticing experience of lip-smacking local cuisines with the view of the beautiful beach.
Tips
Carry hats, sunglasses, and ample amounts of sunscreen lotion. The harsh sun at Pondi may not be adaptable weather for the others.

Plain or cotton clothes are the best option here because of the most humid nature of this town.

You can rent a bicycle or motorbike here at really cheap rates, as an alternative for public transport.

Language and conversation won't be much of a barrier here, a good share of people are well versed in Tamil, English, French, Malayalam, and Telugu.