Located in Himachal Pradesh is a beautiful hill station and, we are gonna list things to do in Palampur to make it memorable for you. In addition to the famous tea capital of North India, at the foot of the picturesque Dhauladhar mountain range, it offers travelers many interesting things to do in Palampur. This city is located at a distance of approximately 35 km from Dharamshala and attracts many tourists for its picturesque tea plantations and rice fields. The city is covered with pine trees and tea plantation, a fresh aromatic breeze hit your senses as you take a breath in here. It is a sight for sore eyes
Here are the best 10 experiences that include guided tours of Palampur and other excursions to make it a fun and memorable holiday for you and your loved ones:
1. Paragliding and Hand-gliding in Bir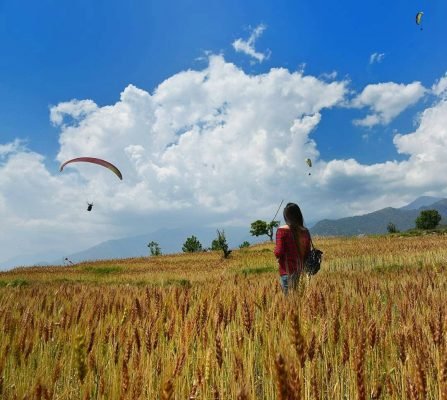 Why walk when you can fly? Live the most exciting paragliding experience in Bir, a picturesque village in Himachal Pradesh located 29.6 km from Palampur. Often known as the paragliding capital of North India, it is a paradise for adventure seekers. Enjoy the 360 ​​° panoramic view of the Dhauladhar mountain range of the Indian Himalayas. It is one of the best things to do.
2. Naam Art Gallery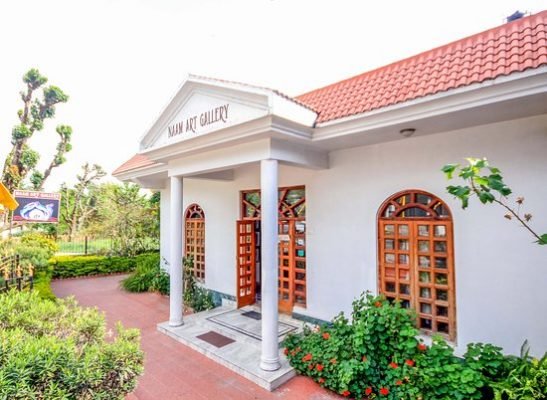 Naam Art Gallery is located in Dharamshala. This gallery features works by Elsbeth Buschmann, a professional German painter, and Alfred W. Hallett, a famous English painter. The paintings are magnetic and captivating and you will be fascinated by these watercolors, oils, and acrylics.
3. Trekking in Triund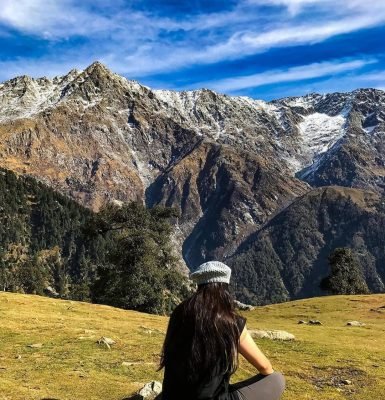 Rewards come after hard work. For lovers of excitement, Triund trekking is a must, where you can have fun climbing and camping at Triund base camp. Fall in love with the beautiful views of the mountains and meadows along the way. The Triund trek begins in Dharamkot, 41 km from Palampur. Top of the list of things to do near Palampur. The view of the night sky as the sun sets behind the Triund mountains is priceless. You can watch the twinkling stars all night from your tent and watch the phenomenal sunrise the next morning.
4. Tea plantations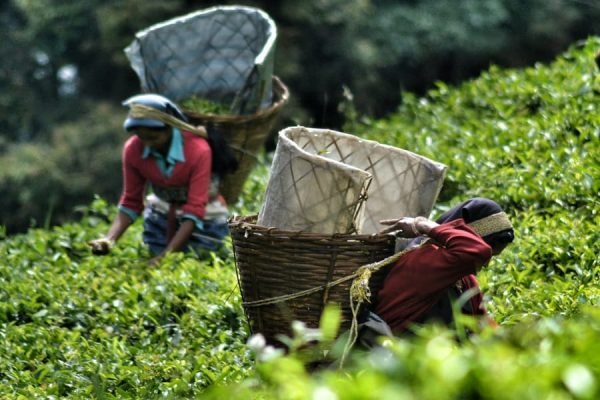 Tea gardens are the main attractions of Palampur, which is also the tea capital of northern India. Vast expanses of land here are covered with lush tea plantations that envelop the city with green foliage all year round. You can see the tea making process in detail here. For tea lovers, this is one of the best Palampur sites. Enjoy the aroma of the tea fields and we are sure that it will be a heavenly experience for all tea addicts.
5. Andretta's ceramic hand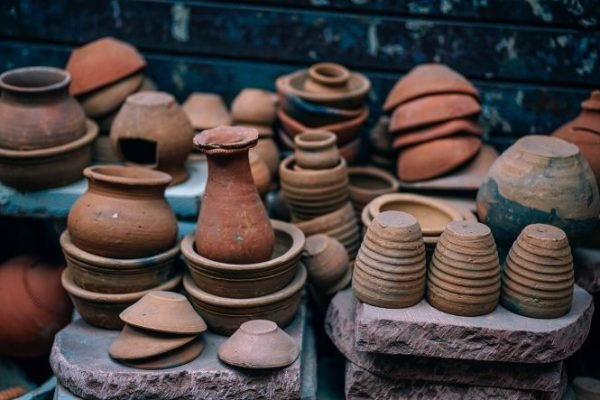 Andretta is an artistic and delicate city in Himachal Pradesh. It has long attracted tourists because it is a colony of artists. It is located 11.9 km from Palampur. Try your luck with the pottery in this beautiful village of Andretta at nominal prices. The place to explore here is the Sobha Singh Art Gallery, a treasure trove for art connoisseurs, photography enthusiasts, and history buffs.
6. Chamunda Devi temple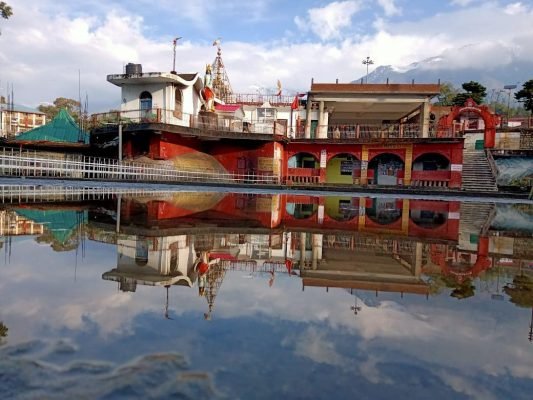 About 10 km on the banks of the Baner River is this ancient Chamunda temple, dedicated to the goddess Chamundeshwari. The temple represents scenes from Ramayana and Mahabharata. It is a famous site among the faithful and believers who visit from far and near. After paying tribute to the temple, you can sit by the river and relax in this holy place.
7. Neugal Khad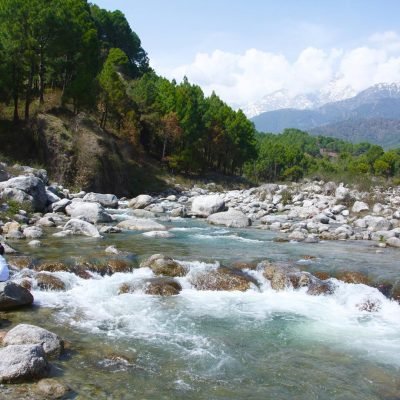 Clearwater flows in cities are a myth, right? But not in Palampur. Neugal Khad is a large stream of clear water that flows near Palampur. Neugal Khad is a picnic spot located 3-4 km from Palampur. You can enjoy walking on the cobblestone path or sit by the stream and enjoy the picturesque beauty of the Dhauladhar mountain range. The snow-capped mountains offer spectacular views and offer an excellent backdrop for photography. Nearby is Parque Neugal, where there are sumptuous cafes and restaurants. You can enjoy food and drink overlooking the mountains. It is one of the best attractions in Palampur.
8. Tashi Jong monastery
This monastery, a place of residence for Tibetan refugees, is a beautiful structure. The monastery is a serene and peaceful place and from here you can enjoy the breathtaking view of the Kangra valley. The complex has a Tibetan restaurant where it is possible to savor Tibetan flavors. The place also houses a craft emporium where tourists can buy Tibetan items and take them home as souvenirs.
9. Norbulingka Institute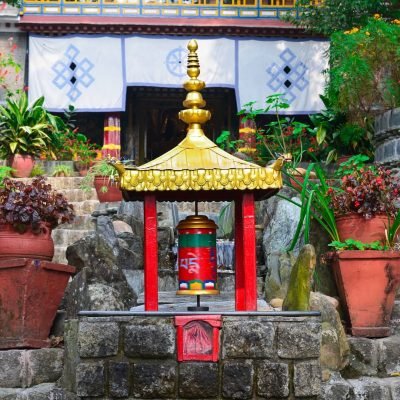 The Norbulingka Institute has located 29.5 km from Palampur. This place is a repository of Tibetan art, culture, and literature. The institute offers short seminars on Tibetan art. Tourists can enjoy a free guided tour, except on Sundays. There is also the Losel Doll Museum of the Norbulingka Institute which has the largest collection of Losel dolls in the world.
10. Baijnath temple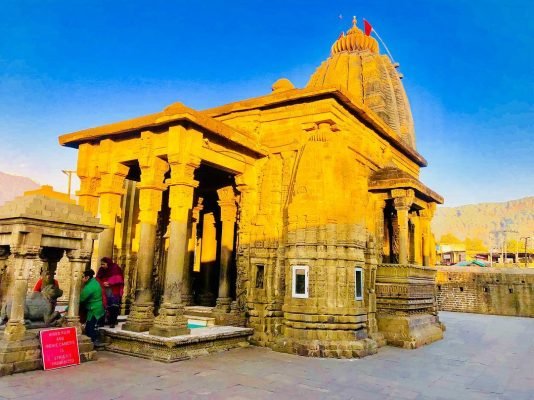 Baijnath temple is 17 km from Palampur. Located in the green Kangra valley, it is one of the most beautiful temples. It has a unique architectural design reminiscent of that of the Jagannath temple in Puri. The story goes that Ravana worshiped Lord Shiva here to achieve immortality. It is a tourist hotspot between fans and travelers.