If Goa has something in plenty, it's beaches. With over 70 beaches, Goa is the beach capital and also the party capital of the nation. However, the Calangute beach in North Goa is undoubtedly one of its kind. Stretching at about 15 kilometers from Candolim to Baga, the sheer size and popularity has made it the top destination for tourists across the world. Dubbed as the "Queen of beaches", it is least surprising that Calangute beach made it to the top 10 bathing beaches in the world.
Calangute experience is truly unparalleled. It's much more than scenic blue of the sky above and the soothing sands of the ground below. The umpteen number of shacks, food joints, and clubs serving exquisite cuisines and cocktails is a feast for your palette too. The place is swarmed with tourists and you get the sense that admiring beauty is beyond culture and boundaries. If nothing else, a trip to Calangute will serve as a reminder for that at the very least.
Enough talk, here is everything you need to know before your trip to the majestic Calangute.
WATER SPORTS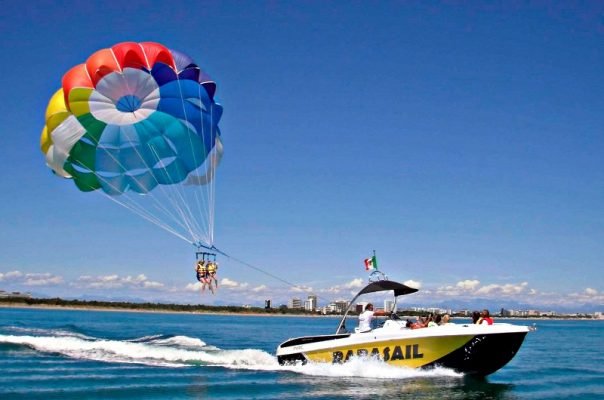 A fan of adventure sports? Calangute has something in store for you. The beach has facilities and instructors to satisfy the adventurer in you. From parasailing to snorkeling, visitors can engage in a wide variety of adrenaline rush activities. Beware, these are not for the faint-hearted. Parasailing is the most popular choice for visitors. In parasailing, a person is attached to a kite-like structure and is tugged behind a speed boat. The water fizzles and splashes against you and mind you, there are fewer things in life as exhilarating as parasailing. As the boat whizzes past along bends and turns, perhaps the only thing you could hear at the moment is your thudding heart. With well-maintained equipment and well-trained instructors, even an amateur can enjoy the experience. And no, you don't need to know swimming to have a go in these activities.
For people who are looking for lighter exploits, spotting dolphins, fishing and angling are all available.
SHOPPING AT CALANGUTE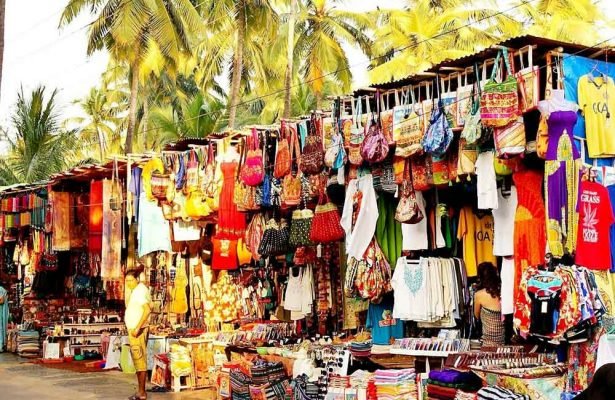 For a beach, Calangute has a wide variety of shops and a wide variety of things being sold here. Interested in Goan antiques? Calangute is the place to be. There are plenty of shops in and around the beach that sells very beautiful statuettes and figurines. If you ever visit these shops, you could see a statuette of a monkey sipping coconut water with a straw lazing on the beach. Trust me, that will make you chuckle. Calangute beach also has shops that sell traditional handicrafts. The handicrafts are made in Kashmir, Tibet, and even from Rajasthan. There is a huge crowd at these shops and also a huge demand for these items. People also buy cute beach outfits and necklaces and bracelets as a souvenir. An experience at Calangute is etched eternally in memory. But then again it doesn't hurt to buy a memento and sigh at it in future remembering the good old times now, does it?
NIGHTLIFE AT CALANGUTE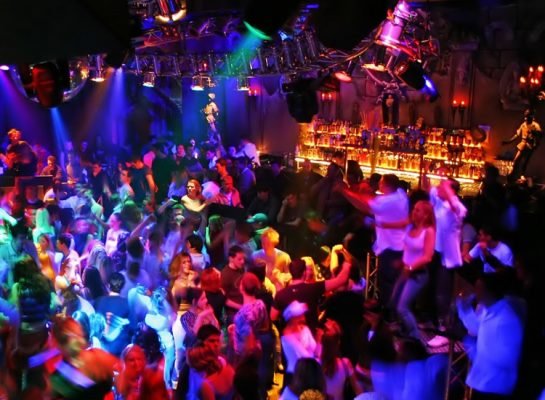 There is a saying in Goa that "the sunsets and the party begin". Goa has easily one of the best night lives in all of India. The sever several pubs, clubs, and parties have made Goa, the party capital of the nation. And Calangute is no different. Be it dancing like there's no tomorrow or the blaring psychedelic music or the mouth-watering cuisines, the nightlife is the quintessential aspect of the Calangute beach. If you ever make it to the great Calangute beach there are quite a few party places that could set the vibe for the night.
1.Tio Tilly's Bar and kitchen – One sight of this place and you know the ambiance is on point. The aesthetic interiors, the dim lighting, and the board games all make it a captivating experience. If you are a sports fan, you are in luck. They regularly screen live sports and people just enjoy the pub vibe this place offers. To top it all off, the live karaoke nights, the outdoor seating with the gentle Goan breeze against your face, and a fitting budget of only INR 1000 for 2 makes it all worthwhile.
2. Carvalho's is another spectacular place to party in Calangute. Sipping the delicious cocktails and mocktails with scrumptious continental delicacies in candlelight…Carvalho has taken "setting the mood" to the next level. With an average INR 600 for 2, Carvalho's is right up to your street.
STAY AND ACCOMMODATION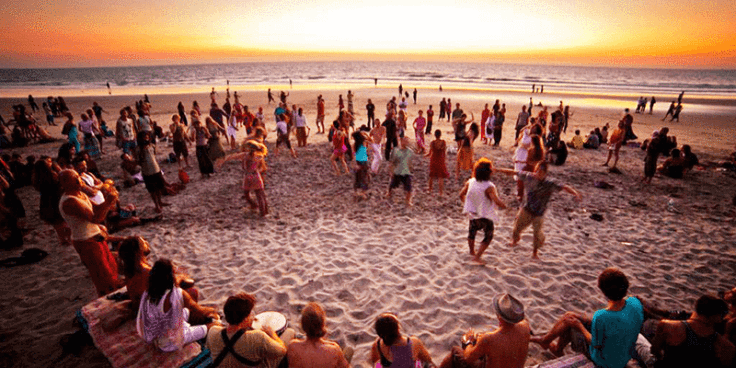 Calangute has more than enough resorts and homestays suitable for all budget constraints. Many of these resorts have an outdoor pool and poolside bar to go with it. There are also several cottages stay at Calangute which isn't as expensive as the resorts but has a charm of its own.
A visit during and Christmas and New year is easily one of the best experiences you could ever have as there is no time better to capture the true essence of Calangute. The rough seas in June and September are let down as people are not allowed up here at that time due to the impending danger. However, a monsoon visit with a gentle drizzle and sand at your feet and a chilling sensation after a dip…heavenly don't cover it.
Several Thousand people visit Calangute every month. Do you want a much-needed break from monotonous work life? Calangute is the answer. Raring to have a nightlife to resuscitate your mundane life? Calangute and its wonderful nightlife is your CPR. Grab your backpack and head to Calangute, the night is still young.
If the beach and serenity is something that excites you, then Gokarna is also a very affordable and beautiful option to explore