About

The most lucrative method to find your way back to yourself is by travelling. Having a journey that sets you free. A Newfound land discovery that helps you discover those travelling parts of you. That's what HikerWolf specializes in, helping you to discover all the hidden, secluded routes to places that will make you feel brand-new by the end of the trip and our one such trip is the mighty Brahmatal trek. Somewhere between the bottom of the climb and the summit is the answer to the mystery of why HikerWolf loves to climb. Daunting snow-capped mountains of the Himalayas, the scenic view from Brahmatal trek will definitely convince you to settle in Uttrakhand. Let's embark on a journey together to a place so close to our hearts and so beautiful for our IG feed.
DATES
27 Dec 2022
28 Dec 2022
29 Dec 2022
For other dates click here.
TREK FEES
₹1̶3̶0̶0̶0̶ ₹8999/-
NOTE : Block your seat at just ₹2000/- and pay the rest 25 days before the trip date. 
Note: We will provide you with complete assistance in planning your travel from your hometown to the meeting point. You are free to choose any mode of transportation, be it train, flight or bus as per your budget and convenience.

BRIEF ITINERARY
Day 1 – Haridwar to Lohajung
Upon your arrival at Haridwar early morning (report at 6:00 am), HikerWolf will pick you from the railway station or bus stand at 6:30 am and we will be travelling whole day towards Lohajung. 
By early evening, we will reach Lohajung where we will be overnight staying in a guest house.
Day 2 – Lohajung to Bekaltal
Before we could begin the summit, have some breakfast. We'll commence the trip to Bekaltal.
En route, let your eyes enjoy some awe-inspiring views of Nandaghunti Peak.
Trek through the forests of oaks and firs. Conclude a 4-5 hours long trek to reach Bekaltal. We'll stay in tents overnight.
Day 3 – Bekaltal to (Tilangi) Brahmatal
Enjoy the snow-covered pathways that lead us to Brahmatal. It will take around 4 hours to complete the trek. The trails go through a forest and when we reach Telindi top, behold the enchanting views of the mighty Himalayas. We'll continue to walk to arrive at Brahmatal or Khabekhal Lake.
Day 4 – (Tilangi) Khabekhal to Daldum (Via) Brahmatal Peak
Right after breakfast, get ready to climb to the top of Brahmatal. Tread along the tricky pathways which go through Chota Jhandidar and Bada Jhandidar. This trail is encircled by a mountain ridge with valleys on both sides. It will take 2.5 hours to reach Brahmatal Top.
Revel in the glimpses of magnificent Himalayan Ranges. Mt. Trishul is very close along with the views of Nandhaghunti. From the top, you can revel in the exotic views of snow-covered Himalayan Ranges.
Proceed to the next campsite in Daldum and the trek will take up to 3 hours to finish. Again, forests will be accompanying you through these trekking trails.
Day 5 – Brahmatal (Daldum) to Lohajung
Today, you will trail back to Lohajung along the same path you took to reach Brahmatal. Once you reach here, check in to your guest house and take a rest. After that, we will explore the beautiful Mundoli village near Lohajung and visit a nearby museum or play cricket. The night would be lit with Campfire, Dance, and Music. Overnight at guesthouse.
Day 6 – Lohajung to Haridwar
Conclude the trek and depart to Haridwar early morning to reach there by evening.
Also, if time permits you may plan to visit Har Ki Pauri for Ganga Aarti. Trippers can make their bookings to their respective hometowns post 10:00 pm.
inclusion
An experienced staff of guide and cook
All days breakfast, lunch, and dinner during the trek
5 nights stay in hotel/camps/homestays on a double/triple sharing basis
First Aid
Assistance in traveling
HikerWolf expertise
All NECESSARY forest Permits
exclusion
Any personal expenses like Insurance, laundry, phone calls, beverages
Travel fare from Kathgodam to base Village (Lohajung) and back (2000/- per person)
Mules or Porter's to carry personal luggage.
Any kind of personal expenses.
Any kind of food during transit.
Unscheduled or extended stay due to roadblock
Anything not mentioned under inclusions
5% GST.
things to carry
Trekking Shoes compulsory
Haversack
Personal medicines if any
Sweaters
Torch
Compulsory bedsheets
Thermal
Warm clothes
Sunglasses
Sun cap
Synthetic hand gloves
Socks
Poncho
Suitable pair of clothes
Toiletries (sunscreen, moisturizer, light towel, toilet paper, sanitizer, and wet wipes)
Cutlery (spoon, coffee mug, and lunch box)
Water bottles
Plastic covers or bags for wet clothes
IMPORTANT NOTE
Keep your bag as light as possible. Make sure it is not more than 3-4 kgs
Do not carry any valuables. Please take care of it in case you are carrying the same. We will not be responsible if you lose them by any chance.
who all can go
Newbies can volunteer, should have some interest in trekking and mountaineering.
The climber must be fit and have sufficient stamina to cover 5 km of distance in 30 minutes without stress.
The climber should be able to carry a 10-15 kg backpack.
Heart problems, high blood pressure, asthma, and epilepsy cannot be reconciled on this mission. The climber must not have the mentioned conditions.
STILL, HAVE QUESTIONS?
Request a callback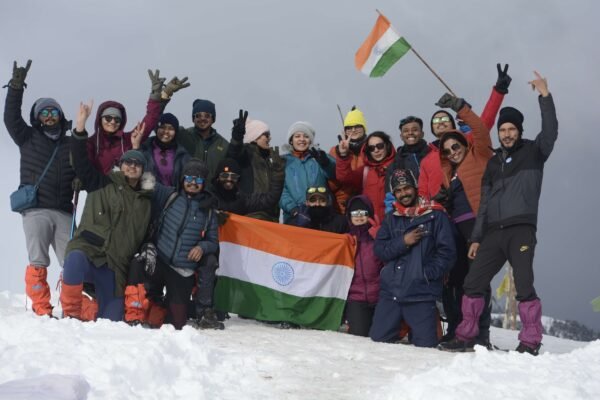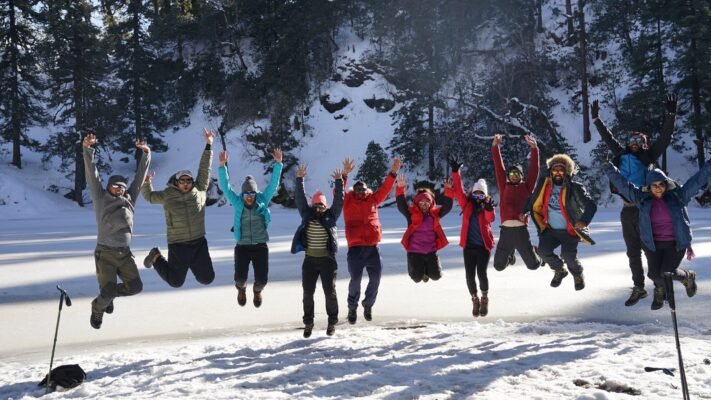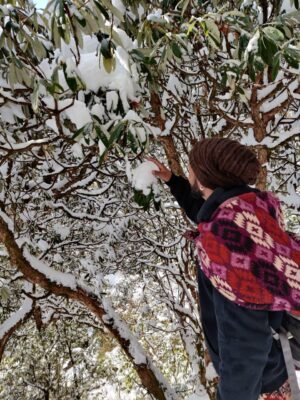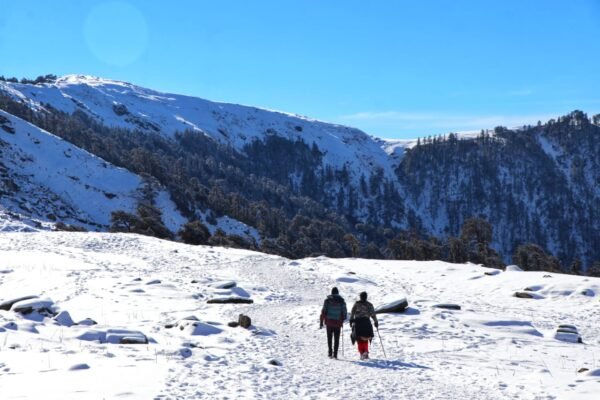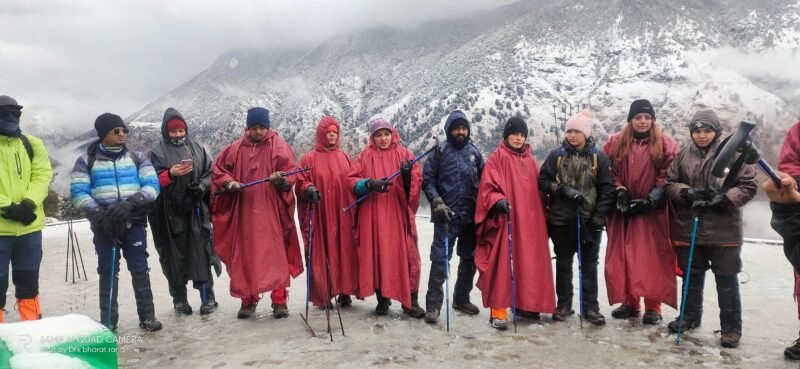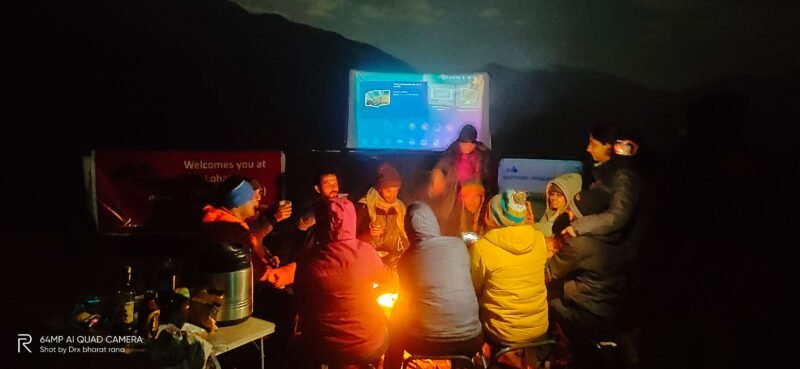 NOTE :
HikerWolf reserves the rights to cancel the trip if the minimum batch size does not suffice. 
Trip Leaders will only accompany you if there are people more than the minimum batch size otherwise, the trip will be handled virtually.
1. What will be the group Size?
We prefer to have a group of 15-18 people as we intend to have more fun and give personal care.
We need at least 6 people to kick start our treks.
2. Who will accompany us on the Trek?
All our treks are led by certified professional trekking leaders, climbers. In addition to them, there will be a local guide, a cook, an assistant, porters, and other staff.
3. I am joining as a solo girl and/or traveling for the first time, is it safe to travel/trek alone?
Safety is of prime importance and we understand them very well. The major of our staff is a girl for that very reason so be assured you are in safe and reliable hands.
4. What type of ground transportation will be used during the trip?
We rent taxis such as Innova, Tempo Traveler, Bolero, Tata Sumo, etc. from our suppliers.
5. I can't carry my backpack/bag while trekking, can I offload it?
We always recommend carrying the backpack while trekking to help maintain body posture. If you can't, we can provide you with a mule/porter to carry your backpack. I want this service you must inform us at least 1 week before the trek. The offloading fee would be around INR 300 per person per day.
6. What shoes should I buy?
Shoes are the lifeline during the trek. It is highly recommended to buy trekking shoes for a well well-known brand. You can consider companies like Quechua, Columbia, etc. A waterproof shoe with ankle support will work well.
7. Are there bathrooms/toilets facilities available during the excursion?
During the trek, separate toilet tents will be installed on each campsite.
8. What will be the type of accommodation?
Accommodation is in dome tents/Homestay.
9. Will you provide sleeping bags and mattresses?
Yes, we will provide sleeping bags and mattresses during the excursion. Our sleeping bags can withstand temperatures down to -10 degrees.
10. How many trekkers will be in a tent?
It totally depends on the dynamics of the group. If there is a couple, we can give them a separate tent. If there is an odd number of people, then the tents would be on triple sharing basis.
11. How can I book a trek with you?
After selecting the trip/excursion, you can book by clicking the Book now button or you can contact us and we will guide you through the booking which is quite easy.
12. What kind of food is served during the trek?
We provide nutritious and healthy food during the trek. We always serve vegetarian Indian food and eggs.
13. How can I get drinking water during the trek?
Himalaya water is considered the purest and safest water to drink. But for safety reasons, we sometimes boil water and use it for drinking and cooking.
If you find clean water while hiking, always fill the water where it flows, not where the water is stable or at rest.
14. Can we change the path?
Yes, you can make suggestions. We will analyze this and, if we consider it feasible, we will apply it.
15. Can the trip/excursion be personalized?
Yes, we can customize any trip/excursion based on your needs and feasibility.
16. Will the doctor accompany us during the walk?
No, but our trekking leaders are certified in the first aid course for wildlife and always carry a first aid kit and oxygen cylinders during high altitude excursions.
17. Do you prefer to take medications with me?
Yes, it is recommended to bring your own medicines while trekking.
18. Is Diamox advisable or not?
Well, it totally depends on the person. There are usually no side effects of Diamox, but if you have previous medical conditions, it is best to consult your doctor.
Our itinerary is designed in such a way that we get sufficient time acclimatized. If in case you have any problem while trekking, inform your trek leader about your condition as soon as possible.
19. What is the minimum age limit to be eligible for the trek?
The Minimum age limit is 14 years
20. What will we do if it rains?
If it starts to rain slowly during the trek, we will continue walking as expected. Your poncho will keep you dry. If it rains a lot, we will try to find a refuge and wait for the rain to stop or subside. If it rains in the field, there would be no problems because all our living tents, our kitchen tents, and our bathroom tents are waterproof. You will stay dry inside.
21. Why is the trekking pole needed?
It differs from person to person. If you think this will help you maintain balance while trekking, bring your cane. Some people believe that walking sticks break the pace while walking. It depends on you