ABOUT
You must have heard of this saying several times… it's not the destination that matters. It's the journey that does. The Bhandardara Road trip will almost translate this quote into a reality. Bhandardara is an enthralling landscape that turns into a magical paradise during monsoon, almost like a dream sequence: beautiful mountains breathing into the lush green surroundings, clouds touching you from the skies, and the winds murmuring behind your ears. And when you have some lovely people accompanying you on your journey, the fun even multiplies.
BATCHES
27th Aug 2022
10th Sept 2022
24th Sept

2022

8th Oct 2022
Cost
₹2499/-
Block your seat at just Rs. 500/- and pay the rest 5 days before the event date.
Train schedule and reporting time:
CSMT- 6

:40 am

 (6:55 am train time)
Byculla- 6

:50 am

 (7:02 am train time)
Dadar- 6:55

 am

 (7:08 am train time)
Kurla- 

7:05 am

 (7:15 am train time)
Ghatkopar- 

7:14 am

 (7:19 am train time)
Mulund- 

7:20 am

 (7:30 am train time)
Thane- 

7:25 am

 (7:34 am train time)
Dombivali- 7

:35 am

(7:49 am train time)
Kalyan- 7

:40 am

(7:57 am train time)
Kasara – 9:14 am.
Note: Request you to be on time as we shall not be responsible in case you miss your train by any chance.
Day 1: Bhavali Dam -> Necklace Falls -> Bhandardara Lake -> Bhandardara Dam -> Amruteshwar Temple
Start our journey at 6:55 am and consecutively board the Kasara local train from preferred boarding points.

Meet and greet at Kasara station and have breakfast.

Start the road trip and head straight to the Bhavali dam for some fun amidst the waterfall!
Head to the dam to witness the marvellous structure, the magnificent Bhandardara lake, and the Umbrella waterfall.
After a delicious lunch at Muthkhel village, we explore Necklace falls, Amruteshwar temple
Head to Samradh village for dinner over the music, stories, and some fun dance moves. Overnight stay at Samradh.
Day 2: Sandhan Valley ->Konkan Kada -> Randha waterfall 
Start the day with some tea. Hike through the beautiful Sandhan Valley and witness the mighty Konkan Kada.
Last but not the least, visit the beautiful Randha falls, following which, we start our drive back to Mumbai.
Note: Umbrella waterfall is active only when the dam is open, if the dam is closed we will visit Bhandardara waterfall instead of Umbrella falls
INCLUSIONS
Transportation from Kasara and back

1 breakfast

1 Lunch

1 Dinner

Basic first aid

Travelling within

Bhandardara Dam

,

Bhavali Dam,

and surroundings
EXCLUSIONS 
5% GST

Cost of train tickets

Insurance

Personal expenses

Anything not mentioned in Inclusions
THINGS TO CARRY
Identify proof (Original Compulsory)
Backpack
Trekking Shoes
Power banks for charging electronic devices
Cap, Goggles, Sunscreen, etc.
Pair of clothes as much required (shorts, track pants or any comfortable clothing you wish for)
Personal medicines
Sanitary kit
Towel
Bluetooth speakers
Warm clothes
Rain wear
images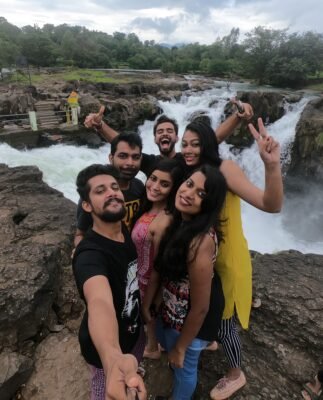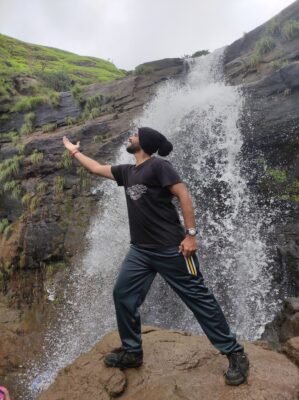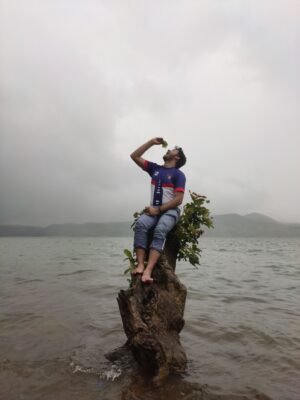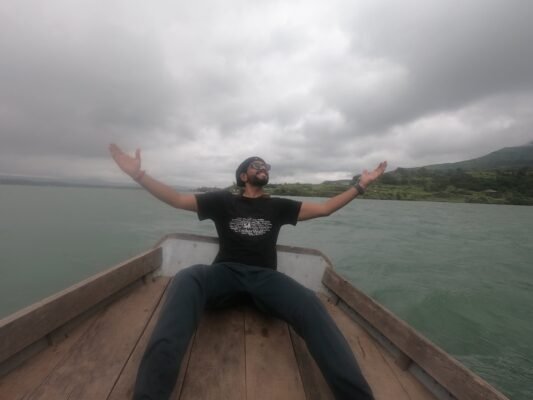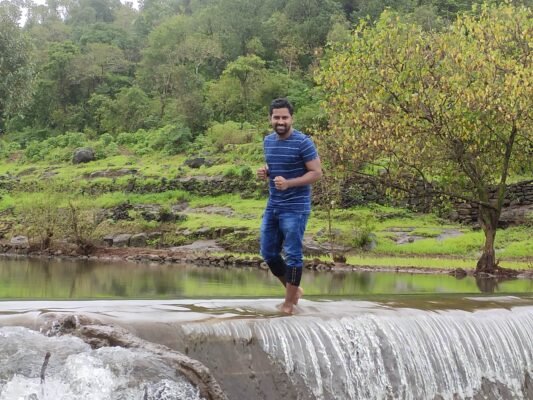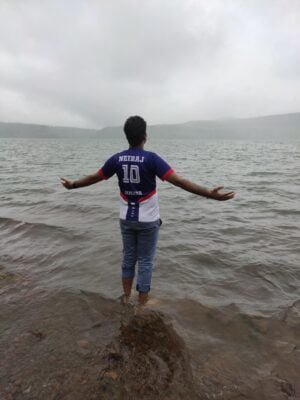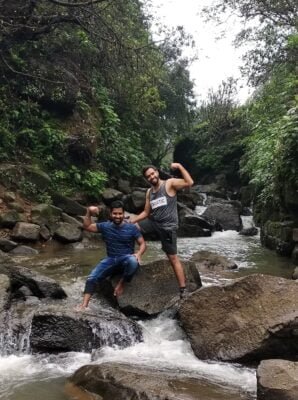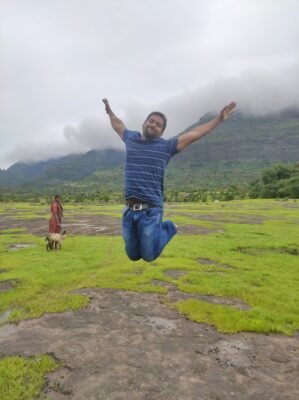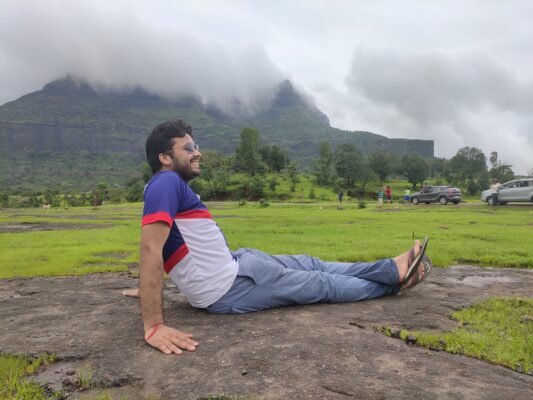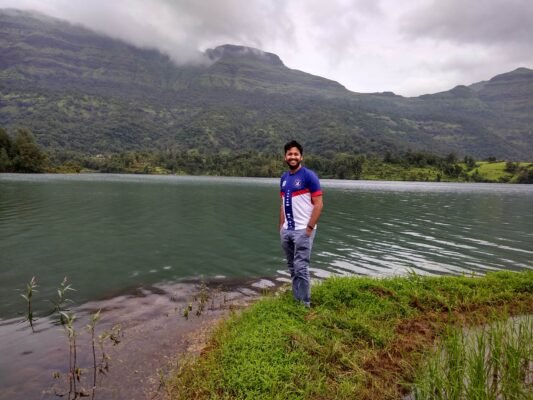 Day 1: Bhavali Dam | Necklace Falls | Bhandardara Lake | Bhandardara Dam | Amruteshwar Temple |
Good morning! It's going to be a day full of adventure. We start our Bhandardara road trip from the CSMT station, wherein we board the Kasara local train from different boarding Once we reach Kasara station, our happiness shall know no bounds. Because here is where we meet, my friend!
Once we are done with the meeting and greeting, an appetizing breakfast awaits us. Post which, let's get ready to vrooooom into a power-packed adventure ride towards Bhavali Dam.
The entire car ride will be all about jokes, gossip, fun, and your kinda songs- the soulful kind, the dhinchak kind, the jazzy kind, and even the hip-hop kind! Pro tip- Make sure to get your playlist along for an even better ride.  Now that we have you in the mood, it's time to tick each place off our bucket list.
After about 45 minutes on the road, our car will halt right next to a beautiful sight that is sure to take your breath away. Yes, my friend. This is the first destination for the day- the Bhavali Dam. We will click the most beautiful pictures, and soak ourselves in the mist hand in hand. The waterfall will not only quench your thirst but will also soak your soul in the most unimaginable ways.
Time for some lunch guys; then we'll leave the Bhavali Dam premises and continue on our journey. Follow us as we continue our ride through lush greens and heavenly scenes, right up to Muthkhel Village for some deliciously cooked desi lunch. What's better than this? Nature, friends, and deliciously cooked local cuisine that will make your taste buds go on a roller coaster ride- yummmm!
Post lunch, let's head towards the Bhandardara Lake Dam. You will be stunned to know that it is one of the oldest dams ever built in India. The roaring water sliding and hitting the gates is the best thing you'll ever witness! The river in front of you right now is the Pravara River, which undeniably has the largest watershed you must have seen. PS- The surprise is not over yet friend. As you turn around, you will see the picturesque stretch of Sahyadri Mountain encircling the entire dam. What's more? You will also get to witness the mighty Umbrella falls glittering underneath the sun. The Bhandardara dam also has a beautiful garden where we can sit and embrace each other over warm conversations.
Next up in the Bhandardara Lake trip is the Necklace Falls! As the name would have it, this beautiful waterfall adorns the hills exactly like a necklace when the waterfalls down the lofty rocks.
Although the sun starts to set, our spirits are still up and high. The golden hues of the sky are the best time for a getaway to the Amruteshwar temple. This spectacular temple will make your eyes wander through heaven. Dating back to some bygone era, this temple is a classic representation of some ancient artwork, solely dedicated to Lord Shiva. It has 12 different Shiva shrines that were built by King Jhang of the Shilahara dynasty, some thousands of years ago.
Towards the end of the road trip, we will surprise you with a pack of Hikerwolfs with some delicious, heavenly, home-cooked dinner. Imagine the fun: mouth-watering dinner with happy faces, some music to give us company, and the most awesome dance moves ever! 
The night will be spent in Samrad village, right against the wide expanse of the beautiful breezy Sandhan valley!
Alright…Time to sleep now. After the splendid adventure at Bhandardara Lake, you're going to have a perfect night's sleep. While you have the night's sleep, you might as well dream about some more adventure that we are about to undertake the next day. 
Day 2: Sandhan Valley | Konkan Kada | Randha waterfall |
Cock-a-doodle-doo!
"Hey, …what's that beautiful smell coming from? Is that chai?"
Yes, it's garma garam kadak chai. And that's how we start with the second day of our Bhandardara road trip. So hey, good morning!
Time to get ready ASAP, as we are heading for a fun hike to witness the beautiful Sahyadri mountain ranges. The entire Sandhan Valley is surrounded by some magnificent hills- Alang, Maland, Kulang, Ratangad, Ajoba, and Kalsubai hills to name a few. Minute after minute, we cross lush green pastures, and broken paths, and breathe in the peace underneath the fluffy clouds. We also trail across Konkan Kada, which is a concave-shaped mountain carved in the middle of nowhere. The beauty of the mountain is extremely peculiar and beyond any explanation. With this, we also end the scenic hike through the enchanting Samrad village.
Now, we head to the Randha Falls. It is the third-largest fall in the whole of Maharashtra! This, my friend, is nature's treat for you. Everywhere you look, you see rapids flowing fast and eventually merging into an enormous waterfall. Randha Falls is also the place where our crazy heads take a dip in the pond! Sounds amusing right? Imagine how beautiful reality must be. Photos after photos, splashes after splashes, laughs after laughs, we make memories under the sun.
This also marks the end of our  Bhandardara road trip. We head back to Mumbai with the same joy and fun we started the ride with- music, Masti, and even something beyond that- a special bond with fellow travellers that have culminated into a lifelong one.
FAQ's
1. Can I travel solo?
Of course, you can, we always have people joining solo and they go back home making many new friends.
2. How and when will your team coordinate with me?
We make a WhatsApp group of all the participants, besides, one day before the event, and share all the necessary details in it.
3. How do I join if I am from Pune?
If you're from Pune, kindly meet us at Kasara.
4. Is this trip kids-friendly?
Yes, kids above the age of 5 can join this trip.
Request a callback