ABOUT
Har Ki Dun Trek is known for its rich variety of flora and fauna. The trail through alpine meadows, moraine ridges, glacier basins, pine forests, and ancient villages, gives you spectacular valley views and a chance to experience the wonderful slow-paced local lifestyle. Har Ki Dun Trek is one of the oldest Treks in the Himalayas, known as the 'Valley Of Gods'.
The Har Ki Dun trek goes through some of the most isolated villages of India which are unaffected by civilization. The trail in most parts runs through deep forest covers which keeps away the risk of altitude adaptation marking the trek safe for beginners and young trekkers. Proceeding through green foliage's dripping with pearls of rain is a beautiful experience but trekkers must be well equipped for it. Rain trekking essentials like a poncho, waterproof covers, anti-diarrhea medicines, and water-resistant trekking boots have to be ticked off the checklist when packing for this journey.
BATCHES
10 Oct 2021
17 Oct 2021
24 Oct 2021
31 Oct 2021
07 Nov 2021
14 Nov 2021
21 Nov 2021
28 Nov 2021
05 Dec 2021
12 Dec 2021
19 Dec 2021
26 Dec 2021
DURATION
7 days/6 nights
PRICE
₹1̶3̶0̶0̶0̶/-  ₹10999/-
NOTE : Block your seat at just ₹2000/- and pay the rest 25 days before the trip date. 
Note: We will provide you with complete assistance in planning your travel from your hometown to the meeting point. You are free to choose any mode of transportation, be it train, flight or bus as per your budget and convenience.

BRIEF ITINERARY
Day 1: Dehradun to Sankri
6:30 AM: Picked up from Dehradun
220 km drive by NH 507 – approx. 10 hours.
Altitude: 6,400 feet.
Last ATM – Purola
Small shops available for trekking gears and miscellany
BSNL network erratic
Guest House Stay
Breakfast and lunch excluded, dinner included
5:00 PM: Expected arrival at Sankri 
Day 2: Sankri to Pauni Garaat via Taluka
Sankri to Taluka (Drive 12 km) (1 hour)
The altitude of Taluka – 7,000 ft
Taluka to Pauni Garaat
Altitude-8,200 ft
Trek Distance: 10km
Time: 6 hours approx
Level: Easy level walk and gradual ascents in most areas.
Packed lunch, spring water points.
Riverside camping at Govind National Park forest.
Day 3: Pauni Garaat to Kalkattiyadhaar
Altitude- 9,800 ft
Trek Distance: 7 km
Time: 6 hour
Level: Steeper ascent than the previous day, but well distributed in level walks and inclines.
Packed lunch, spring water points.
Camp stay in meadows overlooking mountains near a food stall
Day 4: Kalkattiyadhar to Har Ki Dun
Altitude: 11, 768 ft.
Trek Distance- 5 km
Time- 3.5 hour
Level: Relaxed forest walk combined with boulder walk. Mixed gradient with a gradual incline
Hot lunch, spring water points.
Riverside camping in the valley
Snow Peaks in View: Swargarohini, Hata Peak, Black Peak, etc
Day 5: Har Ki Dun to Pauni Garaat via Osla
Trek Distance – 12 km
Time- 8 hour
Har Ki Dun – Kalkattiyadhar: 5 km; Kalkattiyadhar – Osla: 5.5 km; Osla – Pauni Garaat: 1 ½ km
Packed lunch, spring water points
Riverside camping at Govind National Park forest.
Day 6: Pauni Garaat to Sankri via Taluka
Trek Time-5 hour
Trek Distance-10 km;
Packed Lunch, spring water points
Drive from Taluka to Sankri- 12 km
Driving Time- 1 hour
Guesthouse stay
Day 7: Sankri to Dehradun
Early morning checkout and leaves for Dehradun. You will be dropped at Dehradun station in a private vehicle. We will reach Dehradun by night.
HOW TO REACH DEHRADUN?
The whole group needs to reach Dehradun station at the latest by 6:30 am.
By Train: There are regular trains available from Bandra Terminal or Delhi to reach Dehradun before 6:00 am on earlier. (Preferably board Nanda Devi express from Delhi to reach Dehradun by 5:30 am)
By Air: There is a cheap Air Asia flight available from Mumbai to Dehradun or Delhi to Dehradun landing before 6:00 am.
People can fly in the previous evening too. That way, they visit  Dehradun the previous evening. If arrived before the start date, the stay isn't covered that night, but we can definitely help you book a hotel, or you can book one yourself.
DETAILED ITINERARY
Day 1: Dehradun to Sankri
Trekkers will be picked from Dehradun at 6:30 am sharp.
Journey to Har Ki Dun starts with a drive through the mesmerizingly beautiful valley of Dehradun on your way to Sankri. Expect to be wonderstruck at the beauty of the coniferous jungle at Jarmola, the largest and the most beautiful pine forest in Asia. The drive to Sankri will take you through Nainbagh, Naugaon, Purola, Jarmola, Mori Naitwar, and finally Sankri.
Sankri is a small but pretty village with 250 houses. A few Dhabas and shops make up the commerce scene in Sankri. It is the entry to the scenic valley of Har ki Dun nestled at an elevation of 1970 meters above sea level in the Tons Valley affording majestic views of the snow-clad Himalayas. Wash away the exhaustion as you settle for some simple delicacies catered to you as you arrive at Sankri(around 5:00 pm) and retire peacefully for the night.
Day 2: Sankri to Pauni Gharat via Taluka
Early morning at 7:00 am get ready to cross another level and reach Taluka. This short drive through gradually thickening forests and streams cutting through the path over boulders will introduce us to the terrain of our trek closely. The trail to Taluka is almost level, going through 10-11 mountain bends. On the way, there are three big streams, almost submerging sections of the road in water. 
The hike is scenic, going past a series of wild roses, irises, and bamboo, chestnut, and cedar (deodar) trees. The first lapse is a descent to the banks of the beautiful Tons and keeping the river on the right, the trail enters a level walk through the conifers! The whole way along the river is ideal for photo compositions and provides shade too. Another amazing flavour for the day will be the riverside camping at Govind national park forest.
Take rest for the night, under the star-studded sky, and enjoy the refreshing environment. It will be thrilling to your mind, body, and soul to see such a beautiful and invigorating environment.
Day 3: Garaat to Kalkattiyadhar
Before that why not start our journey with a yoga session which will not only channelize your energy but also boost your morale, Chalo phir! Our day's destination is Kalkattiyadhar, named after the sharp ridge-like structure of this mountain. Unlike yesterday there are no forest shades along the way but you will enjoy the view of a lot of waterfalls and small wooden bridges.
The trail crosses 3 "great" or hydroelectricity run chaffing units. The Har Ki Dun trek proceeds through harvest lands, cattle grazing, and slant-roofed huts used as granary and storage. Right after crossing Seema village, there is a bridge crossing, followed by a steep ascent, followed by the beautiful view of a waterfall. We will also cross a 300-year-old temple dedicated to Devi Kandhara.
On this incline, you will get fabulous viewpoints to steal glimpses of the Dhauladhar Range out front. Snaky trails to Borasu Pass and Baspa Valley can also be made out from here. The high trail winds further down reaching a tabletop green stretch—Kalkattiyadhar. Set up your camps and reside for the night under the peaks, enjoying the chilly climate.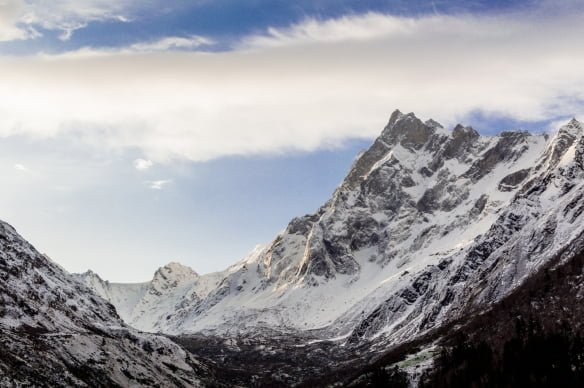 Day 4: Finally, the day arrived to reach the magnificent 'Valley Of Gods'
Kalkattiyadhar to Har Ki Doon! Kalkatiyadhar towards the valley we can see the mighty Bali pass which is one of the toughest passes to cross. But the ascent to Har ki Doon offers excellent views of the snow-covered mountains and lush green terraced fields. The trek Level goes with a relaxed forest walk combined with a boulder walk and a Mixed gradient with a gradual incline.
The last steep climb of 200 m gets one to the famed meadows of Har Ki Doon with the west face of Swargrohini overlooking the valley. The pine forest has a sizable number of rhododendron trees. There is also a lovely stream gushing down on the way, with a variety of Himalayan alpine flowers along its sides, especially blue poppy.
The beauty of the valley will make you never want to leave the place. You can explore the entire ground in about an hour or two. This point is a feast for your eyes to enjoy the picturesque views of peaks and glaciers. After spending some time take dinner and relax for the night at the campground
Day 5:
Watching the sunrise from behind the Swargrohini peak is the best morning view of all the days. We would have all successfully completed our trek and now was the time to start the return journey. Day to leave Har Ki Doon and head to Pauni Garaat via Osla. Generally, return journeys are sleepy and tiring but this journey is going to be different.
We will move through several beautiful sights and see diverse scenic landscapes along the way which will not let you sleep anyway. We will pass through the village Osla. This village is famous for having a temple dedicated to Duryodhana, eldest of the Kauravas in Hindu mythology 'Mahabharat' but villagers denied the theories and state that it belongs to Lord Shiva. No worries, we will there visit and learn about it too!!
Day 6:
On day six, you will trace back your steps from Oslo to Sankri. On the last day of this heavenly beautiful trek, you will cover 26km following steeper terrains and stellar environments. You will see amazing migratory birds in the snow-peaked mountains. As you continue walking on the terrain for around 6 to 7 hours, you will reach Sankri.
Day 7: Sankri to Dehradun
After this, we will pack our bags, photographs, and endless Hikerwolf memories and conclude our journey of a 6-7 hour drive from Sankri to Dehradun. We will be reaching Dehradun by night and end our wonderful journey of Har ki Dun Trek and head home with a big fat smile.
INCLUSION
An experienced staff of guide and cook

All days breakfast, lunch, and dinner during the trek

6 nights stay in hotel/camps/homestays on double/triple sharing basis

First Aid

Assistance in travelling

HikerWolf expertise
EXCLUSION
Any personal expenses like Insurance, laundry, phone calls, beverages

Travel fare from Dehradun to base Village (Sankri) and back (1700/- per person)

Mules or Porter's to carry personal luggage

Anything not mentioned under inclusions

Any kind of personal expenses.
Any kind of food during transit.
Unscheduled or extended stay due to road block
THINGS TO CARRY
Trekking Shoes compulsory

Haversack

Personal medicines if any

Sweaters

Torch

Compulsory bedsheets

Thermal

Warm clothes

Sunglasses

Sun cap

Synthetic hand gloves

Socks

Poncho

Suitable pair of clothes

Toiletries (sunscreen, moisturizer, light towel, toilet paper, sanitizer, and wet wipes)

Cutlery (spoon, coffee mug, and lunch box)

Water bottles

Plastic covers or bags for wet clothes
IMPORTANT NOTE
Keep your bag as light as possible. Make sure it is not more than 3-4 kgs

Do not carry any valuables. Please take care of it in case you are carrying the same. We will not be responsible if you lose them by any chance.
WHO ALL CAN GO
Newbies can volunteer, should have some interest in trekking and mountaineering.

The climber must be fit and have sufficient stamina to cover 5 km of distance in 30 minutes without stress.

The climber should be able to carry a 10-15 kg backpack.

Heart problems, high blood pressure, asthma, and epilepsy cannot be reconciled on this mission.

The climber must not have the mentioned conditions. 
For more such exciting events click here
STILL, HAVE QUESTIONS?
Request a callback
NOTE :
HikerWolf reserves the rights to cancel the trip if the minimum batch size does not suffice. 
Trip Leaders will only accompany you if there are people more than the minimum batch size otherwise, the trip will be handled virtually.
1. What will be the group Size?
We prefer to have a group of 15-18 people as we intend to have more fun and give personal care.
We need at least 6 people to kick start our treks.
2. Who will accompany us on the Trek?
All our treks are led by certified professional trekking leaders, climbers. In addition to them, there will be a local guide, a cook, an assistant, porters, and other staff.
3. I am joining as a solo girl and/or traveling for the first time, is it safe to travel/trek alone?
Safety is of prime importance and we understand them very well. The major of our staff is a girl for that very reason so be assured you are in safe and reliable hands.
4. What type of ground transportation will be used during the trip?
We rent taxis such as Innova, Tempo Traveler, Bolero, Tata Sumo, etc. from our suppliers.
5. I can't carry my backpack/bag while trekking, can I offload it?
We always recommend carrying the backpack while trekking to help maintain body posture. If you can't, we can provide you with a mule/porter to carry your backpack. I want this service you must inform us at least 1 week before the trek. The offloading fee would be around INR 300 per person per day.
6. What shoes should I buy?
Shoes are the lifeline during the trek. It is highly recommended to buy trekking shoes for a well well-known brand. You can consider companies like Quechua, Columbia, etc. A waterproof shoe with ankle support will work well.
7. Are there bathrooms/toilets facilities available during the excursion?
During the trek, separate toilet tents will be installed on each campsite.
8. What will be the type of accommodation?
Accommodation is in dome tents/Homestay.
9. Will you provide sleeping bags and mattresses?
Yes, we will provide sleeping bags and mattresses during the excursion. Our sleeping bags can withstand temperatures down to -10 degrees.
10. How many trekkers will be in a tent?
It totally depends on the dynamics of the group. If there is a couple, we can give them a separate tent. If there is an odd number of people, then the tents would be on triple sharing basis.
11. How can I book a trek with you?
After selecting the trip/excursion, you can book by clicking the Book now button or you can contact us and we will guide you through the booking which is quite easy.
12. What kind of food is served during the trek?
We provide nutritious and healthy food during the trek. We always serve vegetarian Indian food and eggs.
13. How can I get drinking water during the trek?
Himalaya water is considered the purest and safest water to drink. But for safety reasons, we sometimes boil water and use it for drinking and cooking.
If you find clean water while hiking, always fill the water where it flows, not where the water is stable or at rest.
14. Can we change the path?
Yes, you can make suggestions. We will analyze this and, if we consider it feasible, we will apply it.
15. Can the trip/excursion be personalized?
Yes, we can customize any trip/excursion based on your needs and feasibility.
16. Will the doctor accompany us during the walk?
No, but our trekking leaders are certified in the first aid course for wildlife and always carry a first aid kit and oxygen cylinders during high altitude excursions.
17. Do you prefer to take medications with me?
Yes, it is recommended to bring your own medicines while trekking.
18. Is Diamox advisable or not?
Well, it totally depends on the person. There are usually no side effects of Diamox, but if you have previous medical conditions, it is best to consult your doctor.
Our itinerary is designed in such a way that we get sufficient time acclimatized. If in case you have any problem while trekking, inform your trek leader about your condition as soon as possible.
19. What is the minimum age limit to be eligible for the trek?
The Minimum age limit is 14 years
20. What will we do if it rains?
If it starts to rain slowly during the trek, we will continue walking as expected. Your poncho will keep you dry. If it rains a lot, we will try to find a refuge and wait for the rain to stop or subside. If it rains in the field, there would be no problems because all our living tents, our kitchen tents, and our bathroom tents are waterproof. You will stay dry inside.
21. Why is the trekking pole needed?
It differs from person to person. If you think this will help you maintain balance while trekking, bring your cane. Some people believe that walking sticks break the pace while walking. It depends on you