ABOUT
HikerWolf is on a mission to unravel and introduce you to countless pristine destinations and thus we create only the coolest holidays for you. Break free from the shackles of crowded & touristy spots in India and get ready to experience the NEW. This time, we bring you "HEAVENLY HIMACHAL". We will fly, paragliding in WORLD'S second best and INDIA'S best paragliding destination, go fishing in striking Himalayan rivers. Moreover, witness the beauty of nature in its truest form.
Do you have the heart of a traveller? Then this one is specially crafted for you guys. Therefore pack your backpacks and get ready to go on an unforgettable adventure! We're willing to see you there.
TRIP ROUTE:
Delhi-Ambala Cantt –Dharamshala – Barot – Bir – Palampur – Ambala Cantt-Delhi
DATES

:
06 Mar 2021
03 Apr 2021
08 May 2021
TRIP DURATION:
7N 7D
COST:
From Delhi= 19,890/-
From Ambala Cantt= 18990/-
Pay just Rs. 2000/- to book this trip at a current discounted price and pay the rest 15 days before the trip date.
We've made it easy to change your travel plans up to 20 days before your trip's departure date.
You can choose new dates and/or a new destination or get a full refund without any penalty for up to 20 days before the trip date.
Note: We will provide you with complete assistance in planning your travel from your hometown to the meeting point. You are free to choose any mode of transportation, be it train, flight or bus as per your budget and convenience.


BRIEF ITINERARY
Day 1:
Meet Team HikerWolf at 20:00hrs at Delhi (exact location will be communicated near to the trip date). We start our journey via train to Ambala Cantt.
Day 2:
Meet our trippers joining at Ambala Cantt Station at 00:30 hrs and Start a journey from Ambala to reach Dharamshala. Freshen up and leave for sightseeing at Dharamshala. Overnight at Dharamshala.
Day 3:
Post breakfast leaves for Barot. Visit HPCA (Himachal Pradesh Cricket Associate) Stadium, reach Barot and Sightseeing – Trout fish farm, Hydro-electric project, and evening at Ulh riverside-seeing. Overnight in Barot.
Day 4:
Visit toy train Track in Barot and leave for a friendly hike to Raj Gunda. After reaching Raj Gunda by evening, we will do Riverside camping in tents and night under the beautiful blanket of stars
Day 5:
Leave for Zip-lining, trek back to Barot, and leave for Bir, Overnight in Bir.
Day 6:
The D day is here! Experience Paragliding!! Explore the village on cycles and visit sunset point, musical evening, and dance. Overnight in Bir.
Day 7:
Start your day early to visit Dzongsar Khyentse Chokyi Lodro Monastery, Baijnath, Tea Gardens, and Palampur Heritage. Post Lunch, road journey to Ambala Cantt. Board the train ( Schedule to be given near the dates)
Day 8:
Board Train from Ambala Cantt to reach Delhi early in the morning. Trip Concludes here with Memories and experiences!
INCLUSIONS
Accommodation on twin or triple sharing basis
Semi-AC Luxury travel for all internal transportation
Breakfast and dinner
Riverside camp charges
Complete assistance in all other activities for the best possible rates
Charges for tour guide and driver
Basic First Aid
Government taxes and service charges
All entrance tickets for sightseeing wherever required
All permits
EXCLUSIONS:
Adventure Activities
Insurance
Lunch
Any personal expenses during the trip
Anything not included in inclusions
THINGS TO CARRY
Identify proof (Original Compulsory)
Photocopy of your ID proof (Compulsory)
Backpack
Shoes and Slipper
Torch
Charger
Power banks for charging electronic devices
Cap, Goggles, Sunscreen, etc.
Pair of clothes as much required (shorts, track pants or any comfortable clothing you wish for)
Personal medicines
Sanitary kit
Towel
Bluetooth speakers
Warm clothes
Warm shawl or blanket
Note: Do not carry any valuables. Please take care of it in case you are carrying the same. We will not be responsible if you lose them by any chance.
DETAILED ITINERARY:
Day 1:
Meet Team HikerWolf at 20:00hrs at Delhi (exact location will be communicated near to the trip). We start our journey via train to Ambala Cantt for Heavenly Himachal Tour
Day 2:
Welcome aboard!! Meet team HikerWolf at Ambala Cantt by 00:30 hrs, Let's directly jump to our first place via an overnight road journey to Dharamshala. A beautiful spot in the serene setting of the Himachal tour and is the abode of beauty. So let's take our journey ahead. Post Breakfast, visit St. John's church, a classic church, which has a Christian cemetery surrounding it, has lovely glass windows and boasts amazing architectural design.
Another exciting thing about this Himachal tour will be the Bhagsu temple! Temple-exciting? Yes, it is! The Bhagsu waterfalls, stunning waterfalls, present at a walkable distance from the temple, is one of extreme grandeur…cool right!! After our adventure in the Waterfalls, we head to the Namgyal Monastery that is the home of the Tibetan spiritual leader the Dalai Lama, and the largest Tibetan temple outside Tibet!
And with this, we will also visit the famous TSUGLAGKHANG Complex. Fun fact, Tsuglagkhang Complex is the private abode of the present Dalai Lama! Our next visit will be the famous Tibet museum!!!! This in Mcleod Ganj is a fine specimen of Tibetan architecture and was primarily built to preserve the history and culture of Tibet. Well, this place and its history will definitely make Himachal tour more exciting.
Let's come out of this historical lecture and visit some of the famous cafes (as time permits) like Shiva Cafe, Illiterate cafe, and Jimmy's Italian kitchen. Must say the ambience and the food of the cafes will really enrich your travel experience…Later, spend an evening alongside Dal lake in Naddi.
The day really ends well with good food!!!! Sleep with excitement for our next day of Heavenly Himachal Tour!!!
Day 3 :
This marks the second day of our Himalayan tour as we leave for Barot post breakfast. Enroute we visit HPCA, the picturesque cricket stadium located in the city of Dharamshala District of Himachal. A stadium with a stunning backdrop of snow-capped mountains of the Himalayan range, breathtaking isn't it?
Ever heard of the phrase 'heaven on earth?' Then let us translate the same into a reality! Barot Valley, an unimaginably beautiful virgin landscape around River Uhl, is completely unexploited by the flock of the tourists and commercialization. Therefore, trust us, for peace and solitude lovers, this is the exact place to be! And here we leave for sightseeing to the Trout fish farm, Hydro-electric project and with the peaceful evening at the Ulh river. Overnight at Barot Valley.
Day 4 :
After getting the warm-up of scenic pleasure on day two, we continue our journey towards Toy train track. There is also a small hike to Raj Gunda that awaits us. You won't be disappointed as you're here to experience an unforgettable eve, away from the loud parties and overcrowded pubs with overnight Riverside camping in tents under the beautiful blanket of stars. Can the eve get any better? Woohoo!
Day 5:
Post morning breakfast we have for ourselves yet another adventurous day. Today we go ziplining! Once we're done, it's time to descend back to Barot. We continue our journey to reach Bir by evening and have our snacks. The evening is for relaxation at one's own. Dinner and overnight hotel stay at Bir.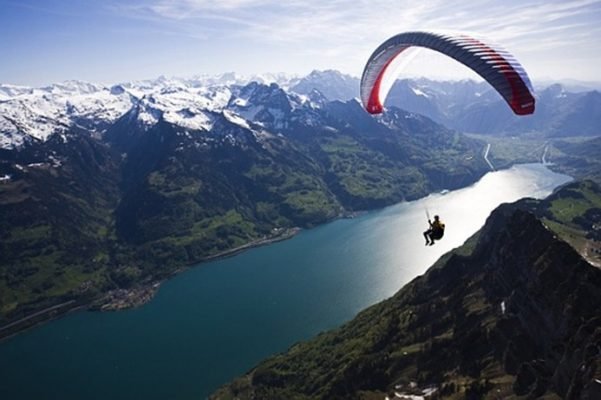 Day 6:
This day is probably the most awaited day of all, the day that is going to be etched in memories forever- as, after breakfast, we leave for the highest paragliding site in Asia to tick it off the bucket list! But it doesn't end here. After exploring the lush white and green Himalayas from the sky, it's time to get ready to unravel the town on bicycles. The evening is all about enjoying the sky go golden at sunset point, after which we are greeted by music, dance, and with a delicious dinner. Overnight stay at the hotel in Bir.
Day 7 :
We will bid goodbye to Bir as we leave for Palampur early in the morning. Post breakfast, we forge ahead towards a memorable experience at Dzongsar Monastery, the Buddhist charm of which is not only a treat to the eyes but also one's senses! After which we make our way to Bajinath – the shrine of Lord Shiva.
Also, being in Himachal, how can one afford to miss the beauteous and vast Tea gardens?
However, not all good things are meant to stay forever, as after lunch we finally pack our bags and pull the reverse gear. It's time to start our journey back to Ambala Cantt. It's a final goodbye to Himachal Tour as we leave for Delhi from Ambala Cantt. But the good part? More trips await us!
Day 8:
Board train from Ambala Cantt to reach Delhi early in the morning.
The trip ends with mesmerizing and unforgettable memories of the Heavenly Himachal tour with HikerWolf.
FAQS FOR HEAVENLY HIMACHAL TOUR
1. Can I join the trip directly from Ambala Cantt? If yes, then how?
Ans: Yes, you can join directly at Ambala Cantt. the nearest Airport from Ambala Cantt is Chandigarh, which is at 50 km, a journey of 1 hr.
2. Can I join this expedition solo?
Ans: Yes, of course, you can! We have a good number of solo travellers on almost every HikerWolf Trip.
3. Is there an age limit to join this trip?
Ans: No, there is no age limit to join this trip. However, based on our previous experiences, the age group of travellers is usually between 18-35.
4. How physically fit do I need to be to join this trip?
Ans: This trip doesn't have a very high physical requirement. You need to be able to walk long distances on flat plains and be able to do a day trek too.
5. Can I smoke/drink on this trip?
Ans: We at HikerWolf do not refrain our participants from smoking or drinking on our trips. However, there are times you will be disallowed to do so (monasteries, treks, sacred spaces, etc.). Indulge in these activities very responsibly.
6. Are kids allowed? If Yes, then what are the charges?
Ans: Yes, Kids are allowed. Below 3yrs- no charges. 3 yrs. to 10 yrs.- 50% of the Trip Cost. 10yrs and above 100% of the Trip Cost
7. What will the temperature be like while we're there?
Ans: Temperatures rise to a maximum of 34°C during the day and can drop to a minimum of 18°C during the night
8. Does this trip involve Camping?
Ans: It involves 1-night camping at Rajgunda.
1. How big will the group be?
We prefer to have a group of 15-18 people as we intend to have more fun and give personal care. We need at least 6 people to manage our trip
2. Who will accompany us on the trip?
All our trips are led by professional travel coordinators who have good experience in management groups.
3. If I'm the only girl in the group, is it safe to travel?
We generally have many girls joining us on the trip so there are high chances that you are not the only girl on the trip. 
Safety is of prime importance and we understand them very well. The major of our staff is a girl for that very reason so be assured you are in safe and reliable hands.
4. What type of ground transportation will be used during the trip?
We rent taxis such as Innova, Tempo Traveler, Bolero, Tata Sumo, etc.  from our suppliers.
5. What will be the type of accommodation?
We are known to provide the best possible accommodation on our trips, the accommodation can be in a hotel / alpine tent/dome tent/living room at home.
6. How many trippers will be in a room?
It totally depends on the dynamics of the group.  If there is a couple, we can give them a separate room, or if there is an odd number of people, then there would be a triple exchange. (If you'll are couple inform us once you have booked) 
7. How can I book a trip with you?
After selecting the trip, you can book by clicking the Book now button or you can contact us and we will guide you through the booking.
8. What kind of food is served during the Trip?
We provide nutritious and healthy food on the trip.  We always try to select best/famous restaurants for the food on our trips
9. Can we change the itinerary?
Yes, you can make suggestions.  We will analyze this and, if we consider it feasible, we will apply it.
10. Can the trip be personalized?
Yes, we can customize any trip based on your needs and feasibility.
11. Do you prefer to take medications with me?
Yes, it is recommended to bring your own medicines on the trip