Ever wondered about going on a crazy motorbike adventure on the highest motorable pass in the world? Well, welcome to Khardung La !
Situated in the Ladakh range is this beautiful place, filled with snowcapped mountains in every direction your eye goes, and the captivating scenery of this beautiful pass will leave you awestruck. Commonly known as the gateway to the Shyok and Nubra valleys, it is the highest motorable pass in the world with an altitude of about 18,379ft (5,602m), and this place is just 40Km away from Leh.
Khardung La has some history tangled with it as well. It is said that Khardung La is situated on the famous Caravan route that connected Leh to Kashgar in Central Asia. Thousands of horses and camels used to traverse the route and now you will be able to see the descendants of the camels and horses at Hunder, a bit north of the region.
Khardungla pass was constructed in the year 1976 and was made open for the public in 1988 and is maintained by Border Roads Organization. Khardungla pass is of great importance as it is used to transfer goods to nearby border places.
Ways to reach Khardung La: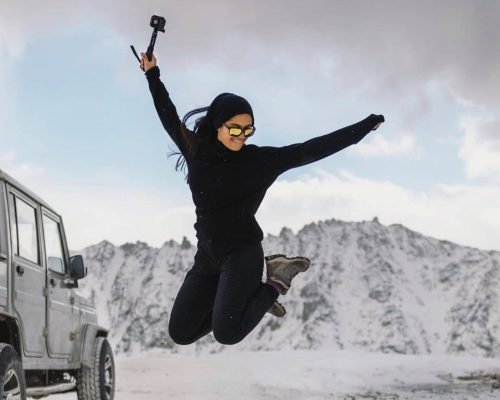 Beauty is what this place is abundant with but it's a bit tricky to reach just like every other perfect dream. This place is inaccessible other than by road. As I said earlier, this place is about 40 Km away from Leh. But you can surely make some break-journeys to reach this wonderful destination.
If you are an aviation lover, you can easily board on a plane to Leh's Kushok Bakula Rimpochee airport and then reach Khardungla top via the only road which happens to be the world's highest motorable road in a car or a bike if you are a thrill-seeker.
The road is the only way Khardungla top is connected to the outside world and you can easily use this precious means for your journey. Cars, bikes are available for rent around Leh, Buses are available too. They start from Leh and go all the way up to Nubra Valley, passing through Khardungla pass.
It takes about one and half hours in a car, a little faster if you can hop on a bike whilst also enjoying the world's highest motorable pass.
If you are like me who's traveling via train is a must, then this option is going to delight you. Yes, you can travel to Khardung La via train but it will only be up to Jammu.
You can get to Jammu Tawai railway station on a train and once you get there, you can use the roadways to reach Leh (Manali-Leh Highway) and from there to the Khardungla pass via road.
Best time to visit Khardung La: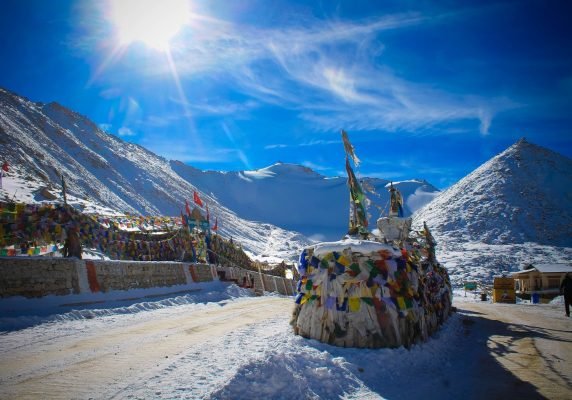 Since it is a cold and windy place and being at a very high altitude, this place is covered in snow most of the time; heavy snowfall is a staple thing here in the Khardungla top. It is advisable to visit this place during the summer, i.e, from March to May. September-October can also be considered as an option.
The weather here in the summer is moderate with temperatures peaking 20° C. But in the night, the temperatures can reach a low of 6° C and sometimes even close to 0° C.
During the spring season, the Khardungla pass is completely closed due to the incessant rainfall. Winters are a no-no for this place because the temperature ranges in the negative throughout the season. It becomes quite tough due to the excruciating cold and the increased frequency of snowfall.
Places nearby Khardung La: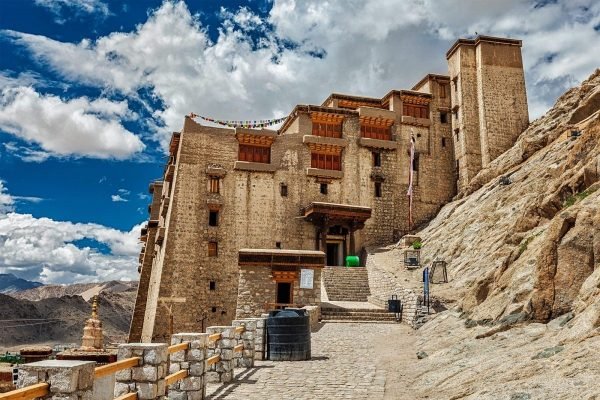 Once you reach Khardung La and get over with the wave of awe it causes, you can go visit some nearby attractions that are equally wonderful and exciting.
Firstly, we have the Spituk monastery also known as Spituk Gompa or Pethup Gompa is a Buddhist monastery in the hills of the Ladakh range. It is beautifully constructed on that hill and one can get great views.
The Leh Palace is also a beautiful place to visit. This place was constructed in the 1600s and it will no doubt give you subtle 17th-century vibes. It is nine stories high and has numerous archaic paintings dating back to even 450 years! It used to be a royal palace but was abandoned in the 19th century.
Finally, Khardung La is en route to the infamous Siachen glacier. The glacier that demarcates Central Asia from the Indian subcontinent.
There are other couples of monasteries nearby, a stupa, and a museum down the hill that has great archaic collections.
Some useful items you can carry to Khardung La: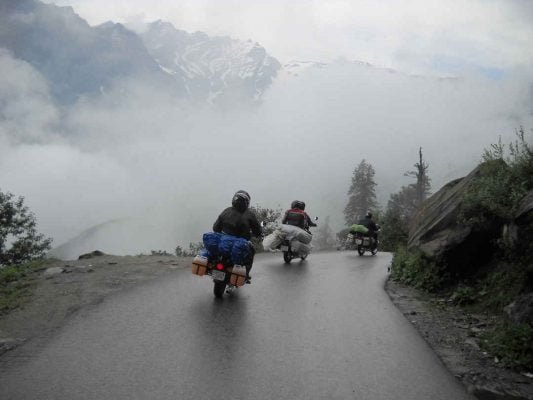 The Khardungla pass is one of the highest places to visit in India so you need to do a lot of preparations. First and foremost, you need to carry a good amount of woolen clothes, scarves, and gloves because the temperatures in this pass will chill you to the bone. The other items necessary for the voyage are:
Raincoats because of occasional snowfall.
Some medicines for altitude sickness.
Oxygen cylinders, if possible.
Water.
Some light food, need to be taken at regular intervals.
Gumboots, or some waterproof shoes.
Extra fuel.
Sunglasses.
Energy/chocolate bars.
And of course, the camera with extra/fully charged batteries.
Useful information on Khardung La:
The places are very remote so medical facilities are very rare. It is advisable to carry a first-aid kit and some medicines for basic ailments.
Petrol pumps are scarce at Khardungla top. The only functional petrol pumps are in Nubra valley and the Leh region.
A travel permit will be required to go to the Khardungla pass.
There are no accommodation places in this area. You have to go down the hill and stay in nearby towns.
The roads here are not cemented and are very dusty. It is advisable to hire a professional for driving and if you want to ride a bike, use a mask.
Frequently asked questions:
Do I need a permit to travel to Khardungla pass?
Yes, the Khardungla pass requires a permit to visit. If you are an Indian tourist, you will be needing an Inner Line Permit and if you are from outside of India, you will be needing a Protected Area Permit to visit this place.
Is the Khardungla pass open in winters?
During the winters, the Khardung La region receives a lot of snow and the region becomes inaccessible. So it is kept closed in the winter.
What is the opening and closing time of Khardung La?
The Khardung La opens at around 9 in the morning and stays open till 5 in the evening. It's open throughout the week.
What is the best time to visit Khardung La?
Since it is a hilly area, spring, summer, and autumn season is the best time to visit. March to May and September to October will be the suitable time to visit.
What is Khardung La famous for?
Khardung La is said to be the world's highest motorable pass which earns it quite the reputation.
What is the height of the Khardungla pass?
Khardungla pass sits atop a height of about 5359m (17582 ft).