Saying Goodbye to Kashmir was harder than I thought, not just because it's so scenic and adventurous but that the people around here are so warm and so kind. Within a few days, I felt that this town and these people were like my family and I was leaving a part of my heart behind. 
Even though it has been a few years now but when I came across this wonderful video, it reminded me of so much that trip.
People always ask me, Is Kashmir safe for tourists? 
It's really understandable that people are a little hesitant and have concerns when they see the place from the eyes of the media, especially only the aggressive side.
Let me be honest here, this place is totally safe but you'll definitely see military people in some places here and it might bother you a little since you're not used to it. However, they are just for your protection, and people here love being the host: their intentions are nothing but to see their guests happy. They will treat you like a family and like they say, "Atithi Devo bhava", they are the real definition of it.
Like some people out there I also had some reservations before I made my decision. When you have questions, you google and that's what I did. The results I came across were really reassuring and they helped me witness the real picture of Kashmir and I decided to go there. And oh boy, was I not correct!
Here are snapshots of some real experiences I came across:
Mehraj R. V Says, "Kashmir is safe as your hometown", and he trusted a person from that city to be able to leave their sleeping daughter with them for 5 hours.
 Subhajit Bhatta Says, "The driver has become one of our family members after the tour."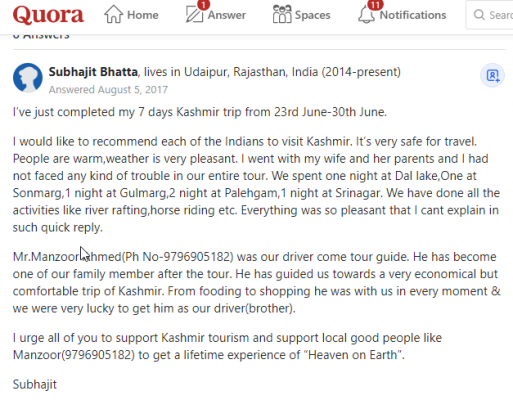 Akhil Mahajan shares a story, He and his friends went for a late-night walk and lost their way. When asked for directions to one person in bakery which was open, the owner himself dropped them to their stay in his car.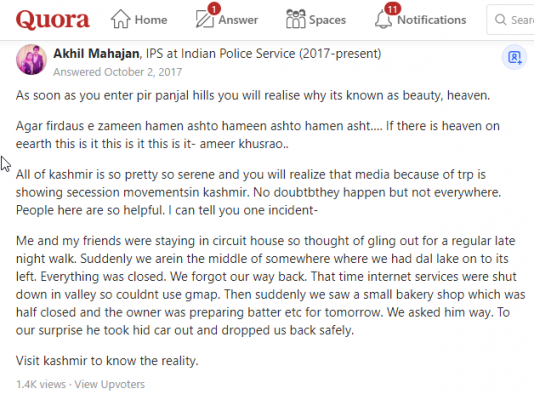 Sanyam Raneja, a solo traveller, Says,  "People are extremely welcoming and very hospitable."

and he also shares his story; He went for the day-long trek and met a group of 25 people, even though they had just met, a guy from a group invited him for a lunch at his home and another guy also invited him for an overnight stay at his place.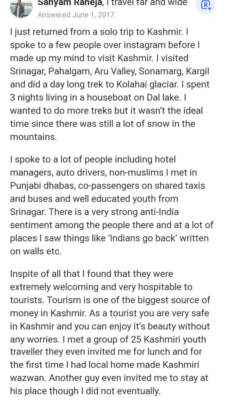 .
Adil Bhat Says, who has been to many places in India, "I would factually claim that Kashmir is safest part keeping in consideration the crimes like thefts, burglaries, duping, rapes and other such crimes."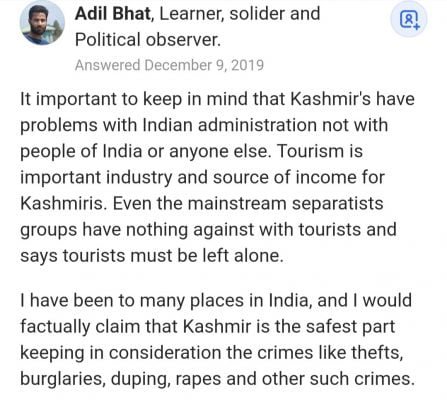 There's a reason why people say that if you wanna see the heaven, Visit Kashmir. The perfect combination of nature that will rejuvenate your soul, activities that will awaken the adventurer in you and people who will leave you astonished with their warming hospitality.