Away from the mayhem of city life, imagine dwelling in the silences of your solitude in an ancient monastery hidden somewhere in the depths of pristine snow-capped mountains. With no one in sight but the vast dreamy sky above you and the crystal blue water flowing beneath your feet. Imagine a land laden with unseen beauty, culture, and spirituality. A paradise of primal and undisturbed nature at its best. Arunachal Pradesh, the Switzerland of India, will surpass your wildest dreams with its unseen and unimagined sublime beauty and divine serenity.
Scarcely populated with over 24 tribes, Arunachal Pradesh justifies its title of being the 'Land of Dawn-lit Mountains', 'Land of Rising Sun', 'Orchid State of India', as well as 'Paradise of Botanists'. It is not only the largest state among the seven sister states of northeast India in terms of its geographical dimensions but also in terms of its cultural, ethnic, tribal, and natural diversity. With the largest diversity of birds and mammals, unexplored forests, thunderous waterfalls, transparent lakes, and illusory mountains, Arunachal Pradesh is one of the most prominent ecological hotspots not only in India but in the whole wide world.
Arunachal Pradesh, one of the most beautiful states of India, is, however, also the least travelled one. Cut off from the mainland and bound with political, climatic, as well as topographical constraints, this secret jewel of India remains an unexplored mystery. With heavy permits required to enter the state in the cases of both international as well as national citizens as well with the extreme climate, political conflict, and unknown and distant travelling routes, you might hesitate before planning to visit this paradise on earth. It will be, however, that one life-changing trip that will take you closer not only to the silent secrets of nature but also of your own self. From experiencing the fall of the first ray of sun in the nation to following it to the nation's end, Arunachal Pradesh will leave you spellbound by India's pristine and unseen beauty.
1. Best Time to Visit Arunachal Pradesh
1.1 Winter Season (October to February)
Every season paints the beautiful valleys of the Orchid State in distinct and unique colours of sublime beauty. The winter season, ranging from October to February, brings out the prime beauty of the region and thus is the best time to visit Arunachal Pradesh. Winters envelop the place in the hues of magical whiteness with snow-capped mountains, frozen lakes, and chilly strokes of wind, making the valleys of Arunachal Pradesh resemble and surpass the ethereal hills of Switzerland. The varied cultural and tribal festivals, recreational activities, as well as hiking and trekking opportunities, also contribute to making winter the best time to visit Arunachal Pradesh.
1.2 Summer Season (March-June)
With the temperature rising up to 35 degrees Celsius, exploring the majestic valleys of Arunachal Pradesh in the scorching heat of summers might seem a daunting task. Perhaps this is the reason why summer is known to be an off-season period in the state when it comes to travelling. However, if blooming greenery and clear and pleasant skies are your cups of tea then the summer season can be the best time to visit Arunachal Pradesh for you. With cheaper hotels, ripening biodiversity, and a lighter backup excluding the heaps of warm layers generally needed when travelling to Arunachal Pradesh, you can plan an ideal trip to India's north-eastern heaven in the summers.
1.3 Monsoon Season (July-September)
The rain Gods are a bit too generous when it comes to Arunachal Pradesh. With 2782 mm of average annual rainfall, Arunachal Pradesh is one of the highest rainfall receiving states in India. With heavy and unpredictable showers, the state is prone to landslides and floods during the monsoon season. Thus, the rainy season is generally avoided when it comes to visiting this gem of a place. However, the rains paint the valleys in picturesque colours of scenic delight. Beaming with dense vegetation and tribal festivities during the monsoon, months from July to September can be the best time to visit Arunachal Pradesh and its tribal and scenic glory if you are an adventure enthusiast and do not believe in playing safe.
2. Best Places to Visit in Arunachal Pradesh
We have unveiled the mysteries hidden behind India's least travelled state for you. Here are 20 most prominent and beautiful Arunachal Pradesh's tourist places handpicked for you by the explorers at HikerWolf:
2.1 Tawang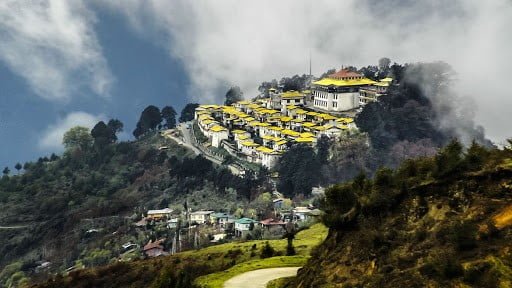 With ancient Buddhist monasteries, historical sites and passes, as well as scenic lakes and cliffs, Tawang holds the soul of Arunachal Pradesh's exquisite beauty and culture. At a height of about 3500 meters above sea level, Tawang is burrowed between the Gopdi and Chong Chugmi ranges and surrounded by the Tawang Chu River.
From the Indo-China border to Tawang War Memorial to Sela and Bumla Pass to Pankang to Tawang and Ugyenling Monastery to Teng Tso and Madhuri Lake to Nuranang Falls, Tawang speaks a distinct story of north-east's culture, history, heritage, and unparalleled beauty. Tawang tops the list when it comes to creating a catalogue of Arunachal Pradesh's famous places. Whether you are looking to hike mountain terrains or explore Buddhist, Tibetan, and other diverse tribal cultures or stroll through the history or simply sit back and rejuvenate in the bounty of nature, Tawang has got it all covered for you.
Interesting Facts
The sacred Tawang Monastery, also known as the Galden Namgey Lhatse, is the largest Buddhist Monastery in India and the second largest in the world. The now serene monastery was once a site of conflict between various rival sects of Tibetan Buddhists in the medieval period.
Ugyenling Monastery in Tawang is renowned for being the birthplace of the 6th Dalai Lama, Tsang Gyatso. The entrance of this monastery is marked by a tree planted by him and it is believed that drinking tea made from the leaves of the tree can rejuvenate health and cure ailments.
The Tawang War Memorial honours the memory of 2140 Indian soldiers who sacrificed their lives during the 1962 Indo-China War.
During the 1962 war, china occupied major parts of Arunachal Pradesh including Tawang but it was restored to the Mac Mohan Line in 1963 with the termination of the war.
2.2 Sela Pass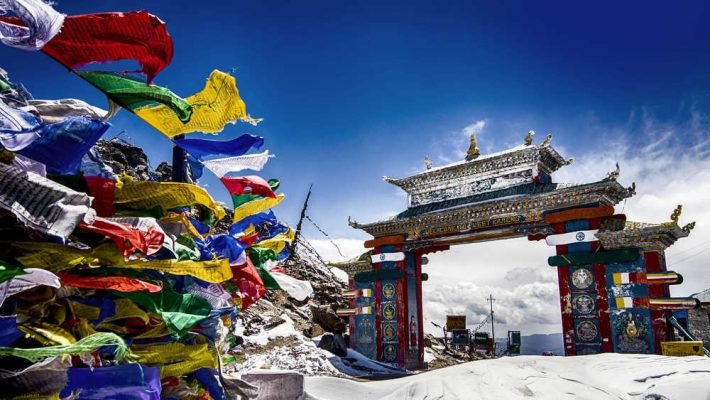 Sela Pass, situated in the Tawang region, is a high-altitude mountain pass that adds another jewel to the beauty of Arunachal Pradesh. Situated at an altitude of 2244 meters, strolling through the Sela Pass is as close as one can get to wandering through the clouds. With the Sela Lake frozen during the winters and surrounded by snow-laden mighty eastern Himalayan peaks as well as marked by snowy pathways, Sela Pass gives an ethereal view of divine beauty. It also holds sacred value to Buddhism. It is the point that connects Arunachal Pradesh to the rest of India and thus with its magnificent beauty and serenity is one of the best places to visit in Arunachal Pradesh.
Interesting Facts
The Pass is surrounded by 101 dynamic and placid lakes.
Sela Pass is renowned as the second highest pass in India and also as the Gateway to Tawang.
According to a popular legend, a local woman named Sela was in love with the renowned Indian Army man Jaswant Singh. After seeing his dead body in the 1962 war, she committed suicide by jumping off the cliffs of this pass. Hence, the pass is now known as the Sela Pass in the memory of a history of love and bravery.
2.3 Tezu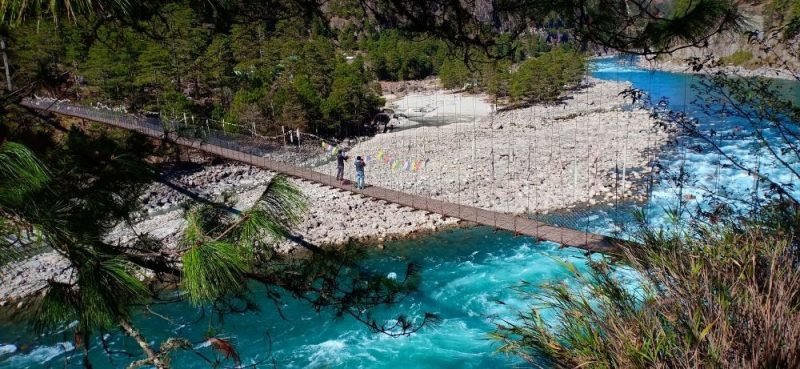 One of the most prominent amongst Arunachal Pradesh's tourist places, Tezu will leave you awestruck by its mesmerizing beauty. Tezu is the first region in eastern India to receive the first rays of the Sun and thus is the reason behind Arunachal Pradesh's title of being the Land of Rising Sun. this quaint town is home to pristine valleys and lakes and is thus amongst frequently visited Arunachal Pradesh's tourist places. The headquarter of Lohit District, it houses the marvel of Glow Lake, Chaglogam, Tezu Park, Botanical Garden, D'Ering Memorial Wildlife Sanctuary, Walong, as well as the famous Tamladu Festival of the Mishmi tribe. Storing the essence of the state's exquisite culture and natural beauty, Tezu needs to be on your bucket list.
Interesting Facts
The Parashuram Kund is a famous Hindu Pilgrimage in the town and it is said that by bathing in its holy water devotees can redeem themselves from all their sins. According to a religious legend from Mahabharata, the renowned sage Parashuram cleansed his sin of matricide by washing himself from this holy water.
The Mishmi Festival and the Makarsakranti Fair held in the region present a celebration of tribal and ethnic cultures in traditional outfits with tribal dances, shows, recreational fairs, as well as delicious tribal cuisine.
Tezu District Museum and Craft Centre stores ancient weapons, clothes, paintings, as well as manuscripts that tell a tale of tribal cultures and sentiments.
2.4 Bomdila
With vibrant apple orchards, blooming green hills, pious monasteries, and picturesque delights, Bomdila is a little hamlet that bears testimony to the fantastical dream that Arunachal Pradesh is. Situated in northwestern Arunachal Pradesh, it is the headquarters of West Kameng District. From the unreal Bomdila viewpoint to the regal biodiversity at Eaglenest Wildlife Sanctuary to the serene aura of Bomdila Monastery and Buddhist gompas, Bomdila is always beaming with nature and spirituality and is thus one of the best places to visit in Arunachal Pradesh. It is heaven for adventure lovers as it is surrounded by trekking trails.
Interesting Facts
Bomdila was a part of Tibet in ancient times and a major portion of its history stands lost and forgotten. It was declared as a part of Arunachal Pradesh in 1873 by the British.
Invaded during the 1962 war by China, Bomdila was later restored as a precious jewel of India.
As a remote region, it is not connected to any railway station or airport and thus can only be reached by road.
Also known as Himalaya's Veranda, it gives a bird view of the snow-capped ranges.
2.5 Dirang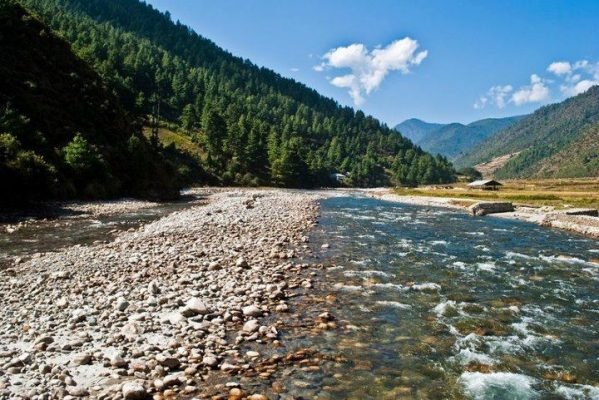 A quaint town nestled 4600 ft above sea level, Dirang is a precious secret tucked away in the endless valleys of Arunachal Pradesh. Its altitude makes it home to pleasant weather throughout the year and hence, it is a paradise for backpackers from across the world. With an ancient fort on its hilltop reminiscent of its deep history, an ancient monastery, hot water spring, apple orchards, kiwi farms, National Research Centre on Yak, as well as the rich tribal culture of Dirang Dzong, Dirang is a treasured gem amongst Arunachal Pradesh's tourist places.
Interesting Facts
Dirang Dzong or the Dirang Fort has been a witness to many historical stories of war and survival. Originally built in the 17th century with the purpose of safeguarding Dirang from the neighbouring states, it has served multiple purposes. During the Vietnam War, it was operational as a jail and during the world war as a shelter.
Dirang houses Kalachakra Gompa, which is a 500-year-old Buddhist monastery, renowned for its religious value among devotees from across the world.
Dedicated to Yak husbandry and upliftment, the National Research Centre on Yak houses more than 150 yaks of distinct varieties.
On the shore of the Dirang river, Dirang Dzong is a storehouse of tribal houses that are 500 years old. The houses are structured in a manner to protect the tribal people from extreme weather conditions.
2.6 Pasighat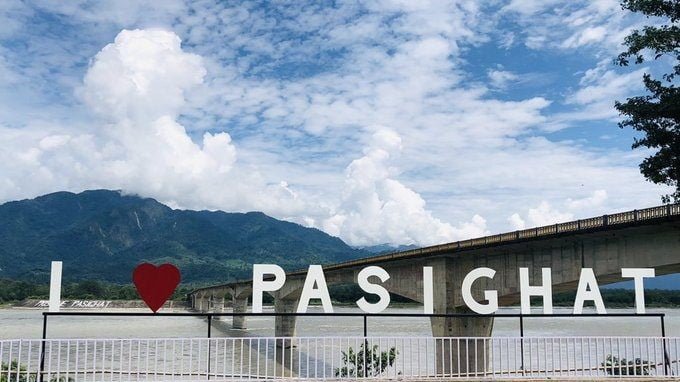 Pasighat is the oldest town in Arunachal Pradesh and with its scenic wonders, is the ideal escape into the unexplored abundance of nature. Beaming with the flow of crystalline blue water of the Siang River, it is popular for water sports such as boating, rafting, fishing, and angling. Daying Ering wildlife sanctuary is a popular sight-seeing spot in Pasighat and is also renowned for its enthralling wildlife safari. Away from the grasp of commercial tourism, Pasighat, also known as the gateway to Arunachal Pradesh, will leave you bewildered by its virgin and unblemished beauty, hidden away from the exploitative city crowd. Undeniably, it is amongst Arunachal Pradesh's famous places when it comes to serenity and tranquillity.
Interesting Facts
The town gets its name from 'Pasis', a prominent and age-old tribe settled in the area.
According to a popular legend, Solung, an important tribal and religious festival celebrated in Pasighat, originated with the appeal of Kiine-Naane (the Goddess of Wealth) herself to organize such a festival of worship.
The first-ever college in Arunachal Pradesh, the Jawaharlal Nehru College, was established in Pasighat in 1964.
Explored by the British in 1911 A.D., the town was first used for administrative purposes to connect to the Abor Hills and the northern region of Arunachal Pradesh.
2.7 Sangti
Remote and largely unknown, Sangti valley is a precious well-kept secret of Arunachal Pradesh. Hidden in the Dirang arena in West Kameng, this secluded area gives you a glimpse of wildflowers, fruit orchards, green valleys, pristine lakes, rare migratory birds, rich flora and fauna, friendly Monpa people, and their tribal ways of life. Whether you are a photography enthusiast, bird watcher, or nature lover, Sangti has something in store for everyone. It will feed your soul by taking you back to a region unhindered by modernity. Hence, it stands as one of the eminent places to visit in Arunachal Pradesh.
Interesting Facts
Sangti Valley is recognized as a global biodiversity hotspot and as an Eastern Himalayas Endemic Bird area.
Every year in the months of November and December, numerous migratory birds can be spotted in the arena of Sangti Valley, including the Black-necked Crane. The Black-necked Crane is not only an endangered species but also is considered sacred to Buddhism.
The Sangti Mahayana Buddhist Temple is a small and colorful monastery in the Sangti Valley adorned with paintings and prayer wheels that speak tales of unshaken faith.
2.8 Mechuka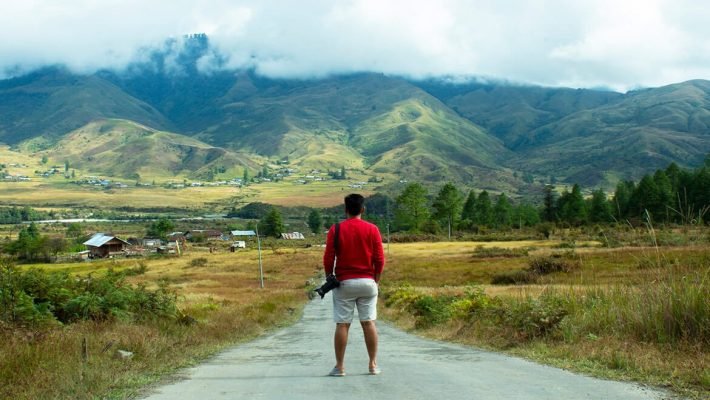 With the flow of the Siyom River through a land beaming with sublime charm, scenic, tribal, religious, cultural, as well as historical significance, Mechuka is amongst Arunachal Pradesh's famous places. The pristine waterfalls, evergreen grasslands, the rich culture of the Memba tribe, the 400-year-old Samtem Yongcham Monastery, along with the exuberant Mechuka, Losar, and Mopin Festivals form some of the central attractions that make this little Buddhist Hamlet one of the best places to visit in Arunachal Pradesh.
Interesting Facts
Along with the 400-year-old Buddhist monastery, Mechuka also houses a gurudwara built by the Sikh regiments of the Indian Army, who camped in Mechuka in the 1980s. According to a popular legend, Guru Nanak Dev stopped by the Siyom River to meditate.
Mechuka also has a miniature Hanuman Temple. The cliff right across the temple is said to resemble the naturally carved face of lord Hanuman.
Also known as the Forbidden Valley of Arunachal Pradesh, Mechuka first saw a modern road built in its arena only in 2003 to welcome Dalai Lama on his visit to the 400-year-old Samtem Yongcham Monastery.
To promote the enthralling Mechuka Festival, Salman Khan, the ambassador of Arunachal Pradesh tourism, rode on cycle for 10km along with other dignitaries in 2018. Apart from the Mechuka Bike Downhill Championship, the Mechuka festival is a hub of various other recreational activities such as rafting, mountain biking, river crossing, trekking, para-gliding, and rock climbing to list a few adventures.
2.9 Madhuri Lake
Arunachal Pradesh is your grade school textbook paintings of ethereal nature that come to life. With cliffs covered in clouds, silences echoing a musical epiphany of nature, and with lakes glistening in a shade bluer than you can imagine, it is a picture-perfect dream. One such lake that adds to its unreal beauty is the immaculate Madhuri Lake (Sangestar Tso). Situated 30 km north-east to Tawang and 6.4 km west of Bumla Pass, and nestled in the Himalayas at a height of 12000 ft. above sea level, it is one of the most enrapturing amongst Arunachal Pradesh's tourist places. Along with the picturesque delight, it also holds religious significance for both Indian and Tibetan Buddhists. The lake is one to write sonnets about yet words will fall short and languages will run dry in trying to capture the essence of its primal beauty.
Interesting Facts
Originally known as the Sangestar Tso Lake, it derived its popular title as the Madhuri Lake after the Bollywood actress, Madhuri Dixit, performed a dance sequence in the periphery of the lake in the movie Koyla.
The lake originated in 1950 as an aftermath of an earthquake that brought in a flood and resulted in the falling of trees and rocks; a serendipitous eventuality that resulted in the formation of this natural marvel.
Beginning from Zemithang, the road leading to the lake has about 52 hairpin bends.
2.10 Golden Pagoda, Namsai
Arunachal Pradesh is a reservoir of some of the most beautiful temples that are not only known for their divine serenity but also intricately engraved architecture that tells a distinct story of pious spirituality. One such gem of a place is Golden Pagado, also known as Kongmu Kham. Opened in 2010, this Burmese-style Buddhist temple is spread across 20 hectares. With its scenic, architectural, and religious bounty, it will leave you spell-bound and mesmerized, cast under the spell of unhampered divinity. It thus has secured its place among Arunachal Pradesh's famous places.
Interesting Facts
The World Tripitaka Foundation has been operating to make the temple the first international Tripiṭaka centre in India.
Beaming with religious fervour, the Kathina Festival is the largest and most prominent festival celebrated at Kongmu Kham.
Apart from being a place of unparalleled religiosity, the place also encapsulates a library, monastery, and a centre for cultural research of the Tai Khampti-Singpho tribes.
Constructed by over 300 skilled masons and architects from Myanmar, the temple speaks a tale of the rich Buddhist culture.
2.11 Bumla Pass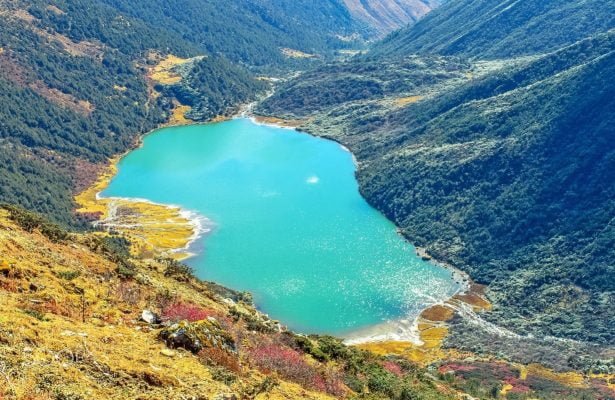 Reminiscent of a long history of wars, the Bumla Pass shimmers with nationalism and patriotism. Located at a height of 15,200 feet, it trails along the Indo-China Border and also encapsulates one of the five Border Personal meeting points between the Indian Army and the People's Liberation Army of China. The Indian soldiers, standing rock solid on the Bumla Pass in the hostile cold and extreme climatic condition and guarding our nation against all odds, will leave you at a loss for words and deeply moved by a wave of patriotism never experienced before. Without a doubt, it stands amongst the best Arunachal Pradesh tourist places.
Interesting Facts
The route to Bumla Pass has a great historical significance as it marks the road where China invaded India during the 1962 Sino-Indian War.
In 2006, for the first time in 44 years, the Bumla Pass was opened for traders and postal workers from both nations.
Escaping from Tibet, this passage was used by the revered Dalai Lama to enter India.
The heap of stones monument at the Bumla Pass is mnemonic of the mighty Himalayas as well as the determined soldiers that protect us against all odds. By placing a stone on the monument, tourists often pay tribute to both nature as well as the soldiers guarding it.
To enter Bumla Pass as an Indian civilian, you require permission from the Indian Army.
2.12 Nuranang Falls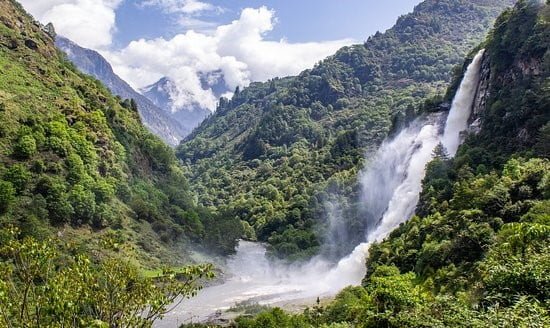 If you are looking to shut out the chaotic world by the thunder of an enigmatic waterfall, situated away from the mayhem of the city amidst quiet serene valleys, Nuranang Falls is your answer. Also known as Bong Bong or Jang Falls, Nuranang Falls originate from the northern ramps of Sela Pass and fall into the Tawang River from an altitude of about 100 meters. From making appearances in Bollywood to Assamese romantic drama movies, its picturesque visuals make it one of the most beautiful waterfalls in northeast India and thus one of the best places to visit in Arunachal Pradesh.
Interesting Facts
Near the base of the falls, a local hydel plant has been set up to generate electricity for local uses.
The famous Bollywood song Tanhai starring the glamorous actress Madhuri Dixit was short here.
According to a famous legend, the waterfall is named after an indigenous local Monpa girl, Nura, who aided the brave Indian rifleman Jaswant Singh Rawat in the 1962 war and was later seized by the Chinese forces.
2.13 Pakhui Wildlife Sanctuary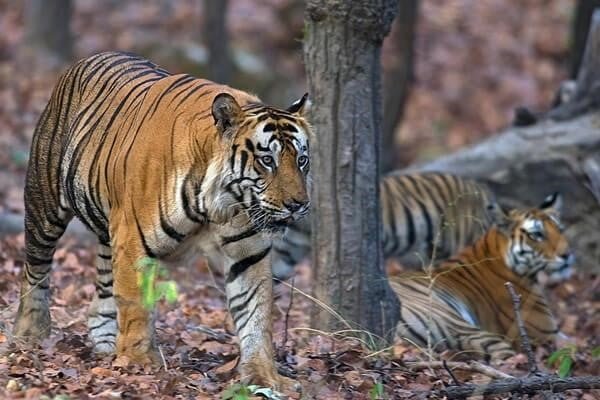 Embedded in the foothills of the Himalayas, Pakhui Wildlife Sanctuary is a paradise for wildlife lovers, adventure, and photography enthusiasts. Situated in the East Kameng district of Arunachal Pradesh, it is home to diverse and threatened flora and fauna that add to the majesty of Arunachal Pradesh. One of the most prominent Arunachal Pradesh's tourist places, it will leave you dumbfounded with the site of glorious tigers, leopards, elephants, deers, and various other species of eminent wildlife roaring in the primal seat of nature unhindered by human traces.
Interesting Facts
Previously a part of the Khellong Forest Division, Pakhui Wildlife Sanctuary earned its status in 1977 and was declared as a tiger reserve in 2002.
Pakhui Tiger Reserve was awarded the Indian Biodiversity Award in 2016 under the category of 'Conservation of threatened species. The award was meant to appreciate its Hornbill Nest Adoption Programme.
With over 2000 species of plants, 40 species of mammals, 300 species of avifauna, 36 species of reptiles, 30 species of amphibians, as well as some of the globally threatened species, it is a witness to the splendour of biodiversity and enigmatic wildlife.
The sanctuary is looked after by the Nyishi tribe community, Ghora Abhe (village chiefs), as well as woman self-help groups belonging to the place.
2.14 Namdapha National Park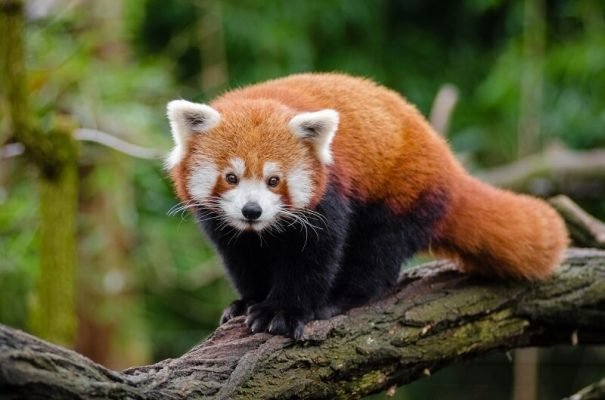 Namdapha National Park is amongst Arunachal Pradesh's famous places, owing to its rich biodiversity and treasured wildlife. Situated in the Noa-Dihing valley and stretching across over 2000 sq km of land, it is renowned as the largest protected area and third-largest national park in India in terms of area. Whether you are a bird watcher, a wildlife enthusiast, or merely a natural lover, this national park is a paradise waiting to be explored. It is an abode of exquisite plants, majestic wildlife, and rare bird species such as snow leopards, red pandas, wild dogs, grey peacocks, white-winged wood ducks, and hill partridges. In total, it houses about 1285 faunal species. Being one of the few national parks that allow tourists to camp and stay in its premises, it is an excellent landscape in the wildlife of Arunachal Pradesh that gives you a chance to lose yourself in the wilderness of nature. It hence is one of the most prominent places to visit in Arunachal Pradesh.
Interesting Facts
It derives its name from two Singhpo words ('Nam' and 'Dapha') that mean forest keeping. Indicative of its name, it has been established to protect the rich biodiversity nestled in the dense forests of Arunachal Pradesh.
It is the only national park in India that houses all four big cat species, namely, tiger, leopard, clouded leopard, as well as the glorious snow leopard.
It also has the largest population of Hillock Gibbons in Indian Forests.
It is among the 20 biodiversity hotspots in India that breed the highly endangered species of Red Panda.
2.15 Along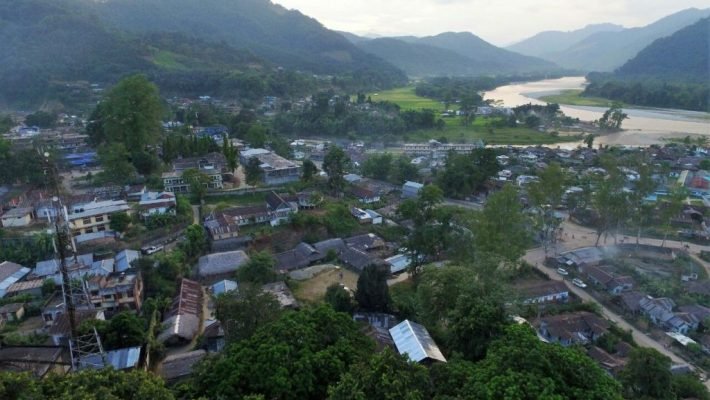 Also known as the orange town of Arunachal Pradesh, Along (Aalo) is a quaint town situated 220 km away from Likabali and centred in the West Siang district of the state. This hamlet forms the meeting point of River Simpu and Siyom. With its beautiful orange orchards, scenic valleys, and lush greenery, it is one of the best places to visit in Arunachal Pradesh. The prominent attractions of Along are the Patum and Hanging Bridge, Donyi Polo Temple, as well as the blossoming orange orchards.
Interesting Facts
The Donyi Polo Temple is dedicated to an ancient religion called Donyi Poloism. The religion is renowned for worshipping the sun and the moon.
The tribal Yomgo River Festival celebrated in the month of February as well as the Mopin Festival in the month of April bring out the rich tribal culture nestled in the place.
The tribal festivals are marked with bizarre animistic rituals that include sacrifices of animals such as Gayal or Mithun to deities.
2.16 Itanagar
Itanagar is not merely the capital of Arunachal Pradesh but also is its heart and soul when it comes to natural beauty and cultural ethnicity. It stands amongst Arunachal Pradesh's famous places. Burrowed in the southern foothills of the Himalayas and adorned with emerald green meadows and the flow of blue-green water, it displays a sublime image of the state's beauty. It houses many of Arunachal Pradesh's famous places such as Ita Fort, Ganga Lake, Namdapha National Park, Jawaharlal Nehru State Museum, Gompa Buddhist Temple, as well as Itanagar Wildlife Sanctuary. It also contains important historical, archaeological, as well as educational sites. A hub of adventure activities such as trekking, hiking, and angling, it attracts nature and adventure lovers from abroad and this is one of the most prominent places to visit in Arunachal Pradesh.
Interesting Facts
The town derives its name from the 15th century, Ita Fort. The fort is said to be built using 80 lakh bricks. Sadly, now only the ruins of the fort remain and tell the distinct story of the past grandeur.
Consecrated by Dalai Lama, the Gompa Buddhist Temple perched on the cliffs of Itanagar, attracts devotees and believers from across the world.
Nabam Runghi is said to be the main architect of the place and the man behind the making of Itanagar as the capital of Arunachal Pradesh.
2.17 Roing
Located in the Dibang Valley of Arunachal Pradesh and on the banks of the enamouring Dibang River, Roing is a beauty to behold. Shimmering with biodiversity, culture, history, as well as natural glory, it will envelop you in the absolute tranquillity and richness of nature. With places such as Nehru Van Udyan, Rukmini Nati, Sally Gate, Iphi Pani Ghat, Nijomaghat, Hunli, Mehao Wildlife Sanctuary, Bhismaknagar Fort, Mayudia, as well as Mehao Lake, it holds great potential for eco-tourism. One of the best places to visit in Arunachal Pradesh, it deserves to be on your travel list.
Interesting Facts
Rukmini Nati, a hill fort dating back to the 14th and 15th centuries, is said to have been the abode of Princess Rukmini, the daughter of King Bhismak.
About 19 km from Roing, during an excavation project, an antique idol of Lord Ganesha was found and unearthed. It is said to date back to the 9th and 10th centuries A.D.
Bhismaknagar Fort, an ancient heritage site, is deemed to be the oldest archaeological site in the region.
According to a popular Adi belief, Kampona Pond, located 17 km from Roing, is said to be the home of Lord Nag Raja.
2.18 Ziro
Located 115 km away from Itanagar and at a height of 1500 m above sea level, Ziro is a picturesque hamlet and among Arunachal Pradesh's famous places when it comes to the state's tourism. With its majestic hills, it is heaven for adventure lovers as it hosts various activities such as hiking, trekking, as well as camping. Glimmering with paddy fields and Pine Hills, it is a home of the friendly tribal group called as Apa Tani tribe. Renowned for the annual Ziro Music Festival, the place witnesses a celebration of life, culture, nature, and tribal sentiments. Come and be a part of this grand celebration of ethereal beauty at Ziro.
Interesting Facts
The mysterious Apatani tribe can be recognized by their facial tattoos and massive nose plugs. According to a famous tribal legend, the Apatani women's faces were tattooed in order to mark them. This was done by Apatani men to safeguard them from the men of other tribes who used to steal the Apatani women.
Ziro has been recognized as a world heritage site by UNESCO.
The fascinating Siddheshwarnath Temple in Ziro is renowned to be the abode of natural shiv linga discovered a decade ago.
2.19 Bhaluk Pong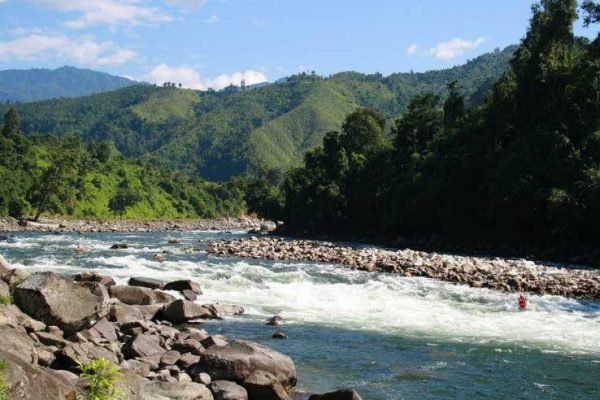 Arunachal Pradesh is a treasure of unprecedented beauty. Bhaluk Pong is another secret jewel that will make you experience a paradise on earth. Located in the foothills of the Himalayas and on the banks of the Kameng River, it is a sight to behold. Beaming with local tribes, scenic delights, as well as adventure activities such as river rafting, trekking, camping, angling, fishing, and hiking, will cure your distressed soul. With sites such as Sessa Orchid Sanctuary, Pakhui Wildlife Sanctuary, as well as Tipi Orchid Research Center, Bhaluk Pong is one of the finest places to visit in Arunachal Pradesh.
Interesting Facts
The Nythidow Festival held annually in the month of March makes the entire valley beam with its rich tribal culture.
The Tipi Orchid Center is famous for being the abode of over 2600 beautifully cultivated orchids.
The influence of Tibetan culture can be seen in the food of the valley. Bhaluk Pong is known for delicious local tribal cuisines including momos and thupka.
2.20 Anini
Known as the place where "the clouds come down to kiss the land", Anini is as close as one can get to wandering through the heaven on earth. Nestled in the Dibang Valley, covered with hazy clouds, and unparalleled tranquillity, Anini is the soulful retreat that you will cherish for life. From enjoying the bird view of the town from the Anini Viewpoint to exploring the wilderness at Mehao Wildlife Sanctuary to trekking at Mipi or Mayudia Pass to losing yourself in the sublime sight-seeing, there is no dearth of things to do in Anini. With glistening valleys, unexplored lakes, and intact natural beauty, it justifies its title of being the paradise on earth.
Interesting Facts
Anini is constituted majorly by the Idu Mishmi Tribe. The town is said to have derived its name from "Inni", the supreme deity of the Idu Mishmi tribe.
Located 32 km from Anini, the Dembuen Village, the last village of Dri valley, marks the last road to the ITBP base camp.
You will be bewildered by the animalistic rituals of the Idu Mishmi Tribe. Their houses are adorned with Buffalo, Yak, Mithun, and the heads of various other animals.
Anini, renowned for its seven lakes trek, stands amongst prominent Arunachal Pradesh's tourist places.
Our incredible India is home to many picturesque treasures. Arunachal Pradesh stands among them as an unsung hero. Kept away from the limelight for ages, the spell bounding hills, lakes, rivers, waterfalls, and the temples of Arunachal Pradesh are waiting to embrace you with their ethereal wilderness. Away from the city crowd and overly exploited modern lands, Arunachal Pradesh still remains a virgin land, embedded in mystery and unimagined beauty. Come and lose yourself in this slice of heaven on earth.