When Shammi Kapoor versed the lyrics of "Taarif Karoon Kya Uski jisne tumhe banaya" for Sharmila Tagore in "Kashmir ki kali", he most certainly meant it for this amazing Dal lake in Srinagar too. This huge spread of dazzling water, right next to an urban city and the sight of the gondola-styled Shikaras swiftly cutting through the calm waters is indeed mesmerizing and praiseworthy.
Now, imagine being on this Shikara, taking you across the splendid Dal jheel, inhaling in the fresh mountainous air, and enjoying the captivating, mist-covered Pir Panjal ranges while the urban city of Srinagar drifts afar. What could be better than this?
At times, you will even come across floating markets, a speciality of this place, ready to sell items on the float!
The second largest lake, right after the Pangong Tso, Dal lake in Kashmir is located in the Union Territory of Jammu and Kashmir, in the beautiful city of Srinagar, the summer capital of the same. The Dal jheel is a large stretch of water around the city of Srinagar and is surrounded by the magnificent Pir Panjal mountains. Often dubbed as the "Jewel in the crown of Kashmir", this lake offers tantalizing views that will make you go awe.
1. How to reach Dal Lake
This wonderful Dal lake is situated in the city of Srinagar, therefore it has good connections with the outside world. Thus, making it easier for travel enthusiasts like us to give this Dal jheel a visit.
The city is connected via all three modes of transport, and since it's also a summer capital, the transport systems are robust enough for the smooth flow of goods and people, so you can peacefully make your trip to this lake in Srinagar without having to worry.
Dal Lake by Air
You can easily hop on a flight to reach the Dal jheel in Srinagar via the Sheikh ul Alam Airport. The Sheikh ul Alam Airport is the only working airport around the city and will take just 50 minutes (22.3 Km) to reach Dal Lake from there by road.
Dal Lake by Rails
For all the train lovers out there, this option is for you! Yes, you can travel a larger part of the journey by train. You can travel to Jammu-Tawi or Udhampur railway station, they have a good connection with the outside as well as inside of Kashmir.
You can then hire a taxi or get on a bus to be able to reach Dal Lake in Srinagar.
Dal Lake by Roads
Roads always connect to almost every place you want to go unless to a different continent. And, as I said earlier, the Dal jheel being situated in the summer capital of J&K, this place is connected via roads that are decent enough and you can hop on a bus or a taxi without any worries.
From Jammu, you can hire a car or take a bus to reach Srinagar, which will take about 8 hours, and from there, you can easily reach the lake, even on your legs.
Amongst all other roads, Foreshore and Boulevard roads are the most amazing. The entire road stretches along the shore of Dal Lake in Srinagar giving you a splendid view of the lake on your way.
2. Best time to visit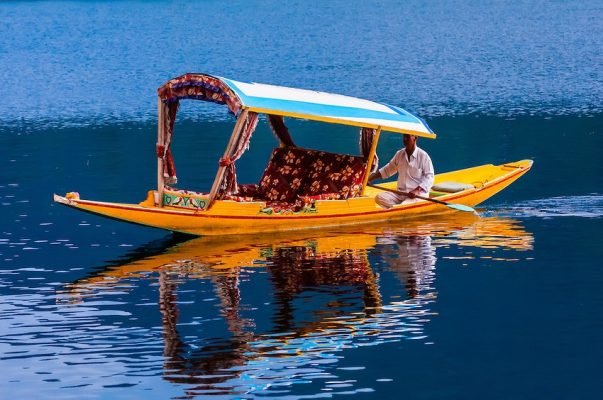 The Dal Lake is situated high up on the Zabarwan mountain valley. In other words means, you cannot travel to this place during the winter season. The Dal jheel freezes into ice during the long winter season that Srinagar experiences.
The best time to visit this place is from March to November. The spring season brings with it the blooming Tulips and autumn brings with it the apples. The sights and smell indeed compel the tourists to this valley during this time.
The site of the rusty brown chinar leaves falling along the shoreline of the Dal lake makes it more scenic.
3. Places you can visit around Dal Lake
The Dal Lake in Kashmir will no doubt give you some soul-stirring sight and make you scream with amazement. But there are some other amazing places nearby that you can easily give a visit to if you want to. Those places may not be as humongous as the Dal lake but are equally trailblazing.
Shalimar Bagh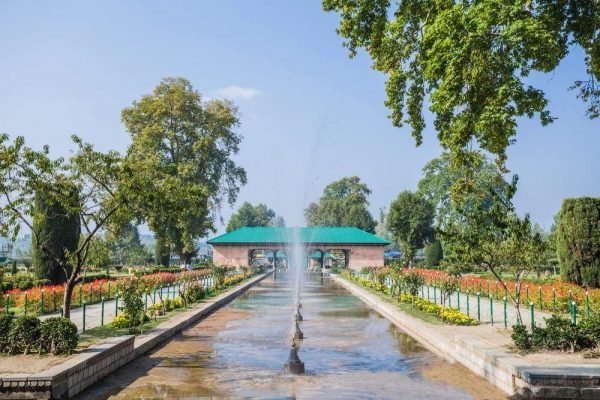 The Shalimar bagh falls en route to the Dal jheel and provides some spectacular displays of how the Mughals used to construct three terrace gardens. Built by Praversena II during his reign on Srinagar, this garden used to be his cottage before it was converted to a garden by Mughal emperor Jahangir.
You can easily enjoy the view of Dal lake from above which is beyond comparison. Architectural sites, beautiful artificial lakes, and spectacular fountains are abundant here. This "Adobe of love" is a must-go if you want some serenity and solidarity.
Indira Gandhi Memorial Tulip Garden
Tulips add a speciality to this place. These amazing plants yield some splendid colourful flowers which are indeed captivating. The Indira Gandhi memorial tulip garden hosts some amazing tulips. Lined in rows, the garden looks amazing when the tulips start blooming.
This garden situated near Dal Lake is built on a sloping surface in a terraced fashion. Opened in 2007, this garden will serve as a great place to enjoy nature's amazing creation. The garden also provides a stunning view of Dal jheel.
Hazratbal Shrine
Hazratbal Shrine is another popular and fascinating place right next to this amazing lake in Srinagar. It is a Muslim shrine and has a relic that contains a strand of hair of Prophet Muhammad. Visiting a holy place of this scale on your journey is equally thrilling and soothing.
The beautiful, sparkling white, Islamic architecture and the view of the Dal Lake right next to it are a treat to the eyes.
4. Useful Information on Dal Lake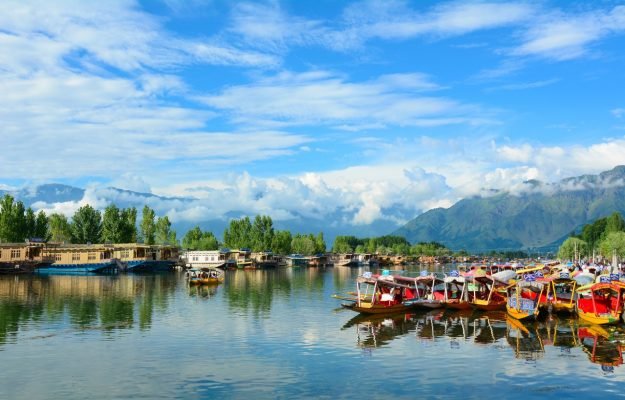 It is advisable to take a lot of woollen clothes and especially scarves. This is because the Dal lake at times gets very windy.
Walking around Dal Lake in Srinagar will be perfect for knowing the place and get all its charm.
Try to stay in Jammu and Kashmir tourism department-approved houseboats.
Mornings will be the perfect time to visit the lake to avoid the hustle and bustle of tourists.
Women need to wear a cape on their heads to enter the Hazratbal shrine. So it is advisable to keep a scarf handy.
5. Frequently Asked Questions
Where is Dal Lake located?
Dal Lake is located in the winter capital of J&K, Srinagar, in the Zarbarwan mountain valley, surrounded by the Pir Panjal mountain ranges. It is a huge and beautiful lake with its signature Shikaras.
What is the speciality of Dal Lake?
The Dal Lake in Srinagar is an urban lake, situated in the very capital. It is the second-largest lake in the whole union territory of Kashmir. The lake has amazing scenic views and adorable Shikaras. "Lake of flowers" is another alias for the lake.
How to reach Dal Lake?
Visiting Dal Lake in Kashmir is pretty easy and straightforward. Since it is right next to an urban city, one can easily reach the place without much effort. You can easily travel to Srinagar via plane or bus/car. And then you can visit this place which is at Srinagar's heart.
Is Dal Lake clean?
Kashmir Lakes and the waterways development authority (LAWDA) have taken up a huge step to clean the waters of this precious lake that many Kashmiris hold dear in their hearts.