Sci-fi, both in the book genres as well as blockbuster movies, has always amazed us and there is no way of it ending pretty soon. But, what if I tell you that there is a place in Himalayan Kashmir that stunningly defies the basic laws of nature? Ever heard of such a thing? Cue the gasp! It's the Magnetic hill in Ladakh, India.
Just like it sounds, this area kind of acts like a huge magnet that draws upwards whatever metallic object comes in close proximity. Even CARS! This out-and-out defiance of the law of gravity seems to draw a lot of reputation to this magnetic hill. So much that tales of this shocking phenomenon echo in every part of Kashmir. Myth, as well as science, swirls around the hot topic of this tiny place around Leh.
This magnetic hill of Ladakh is located in a part of the Leh-Kargil-Baltic Highway and miraculously attracts stationary objects towards itself and you will believe it only when you see it in action. Cars in neutral on the magnetic road can reach jaw-dropping speeds of 20 Km/hr due to which it has earned some names including 'Mystery hill' and 'Gravity hill'.
About 14,000 feet above sea level, in the Trans-Himalayan region, the magnetic hill attracts a lot of tourists every year who come to see this wonderful phenomenon in action. The Sindh river swiftly flows by the eastern part of the magnetic hill.
1. The Myth
Whenever we find something beyond our comprehension, we tend to add some colourful reasons from a fairytale to justify the occurrence. So did the locals, who have their own version of the story.
They believe that the road to the Magnetic Hill in Ladakh once led people to heaven and that only deserving candidates, who indulged in good 'Karma' will be drawn towards it while the undeserving ones will never find their way to it. What if we never get drawn to it? Seems bizarre and terrifying right?
2. The Science Behind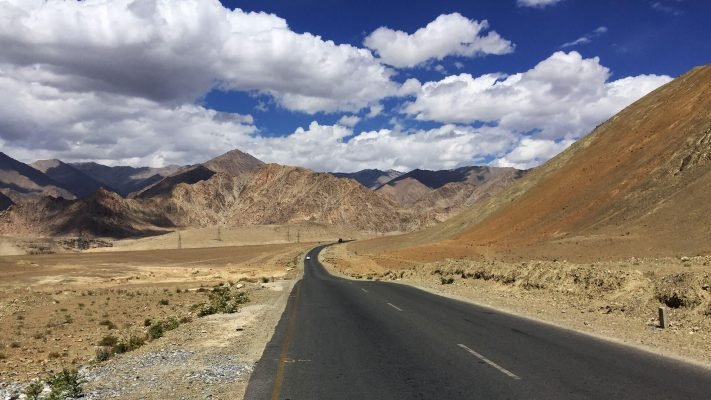 Being a science student, this is where I'll like to put all my money in. Scientists have come forward with two main theories behind this peculiar phenomenon around the magnetic hill.
The Magnetic Force Field Theory
This is a rather reasonable theory which states that a magnetic force field originates from this particular hill and attracts whatever objects come in the vicinity. The magnetic hill region has also been notoriously causing problems in aviation systems, so much that the Indian air force had to divert all its air routes in the past.
The Optical illusion Theory
There is another popular theory that co-exists with the force field theory. This states that due to the terrain, it looks like the car is moving upwards but in reality, the place is downhill causing the objects to 'roll down' instead of getting drawn towards the hill.
3. How To Pay A Visit To Magnetic Hill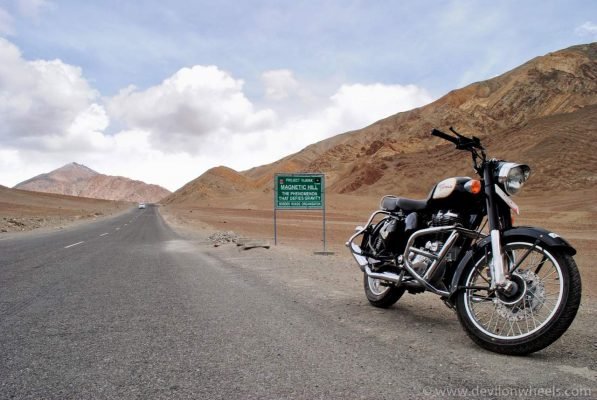 The magnetic hill of Ladakh is popular for its serene views and its virtually tree-less surroundings, which is why it emits brown hues which stand in stark contrast with the blue sky above. Besides, after hearing about this strange phenomenon, who would not like to visit this place?
Since this place is on a highway, it is pretty easy to reach.
Magnetic Hill by Air
If you want to enjoy the stunning views of the mountainous Kashmir en route to this place, then this option will suit you the best. You can easily board on a plane to reach Leh International airport, which is well connected to the outside world, and then you can hop on a rental car or a taxi to reach this place which is on the Leh-Kargil-Baltic highway. It's only a 32Km ride.
Magnetic Hill by Train
Train travelling is also a viable option for travellers. The nearest station from this place is Jammu-Tawi, about 700km from Leh. Then you can hit the roads on public transport or rentals to reach the Magnetic hill in Ladakh.
Magnetic Hill by Road
Since this magnetic hill of Ladakh is on a National Highway, you can reach here very easily because of its good connection with other places.
Srinagar to Magnetic hill: 396 Km
Manali to Magnetic hill: 405 km
Delhi to Magnetic hill:  983 km
Most people prefer to go to Manali and then take the Leh-Manali Highway to reach the magnetic road, a place of wonder.
4. Best Time To Visit Magnetic Hill
Being situated at a very high altitude (14,000 ft), this place experiences excruciatingly cold winters. Moreover, the snow blocks the way, moreover, landslides are common during this time, hence the route is kept closed.
The best time to visit the magnetic road is from May to September. During this time, the roads will be clear, the weather will be pleasant and you will be able to enjoy the serene views of the Magnetic hill of Ladakh.
5. Places To Visit Near Magnetic Hill In Ladakh
Although you will be drawn towards the magnetic hill naturally just by hearing the bizarre phenomenon, there are a couple of places nearby that are worth a shot!
Hall of Fame
Distance from Leh: 4km.
For all the history lovers out there, this is a place you would surely want to visit. The Indian Army built a museum, called the Hall of Fame, to dedicate it to the martyrs in the Indo-Pak war.
From seized ammunitions from Pakistan to portraits of war heroes as well as the stories of their selflessness, their sacrifices. This place will surely fill in you a sense of pride and love for the nation we all live in. It's only 4Km from Leh.
Gurudwara Pather Sahib
Distance from Leh: 24km.
The Gurudwara Pather Sahib is en route to the magnetic hill of Ladakh and is a must-go. Built during the 16th century, this place contains a holy 'Pather' with a legend supporting it. It's only 24Km from Leh and is one of those religious places where you can attain salvation.
The Indian Army maintains this place now.
Alchi Monastery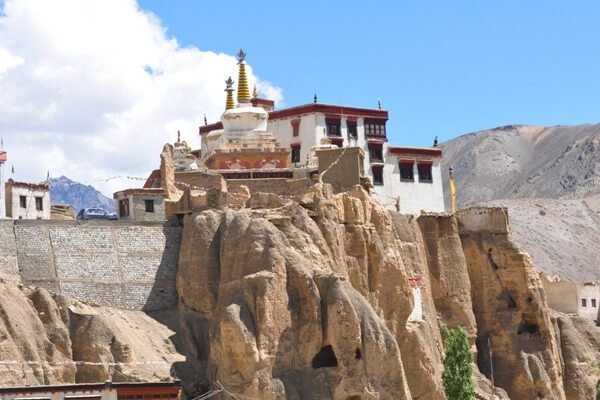 Distance from Leh: 66km.
This is another religious place close to the magnetic hill of Ladakh . The specialty of this place is the decorative paintings running across the walls as well as the antediluvian architecture. The magnetic road will surely help you find solace amidst all the chaos.
Apart from that, this monastery has a tall Buddha statue with a signature calm face, captivating ceiling murals, and wooden structures. This place is just 66Km from Leh.
6. Useful Information On The Magnetic Hill In Kashmir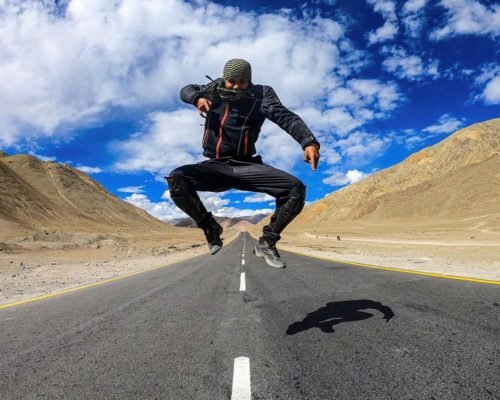 Here is some essential information that you might want to consider before visiting.
The magnetic hill in India is situated on barren land with no signs of civilization. Hence, it is advisable to carry packaged food and water with you.
Hotels are not available over here, it is advisable to go to Leh to check in a hotel.
Petrol pumps are available only at Leh so you must fill the tank before heading out.
Indians as well as foreigners need a permit to visit Leh. Indians will be needing an Inner Line permit while foreigners will be needing a Protected Area Permit. The Leh DC office provides the permits. The magnetic road doesn't require any permit.
It is advisable to keep first aid and medicines related to mountain sickness because medical clinics are not available at Magnetic hill in Ladakh.
7. Frequently Asked Questions
Where is the Magnetic hill?
The Magnetic hill is in the Ladakh region of India, at an altitude of 14,000 ft, only 32 Km from Leh, and since the magnetic road is actually a National Highway, it can be reached pretty easily.
What is the speciality of the magnetic hill in Ladakh?
The Magnetic hill situated in Ladakh, India is a special type of hill that seems to attract objects that come close to its vicinity just like a magnetic draws magnetic fillings towards itself.
How do I get to Magnetic hill in Kashmir?
The Magnetic hill road is situated on the Leh-Kargil-Baltic National Highway and can be easily reached from Leh. Buses taxis are available. You can also rent a car to reach here.
How far is Magnetic hill from Leh?
The magnetic hill of Ladakh is just 32 Km away from Leh. The local authorities have marked the starting of the place with paint on the road and a signboard reading "The phenomenon that defies gravity" to make it easier to find.
How does magnetic hill work?
The Magnetic road is a strange place where objects seem to draw towards it. There are many theories as well as myths that explain the phenomenon.
Some believe that it is because of the magnetic influence or that it's just an optical illusion. Others believe that it's a road to heaven and only deserving candidates are drawn towards it.