Want to experience the dense green jungles of India with wild beasts lurking at every corner? Then perhaps you ought to visit Madhya Pradesh's Kanha National Park. Nestled at the heart of Central India, encircled by the Maikal range, this wildlife reserve is sprawled across a whopping 1945 sq km of the area! Adventure freaks, here's your chance to grab hold the opportunity to venture into the deep, dark jungles of Kanha National Park and look out for a variety of animals, from the mighty tigers to the tusked elephants, the Barasingha or swamp deer, and plenty of flora and fauna to marvel at.
History of Kanha National Park

–
Originally Kanha was a sanctuary established in the year 1933 which was later, in 1955 declared to be a National Park. The beautiful name "kanha" is derived from the soil which is found here, known as Kanhar. Rudyard Kipling was inspired to write, The Jungle Book seeing the beauty of Kanha itself!
How to reach Kanha National Park

–
Kanha National Park has essentially two gates namely Khatia Entrance Gate on the Mandla district and Mukki Entrance in the Balaghat district. While the former gate is well-connected to cities like Nagpur and Jabalpur, the latter is connected to cities like Nagpur, Jabalpur, and Raipur.
By road:
If you want to undertake a thrilling road journey then you must be happy to know that Kanha National Park is well-adjoined with plenty of roads from Jabalpur, to Khajurao, Nagpur, and Raipur. Cab and bus services are also readily available.
To reach Kanha's Khisli Gate you can opt for a ride via the NH12 starting from Jabalpur to Mandla.
In case you're planning to reach the Mukki Gate, you can also take the road from Nagpur that connects with other cities like Gondia, Baihar, and Balaghat.
Jabalpur – Kanha National Park – 160kms(4 hours)

Pench National Park – Kanha National Park – 200kms(4 hours)

Bandhavgarh National Park – Kanha National Park 250kms(4 hours)

Bilaspur – Kanha National Park – 250kms(5 hours)

Bhilai – Kanha National Park- 270kms(5-6 hours)

Raipur – Kanha National Park – 250kms(5 hours)

Nagpur – Kanha National Park – 300kms(6-7 hours)
By rail:
The most convenient way to visit Kanha National Park by rail is to reach Jabalpur railway station and from there you can head for the road ahead which is well-connected to cities like Mumbai, Kolkata, Delhi, Pune, Ahmedabad, and Lucknow. One needs to cover a distance of 160kms( 4 hours )from Jabalpur railway station to reach Kanha.
You can also board a train and reach Gondia station for your journey to Kanha. But, if you're traveling from Delhi, there are no trains to Gondia, it's only available for passengers from Kolkata and Mumbai. It takes approximately 145kms ( 3 hours ) from Gondia station to Kanha.
By air:
Since Kanha National Park doesn't have its own airport, the nearest one is at Jabalpur and Raipur. From Jabalpur it takes 160kms to reach the Park while from Raipur it takes 230kms.
You can very well board the flight from any major city like Delhi, Kolkata, Mumbai, Chennai, Hyderabad, and Bengaluru. Air India, Go Air, Indigo, and Jet Airways are ready to serve you anytime!
Best time to visit Kanha National Park
April – May
If you're seeking to track the tiger trails then the months from April to May are the ideal time to visit Kanha National Park. The region is dry from the scorching sun, and most of the wild animals can be spotted at nearby waterholes to quench their thirst. Hence it becomes easier for you to locate the members of the cat family. But beware, the temperatures can soar up to an exhausting 40 degrees at that time, so make sure you're ready to bear the prickling heat!
Note: Kanha National Park remains closed during the monsoon season from July till mid-October.
Things to do at Kanha National Park –
JEEP- SAFARI:
You will be provided with a jeep with a maximum capacity of 6 people along with a guide. Venture into the forest and feel the eerie silence engulfing you everywhere, only interrupted by the sound of birds and crickets. Coming sightings are the Barasingha, different species of birds, wild boars, and unique flora and fauna. The jeep-safari is a fun-filled ride that can be enjoyed with friends and family!
ELEPHANT-SAFARI:
You can also enjoy the thrilling elephant safari at Kanha and Kisli, exploring deeper into the dense forest and gazing at everything from a closer level. It's quite exciting, perched on the back of the mighty tusked animal and swaying slightly going through the thickness of the forest. Elephant rides cannot be pre-booked and need to be availed only after reaching Kanha National Park, based on the availability of the elephants there.
BIRD-WATCHING:

If you are an ardent bird-watcher then Kanha National Park is the place where you will be able to witness different flocks of birds like eagles, storks, herons, kites, and teals taking their extraordinary plumage! Or you can experience the beautifully colored birds like Scarlet Miniver, Black-hooded Oriole, and even the Malabar Pied Hornbill which is a treat to the eyes! Kanha National Park has over 70 such bird species for you to enjoy!
SUNSET AT BAMNI DADAR:

The fair play of colors in the sky turning from a mellow yellow to a mild orange, then radiating a crimson hue is another wondrous sight to behold once at Kanha National Park. The slow yet graceful set of the sun from Bamni Dadar at the National Park is so picturesque that it will be etched in your memory forever! You shouldn't miss the marvelous sunset at any cost!
NOTE- For the Kanha wildlife safari you can pre-book your tickets from the website mponline.gov.in Entry tickets are available at the Kanha National Park entrance gate.
Visiting times: Morning: 6:30 a.m. – 12 noon
Evening: 3 p.m. – 6 p.m.
SAFARI PERMIT FEE: RS 1500 for a jeep of 6 people
RS 250 for a solo-seated jeep
Children below the age of 5 are exempt
GUIDE FEE: RS 350
Places to visit near Kahna national park
While here you are to enjoy the ravishing nature and the thrilling adventure of the forests there are also a few places near Kanha National Park where you can have a gala time. Here's how:
1. Kanha Museum
People who are interested in knowing more about the Kanha National Park, its history, the topography of the place, and other interesting aspects can very well visit the Kanha Museum. The strange skeletons of various wild carnivores, herbivores, and reptiles will make you marvel. There's also a lot of information available about various species of flora and fauna, their characteristics, and several specimens and photographs for wildlife enthusiasts as well.
Distance from Kanha National Park: 11kms
VISITING TIME: 9a.m. – 6p.m.
Cameras allowed.
2. Mandla
Mandla is another amazing place for you to visit if you're in Kanha National Park. Filled with beautifully carved forts and religious temples, Mandla is the perfect place for some serenity and calm, especially made for spiritual people. The Rangrez Ghat and the Rapta Ghat provide stunning views of the glistening Narmada flowing by and offer's a picturesque location for photography lovers.
Distance from Kanha National Park: 35kns
3. Dhuandhar Waterfalls
The land of shiny marble rocks! Jabalpur is a place where you will find brilliantly carved showpieces made purely out of marble. You can sit by the rocks on a moonlit night and watch the marble rocks change color rendering a magical experience! The Dhuandhar Waterfalls is another sight to behold with the sprinkles of its mighty lashes slapping across your face! You can also visit the stunningly gorgeous Madan Mahal.
Distance from Kanha National Park: 164km
4.Bandhavgarh National Park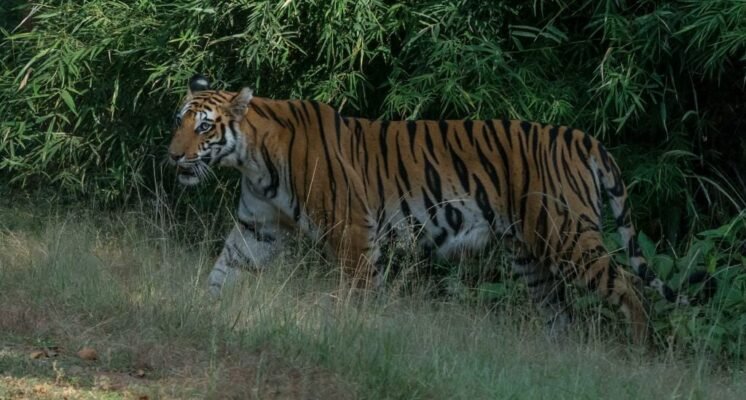 Can't get enough of forests? Well, worry not, as apart from Kanha National Park, Madhya Pradesh also has another breathtaking forest known as Bandhavgarh National Park that has a diverse range of wildlife for you to look out for. The Royal Bengal Tiger is the most precious creature found in this national park and the evident giant pug marks guarantee that! Different flocks of birds and a wide range of flora are also a common sight once in Bandhavgarh.
Distance from Kanha National Park: 215kms
Places to stay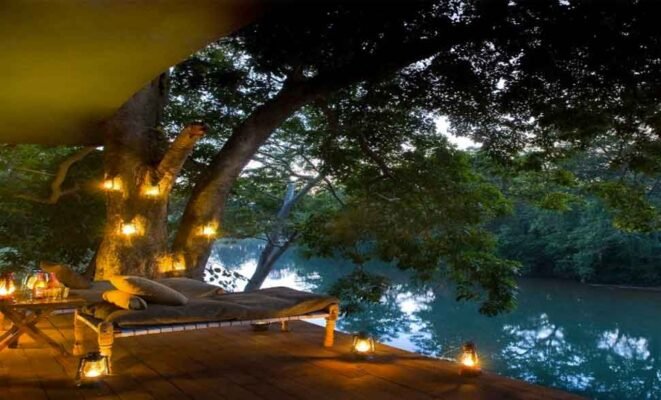 As a popular tourist destination, Kanha National Park has numerous lodges and resorts at various prices for you to have a comfortable, and luxurious stay while you enjoy the view from your rooms. Most of the resorts and lodges have their own jungle tour and will help you in arranging an exciting safari. Also, it's recommended that you pre-book your rooms to avoid the rush during tourist season and enjoy a smooth and seamless stay!
Thus, Kanha National Park has widely spectacular treasures for you to explore, giving you the experience of a lifetime. It's a trip you will remember for all the times to come. So, pack your bags and set on the journey of Kanha's amazing beauty and wild animals to marvel at. Kanha National Park awaits you!