With its colonial past, stunning skyline, diverse art and cultural scene, Kochi or Cochin, the Queen of the Arabian Sea, offers its visitors a dreamlike experience. An important port in the past, Kochi is now one of the most populous towns in Kerala's southern region and a melting pot of cultures. When it comes to Kerala's treasure trove, Kochi, it's hard to imagine a better spot to visit.
This city does not succumb to heavy rains, meaning that the rains do not limit the city's hustle and bustle. After the downpour, the sun shines brightly and there is a great deal of humidity, too. This never-ending cycle tends to drag on for days and months, and finally a proportionate blend of warmth and cold forms that hugs the city to its core during the winter season.
When you make plans for Kochi, make sure you visit during the winter months, as opposed to the other seasons. Why? Owing to a result of Kochi's low rainfall in wintertime of about 25 millimetres. One is able to spread out on the beaches and camouflage in their surroundings without being interrupted by the rain. Kochi is a popular destination for those who want to avoid the scorching heat of the summers. To ensure a hassle-free vacation, it is recommended that you make reservations in advance.
Without further ado, may we begin our journey through Kochi's top 30 historical, artistic, and cultural landmarks?
Fort Kochi
Fort Kochi is the ideal place to explore colonial beauty and tradition. Despite the expansion and transition that has occurred over the years, Fort Kochi in India's south-western region has managed to preserve the vestiges of the British and the Dutch. Sightseeing is made popular by the presence of European architecture across the region.
On holidays, travellers from throughout the world congregate at Fort Kochi beach. There a peaceful, silent atmosphere surrounds the sun's descent. Tourists, especially couples, are mesmerised by this moment.
Come spend the evening in Kochi's Fort Kochi, an eye-pleasing tourist attraction. The very tempting moment at one of the best places to visit in Kochi assures that you return calm and relaxed.
Location and transportation: The fort is located in Kerala's Ernakulam district and may be reached by ferry from Subhash Park in Ernakulam for Rs. 4 per person (the price of the one-way route).
Timings: 10 am-5 pm, every day
Highlights:
While at Fort Kochi, don't forget to visit the Mattancherry Palace, Paradesi Synagogue and Jew Town, among other sights!

The Brunton boatyard hotel's sunset cruise is one of the best things to see in Fort Kochi.

Fort Kochi is home to some of the most spectacular artworks and graffiti work in the world.
Willingdon Island
The island was given the name Willingdon Island in honour of Lord Willingdon. It is the largest man-made island in India and one of the best Kochi tourist places to visit that you must include in your itinerary. It is located halfway between Fort Kochi and the city's active airports. This island also acts as a haven for certain important landmarks.
Explore the island's hidden corners and take advantage of the various exciting events that are conducted here on this eye-catching Willingdon Island. This makes it one amongst the best places to visit in Cochin.
Location and transportation: Located at a distance of 3 km from Ernakulam railway station, there is a bridge connecting the island and the mainland which has to be crossed to and fro when entering and exiting the island. Various public and private transports avail their services at the station to help you reach the island.
Timings: 5 am to 10 pm
Highlights:
Do not forget to spot the Kochi naval base of the Indian Navy, and fisheries technologies housed by Willingdon island for ages.

Experience the authentic taste of Kerala seafood and staple meals offered by some of the best restaurants nearby Willingdon islands such as Hotel Malabar, Tharavadu restaurant, dolphins point, the rice boat and many more!
3.Mangalavanam Bird Sanctuary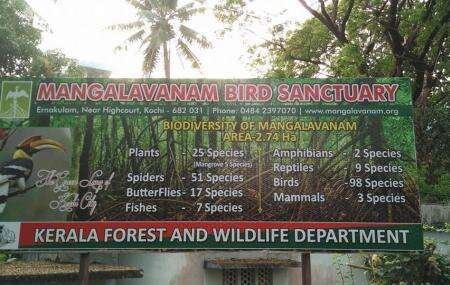 Mangalavanam Bird Sanctuary, located in the heart of Kochi, is widely regarded as a bird lover's paradise. On an area of 2.74 hectares, the Mangroo plantation occupies a portion of the Sanctuary. This bird sanctuary is surrounded by backwaters and beaches, making it one of the best Kochi tourist places for photography and nature trips.
You may see migrating birds and other native species in their natural habitat, as well as the tidal lake, surrounded by thick mangrove woods. The woods attract exotic birds of 32 different species.
Experience the charm of nature camps, which are frequently organised by the Kerala Forest and Wildlife Department to allow visitors to go through the wildlife that thrives in Kochi's arms.
Location and transportation: The Sanctuary is near the High Court of Kerala in Ernakulam district, making it accessible for you to reach the sanctuary easily by auto-rickshaws, taxis and buses.
Timings: 10 am-5 pm
Highlights:
To experience the most scintillating views of the sanctuary, turning down the chance to get on top of the watchtower is way out of option.

Take a detour to thick mangrove forests and inhale the greenery encompassed all over.

If you are a wildlife enthusiast, you just cannot miss capturing those fascinating migratory birds. Cany you?
Cherai Beach
Cherai Beach is one of the most romantic honeymoon destinations in Asia. It stretches parallel to Vypin Island and encircles Kerala's enchanting coastline for centuries. On the outskirts of the city, this beach is surrounded by beautiful coconut plantations that make it one of the best places to visit near Kochi.
The beach is also known for its seasonal dolphin exhibitions, as well as the cafés that provide mouth-watering seafood dishes that are sure to please.
Also, don't forget to take note of how pristine the Cherai Beach is!
Location and transportation: Located on the northern side of Vypin island, the beach can be reached by first taking a 10 minutes ferry ride from Kochi to Vypin, followed by a half-hour trip by bus straight to the Cherai beach.
Timings: 9 am-6 pm
Highlights:
Bring life to your inner senses with the help of therapeutic massages offered in spas and resorts located near Cherai beach. For instance, Cherai ayurvedic palace and Prakruti Ayurveda spa and treatment centre.

Make friends with some lively and amiable dolphins during seasonal dolphin shows conducted at the beach.
5 . Marine Drive
Marine Drive provides more than anything and all that other romantic spots have to offer, from beholding temptation deep down in the backwaters to living the date night with your better half!
Marine Drive is one of the best tourist places to visit near Kochi. A beautiful sunset, a plethora of food stalls serving a range of seafood, and vague stores selling inexpensive goods, is all indeed a wholesome treat!
Plan a trip to Marine Drive and surprise your significant other with a romantic dinner date at one of the most romantic restaurants near Marine Drive.
Location and transportation: Since Marine Drive is just 3 km away from Ernakulam railway station, it would take less than 20 minutes to reach by taxi/cab/ auto services.
Timings: 12 am-12 pm
Highlights:
Explore some cafes, restaurants, and street food serving some hot and delicious local cuisine and seafood.

Do come and spend some quality time with your partner in all the lush and greenery enclosing Subash bose park located in Marine drive itself.

Marine drive, being a busy waterfront, is renowned for marine walkaways and evening strolls. So when you get there, leave all your troubles behind and commit to the moment.
Athirapally Waterfalls
Athirappilly's Waterfalls are the most visited site and one of the best Kochi tourist places . It gives off all mystics and calm vibes. It covers approximately 63 kilometres from Thrissur and 70 km from Kochi and is in the middle of a thick forest in the western Ghats. The waterfalls have been demonstrated the same as it is shown over the internet. If you are a birdwatcher, this site contains a wide range of migratory and unique bird houses.
Location and transportation: Lying near Thrissur district, Kerala, Athirapally waterfalls can be best reached either by taking private/public bus via chalakudy highway or, getting on a 40-minutes-journey-train from Chalakudy.
Timings: open 24 hours
Highlights: Moreover, you just cannot walk past, overlooking the adventurous sports such as river rafting and trekking that the whirling waves of the waterfall invite you for. Enjoy all of those whilst beholding the breathtaking view and the rich endemic fauna housed by this enchanting waterfall.
St Francis Church Kochi
The St. Francis Church, with its magnificent architecture, is a sight to behold. It is one of India's oldest cathedrals oozing the beauty of Portuguese architecture, making it a sight to remember for a lifetime.
The Portuguese introduced this church to the world in 1503, and it now holds a place among the churches of India's southern states. The church's timber-shaped roof and carved walls have earned it the title of "one of the best Kochi tourist places."
Location and transportation: St. Francis Church resides in Fort Kochi. You can reach there by ferry rides taking off from the main boat jetty in Ernakulam near Subhash park.
Timings: 10 am-5 pm
Highlights:
If you are planning to visit Kochi, add this masterpiece famous for its Portuguese architecture and European ambience to your bucket list.

Discover the dramatic history behind the final establishment of this church.
8. Areekkal Waterfalls-
Areekkal Waterfall will give you a way to take a break from the tumult of life and make a diversion to mother nature. Showering people with a bohemian experience, the white background emphasises the simplicity of the waterfall nestled in the woods. Its proximity to the main road allows it to be reached from any part of Kochi.
You must set aside a day to come here and lose yourself in Kochi's time-freezing beauty, that makes it one of the best places to visit near Kochi.
Location and transportation: Areekkal, Chalappally, Kerala 689586. The best way to reach Areekkal waterfalls is by bike/car due to limited public transport facilities around the region.
Timings: 9 am-6 pm
Entry fee: Rs. 10 per person
Highlights: To have a good weekend getaway, pack your bags and head out to Areekkal waterfalls. Enjoy the scenic beauty of the falls with your family and bathe away all the stresses of life in those moments.
Kodanad Elephant Training Centre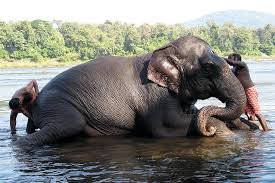 Serving an essential role in the culture and tradition of Kerala, Elephants mark their presence in every festival the state organizes. You may find many temples where elephants are worshipped. One of the best places to visit in Kochi is the Elephant Training Centre, where these elephants are fostered and given training.
To many orphaned elephants, Kodanad is not just a village but a shelter, too, where they are trained and taken care of. It is a home for them to play in the mud, cleanse in the river and feed newborn calves.
There are many such places in Kochi where all types of, either rescued or orphaned, animals are provided with a safe space to live peacefully and grow old. Don't you want to come and visit them, cherish their love and watch them smile?
Location and transportation: Vallom Panamkuzhy road, Malayattoor PO, KERALA 68344. You can first catch a bus from Kochi KSRTC bus stand to Perumbavoor town to Kodanad Elephant Training Centre.
Timings: 8 am-5 pm
Entry fee: Rs. 20 per head for adults, Rs. 10 per head for children
Highlights: In addition to elephants, you can also take a glimpse of deer and other wildlife at a small wildlife park built somewhere inside the elephant training centre itself.
Mattancherry Palace
The Mattancherry Palace, also known as the Dutch Palace, is one of the best Kochi tourist places. The masterpiece was built in 1545 by the Portuguese to pay homage to King Veera Kerala, a member of the Kochi dynasty.
You may notice several parallels between Kerala dwellings and the Palace itself, which are reminiscent of Kerala traditions. Mattancherry Palace, which has a number of paintings and murals, is Kochi's most popular tourist destination.
Visit the majestic Mattancherry Palace to see how exquisite details are flawlessly carved in an artwork.
Location and transportation: Mattancherry palace is 8 km away from Ernakulam district. You can take private transport or public transport and even ferry rides to reach there.
Timings: 9:45 am-1 pm, 2 pm-4:45 pm, opened except Friday and Saturday
Entry fee: Rs. 2 per head for adults
Highlights:
explore many different grandeurs of Mattancherry through sightseeing together with backwater cruises.

The Jew market in Mattancherry serves some best goodies to its visitors to shop. Go and grab them all.
11. Bolgatty Island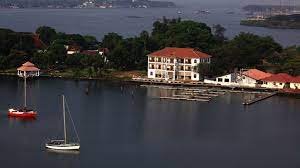 Are you looking for the ideal luxury staycation? Bolgatty Island is looking out for you. This island resort, established by the Dutch in 1744, is one of the best places to visit near Kochi. With four Palatial chambers and every facility imaginable, this royal stay has truly set the bar for other royal stays. The marina on Bolgatty Island is one of India's largest, with a total of 34 vessels. Till date, several conferences, international conventions, and exhibitions have been held. As you enter its elegance, you will be able to enjoy the beauty of Kerala's backwaters, which are renowned as the state's pride.
Location and transportation: The island is near Mulavukad Gram Panchayat in Ernakulam district. You can visit the island simply by hiring a cab.
Timings: Opened 24 hours
Highlights:
Take the chance to become a part of various ayurvedic wellness programmes conducted at Bolgatty island that will help you cleanse your mind and soul both.

Take part in various engaging activities like boating, bird watching and golf.
Ginger House Museum Hotel
The Ginger House Museum Hotel stands apart from its competitors due to its eye-catching indigenous architecture, art collection, paintings of churches and temples, and the traditional touch of art. The 108-foot-long snake boat in the Ginger House Museum Hotel's lobby epitomises Kerala's culture of building snake boats for boat races.
You may select from eight different room types, including Royal Suites, Deluxe Rooms, and Sea View Rooms. So don't be afraid to choose any option you like. Come and enjoy a wonderful stay at one of the best Cochin tourist places.
Location and transportation: Jew Town Road, Mattancherry, Kochi, Kerala 682002. The best way to reach Ginger house museum hotel is through cabs and taxis.
Timings: Check-in at 1:30 pm, Check out at 11:30 pm
Highlights:
Don't forget to catch a glimpse of a 108 feet long snake-like sculpture sculpted inside the hotel.

Exquisite architecture with luxurious interiors will make you want to resist ending the vacation.
Paradesi Synagogue
Paradesi Synagogue is one of the best places to visit in Cochin and is known for being the only synagogue in India. In 1568, the Sephardic Jews who were deported from Spain and Portugal built a temple there.
The place boasts a collection of antiques and crafts that have been carefully preserved. Major attraction is the Scrolls of Torah, which are the first five books of the Old Testament in their original Hebrew language form. Indeed, The Paradesi Synagogue is steeped in history and tradition.
Location and transportation: Synagogue Ln, Jew Town, Kappalandimukku, Mattancherry, Kochi, Kerala 682002. This place can be reached by hiring a cab or auto rickshaws or even by walking from the main market of Kochi.
Timings: Sunday-Thursday from 10 am-6 pm, Friday till 2 pm, Saturday closed.
Entry fee: NA
Highlights:
Capture antique elements, exotic architecture and distinguishable ambience that makes Paradesi synagogue one of the best attractions of Kochi.

Get to know the exciting history behind its destruction and re-establishment by paying the palace a necessary visit.
Folklore Museum
Kerala Folklore Theatre and Museum is located in Thevara, near Kochi, and is designed in the Malabar, Cochin, and Travancore architectural styles. Elephants on both sides of the staircases leading to the massive multi-story traditional building will greet you as you pass past the Kalvilakku (stone light). This architectural museum, which first opened its doors in 2009, houses a large collection of woodworks that represent the quintessence of Kerala's old carpentry.
It is a must-see destination that showcases Kerala's rich past, and is regarded as one of best places to visit near Kochi.
Location and transportation: Folklore museum is located near Ernakulam district of Kochi on Thevara ferry road and you can reach there by rickshaw at Rs. 90.
Timings: 9 am-6 pm
Highlights:
If you take a keen interest in history and archaeology, then the 3000-year-old 'nannangadi' on the ground floor of the Folklore museum will prove to be a treat to your eyes.

Explore Kerala's finest collection of woodworks and carpentry at the Folklore Museum.
Veegaland
The Veegaland or WonderLa Amusement Park, India's first-ever built theme park, is one of the best Kochi tourist places for spending quality time with family or friends. The WonderLa Amusement Park offers a variety of thrilling rides and exciting excursions to help you get in the festive spirit.
From exhilarating coasters to a soaring rollercoaster to musical fountains and more, there's something for everyone! If you and your colleagues want to have a good time, just relax by the pool and make the most of your day at one of the best places to visit in Cochin.
So, what are you waiting for? Pull your sock up and head directly to the only amusement park that will make your day unforgettable.
Location and transportation: 14 km away from Kochi, this place can be best reached by hiring a cab or an auto-rickshaw.
Timings: 10:30 am-6 pm on weekdays, 10:30 am-7 pm on weekends
Entry fee: 420 INR for adults, 320 INR for children
Highlights:
Shop for souvenirs, toys, clothes and many more commodities offered at the stores of veegaland.

Experience the thrill on rides like wonder splash, Bomberman, maverick, super jumper and many more.

Enjoy India's first-ever reverse looping roller coaster at veegaland.

The unmissable dance at the rain disco is surely something you wouldn't want to miss.
Veeran Puzhal Lake
The Veeran Puzhal lake, which runs behind the northern end of the Vembanad lake and is surrounded by backwaters and the coast, is one of best Cochin places for a calm evening.
Visiting this lake during the monsoon, when locals hold water festivals and water-based competitions, is the best thing to do. Several brackish lagoons and lakes may be found running parallel to Veeran puzhal, creating one of the city's main water bodies.
This lake, no surprise, is a haven for photographers who want to capture time while immersed in the quaint beauty of the lake, making it one of the best Kochi places.
Location and transportation: Veeran Puzhal Lake lies in the northern extension of Vembanad lake and can be reached only by hiring ferry car services.
Timings: NA
Entry fee: NA
Highlights:
If you want to experience the life of rural tribes, then veeran puzhal lake is the right option to do so. Get to learn about their favourite pastimes, household chores and outdoor games the rural tribe living there enjoy by heart.

Watching sunsets and sunrises along with the tribal community whilst cooking fish and other seafood items is one of the best times you will cherish forever.

Brackish lagoons and water-based activities will surely make your day to the fullest.
Vypeen Island
Vypeen Island, a Portuguese-built marvel that stretches for 25 kilometres, has the legacy of tribal groups. It is one of Kochi's top architectural attractions. The island's history dates back to 1341, but it was only established in the 16th century. Many tribal clans lived here even before it was founded, which means that their influence and efforts aided in the settlement of Vypeen.
While losing consciousness to the tempting force of the turquoise waters, uncover hidden secrets about Portugal's past and the tribal cultures that have been kept hidden for centuries.
Location and transportation: Since it is about 11 km away from Ernakulam Junction railway station, you can reach Vypeen island by taking the auto/ cab/ bus available at the station itself.
Timings: 6:30 am-9 pm
Highlights:
Get rid of the turbulence in your life for some time by going out on boating and sightseeing at Vypeen island.

The Bungalow heritage homestay at Vypin island is also one of the relaxing and fun attractions for tourists to enjoy. It represents a unison of Portuguese, Dutch and Kerala architecture.

You'll be fascinated once you get to know about the kind of lifestyle and culture the tribal people used to live by at this vypin island.
Indo- Portuguese Museums
The Indo-Portuguese museums are one of the Cochin's best tourist places, having a significant collection of antiquities from several churches. This museum, which houses every fascinating aspect of Kerala's art and culture, is one of the best places to visit in Fort Kochi when sightseeing.
When wandering through the museum, learn about antiques, altarpieces, and collections from various ages. The brief introduction of all provides historians and archaeologists an in-depth understanding of Kochi's culture and art.
Location and transportation: Residing inside Bishop house in Fort Kochi, you can reach there by using ferry services available near Subhash Park in Ernakulam.
Timings: 9 am-1 pm, 2 pm-6 pm
Highlights:
Do not forget to visit the 5 main sections of the museum: Altar, Treasure, Possession, Civil life and Cathedral.

Get to learn some informative facts about indo-Portuguese art heritage and culture explained through antiques, altarpieces and other fine collections displayed in this museum.

Kalady
As a country of knowledge and culture, and the birthplace of Adi Sankaracharya, Kalady is one of the best places to visit in Cochin. Kalady, one of Kerala's most popular tourist destinations, is noted for its historical, religious, and cultural attractions. Attracted by the magnetic energy emanating from its many shrines and temples, this location is a magnet for people from all over the world who are seeking a spiritual experience.
There's a five-day Shakarant event in Kalady that'll leave you with a lasting impression of Kochi.
Location and transportation: Kalady town is in the east of the Periyar river in the Ernakulam district of Kerala and it can be best reached by either subway or train or even bus starting from Kochi.
Timings: 7 am-6 pm
Highlights:
If you are in Kalady town, you have got to go and see the tower which is the birthplace of Adi Shankara, whose entire life history has been inscribed all over the tower.

Visit Sri Krishna temple and seek the blessings of the sacred Poorna river that flows adjacent to the temple.
Vallarpadam
Vallarpadam, which makes up nearly half of the city of Kochi, is one amongst the collection of islands in the Vembanad Lake. The lake invites us to descend in the mythical blackwaters. The Goshree Bridges beautifully connect the island to the mainland with Bolgatty Palace to the west. The Catholic pilgrim centre and the Basilica of Our Lady of Ransom are two of the prominent attractions in the Vallarpadam area.
Looking for a perfect weekend getaway? head to Vallarpadam island. We bet that you will not be able to refrain yourself from one of the best places to visit near Kochi.
Location and transportation: 6km away from Kochi city. The best way to reach there is by car or ferry services.
Timings: NA
Highlights: The Basilica of Our Lady Ransom and the Catholic pilgrim centre belonging to Vallarpadam island are two unmissable destinations that you must include in your checklist.
Vasco da Gama Square/Chinese Fishing Nets
Chinese fishing nets are fishing nets that are fixed land installations for fishing, which are used for a very unique and unusual method of fishing. Operated from the shore, these nets are set up on bamboo and teak poles and held horizontally by huge mechanisms, which lower them into the sea.
The sole best place to view the nets being cast down into the backwaters and then pulled up afterwards is the Vasco da Gama Square. Apart from being a narrow promenade running by the beach, The square is also an ideal place to just sit and relax. Here, you can also find some nearby stalls plating delicious seafood as well as tender coconut to munch on.
These Chinese fishing nets carved on teak wood and bamboo poles, makes the square one of the best Cochin tourist places.
Location and transportation: Vasco da Gama square is 3 minutes away from St.Francis Church, Kochi, the distance of which can be covered simply by walking.
Timings: open 24 hours
Highlights:
Do take a view over the oddly satisfying mechanism of Chinese fishing nets and know about its story as to how it came into existence.
You can just sit by the shoreline, relax and enjoy the evening over some coconut drink and mouth-blazing street food.
Our Lady of Ransom Basilica, Vallarpadam

People from across Kerala and even outside, come and visit this church, The Basilica of Our Lady of Ransom. Regardless of their caste or creed, they come only to seek blessings of Mary who is the mother of Jesus. She popularly known as Vallarpadathamma, adds to one of the best Kochi tourist places to visit.
The centuries-old ancient Christian Church dedicated to the Holy Spirit, constructed in 1524, is one of a kind in Asia. It was rebuilt in 1676 after getting obliterated by a massive flood that occurred the same year.
Location and transportation: National Shrine Basilica of Our Lady of Ransom, Kochi, Kerala 682504. The church is nearly 7 km away from Ernakulam Jn south railway station and you can take either bus or cab or even auto to cover the distance.
Timings: every day from 6 am-8 pm
Highlights:
Join us and discover the famous picture of the Blessed Virgin Mary pinned inside the church, which was brought by Portuguese from their native land, and is believed to possess some miraculous powers.
You can also stroll in the rosary park and down the walkway constructed in front of the church.
The most famous feast of Our Lady Vallarpadam organised every year from September 16 and September 24 lasts longer than a week and is then followed up by a big fair.
The Bishop's House

Bishop's House, built in 1506, stands on a small knoll near Fort Kochi's Parade Ground. It is an architectural masterpiece. The house is a sight to behold, with enormous Gothic arches and a circular garden path that leads to the main door.
With over 36 magnificent paintings depicting some ancient events, this Church is one of the best tourist places to visit in Fort Kochi.
Location and transportation: Bishop Kureethara Road, Amaravathi, Fort Kochi, Kochi, Kerala 682001. As its location lies in Fort Kochi, the ideal way to make it to the church is by taking ferry rides near Subhash Park in Ernakulam.
Timings: 9am-5pm
Highlights:
36+ exotic paintings and impeccable European architecture is surely something you would want to have sight through if you are an art enthusiast and admirer of European culture.
The house also consists of large gothic arches and a beautiful garden at the centre.
Aluva
Aluva is a whimsical and one-of-a-kind town on the outskirts of Kochi. It is one of the best Cochin tourist places to visit. The town is known for its yearly Shivaratri festival in honour of Lord Shiva. The festival takes place on the banks of the Periyar river during the Malayalam month of Kumbam, which is usually February or March. During the day, you get to watch over 500 priests perform ceremonies at the temple. They welcome worshippers to foregather and pay respects to the deity, who is said to have consumed a lethal poison in an attempt to save the world.
Location and transportation: The cheapest way to get to Aluva town is through the subway at around Rs.50. The other popular means you could use are Line 12617 train, bus, and taxi.
Highlights:
Take the chance to attend the Shivaratri celebrations. As much as it is about cultural programmes and trade fairs, it also manifests prayers and holy energy in the remembrance of Lord Shiva.
You can detour and hit some other popular destinations of Aluva town, such as The village nook, Alwaye palace, and Sri Datta Anjaneya Kshetram– some of the best places to visit near Kochi.
Durbar hall
The 100-year-old Durbar Hall is serene and one of the best places to visit near Kochi. Its echoing beauty melts the entire city far and wide. The erstwhile hosted point of conferences and meets, all of it used to be done and dusted inside this important cultural spot.
The Durbar Hall, one of Kochi's most magnificent sights, features a pretentious Dutch façade, a vast verandah, and modern interiors with marble floors. The hall hosts cultural and sporting events, as well as various government occasions.
It should not come to you as a surprise, if this historic building is the only place in India to have introduced The Gallery of Contemporary Art, 1991. This makes the hall some of the historic attractions lying in the heart of Kochi.
Location and transportation: The Durbar Hall is in the middle of Ernakulam Shiva temple. There are two suggested ways to reach Darbar hall road and that is: either by taking the metro on Kochi metro line 1 and get off at the nearest metro station i.e, Maharaja College metro station, or, hop on a bus to Durbar hall bus stop.
Timings: 10am-7pm
Highlights:
The Durbar hall museum has an extended collection of silver, thrones, paintings, etc. that has been preserved for years.
The most jaw-dropping piece of all the historic artworks is the carpet that was woven in the Jail of Junagadh.
26. Greenix Village

This unique cultural art village, Greenix, in Kochi won the title for 'The Best Innovative Project' from the Kerala State Department of Tourism in 2006. It introduces visitors to the state's traditional richness and customs. The hamlet offers a cinematic experience, with live performances of Kathakali, and Kalaripayattu, both of which leave tourists absolutely enthralled.
Greenix is a successful project that demonstrates the vigour and commitment of the people of Kochi from audio visual events. It projects the cultural past of Kerala to a live exhibition of all of Indian traditional dancing, making it one of the best Cochin tourist places.
Location and transportation: Kunnumpuram, Fort Kochi, Kochi, Kerala 682001. The nearest bus stop is Cheralayikadav, Kunnumpuram bus stop.
Timings: 10am-5pm
Highlights:
Experience and enjoy performances of all the Indian classical dances and martial arts live at greenix village, one of the best places to visit in Fort Kochi.
Kathakali make-up sessions, yoga, ayurvedic spas and audio-visual shows are also taken up live here. Doubtlessly, Greenix village is a complete package of Kerala style fun and entertainment.
Kashi Art Café
The Kahi-Art Café, recognised as one of the best tourist places to visit in Fort Kochi, is a semi-courtyard setting infused with total tranquility. It is a fresh wind complementing some of the café's wonderful western breakfasts and a great lunch. Kashi Art Café is the finest place to be if you want to savour the taste of coffee made with freshly harvested coffee beans, bringing out the powerful aroma.
Location and transportation: Burger st, Fort Kochi, Kochi, Kerala 682001. You can get to the cafe by taking an auto or a taxi or even a bus. The nearest bus station from the cafe is Fort Kochi Bus terminal.
Timings: 8:30 am-10pm
Highlights: Apart from serving variations in cuisines, The café also has its art gallery hanging some of the best artworks by local artists of Kochi city. All this, doubtlessly, makes the café one of the best places to be visited by youngsters all across the globe.
Hill palace Archaeological Museum
The Hill Palace, one of the best places to visit near Kochi, is located on a hilltop in the suburb of Kochi city, Tripunithura. It was built in the 19th century by Raja of Kochi, who once claimed the palace as his dwelling. The structure is a wonderful blend of traditional and Dutch architectural forms, which is why the palace has been converted into an archaeological museum. The museum welcomes visitors from all over the world to marvel at the museum's never-ending splendour.
The museum houses a fine collection of antiquities depicting the rajas of Kochi's richness and magnificence. It also showcases an expensive throne, the crown, stone and marble statues, and the palace walls embellished with Tanjore paintings.
It's of no surprise that the hill palace archaeological museum is one of Kochi's most popular attractions, especially for history lovers.
Location and transportation: Hill palace Rd, Ernakulam, Kerala 682301. About 12 km away from Ernakulam, a bus or auto-rickshaw can be taken up to reach the hill palace.
Timings: 9:30 am-12:30 am, 2pm-4:30 pm
Highlights: The museum displays artefacts mostly made of stones and marbles. Tanjore paintings, weapons and inscriptions are also some of the incredible artworks donated by the Cochin royal family. Go and get to know the history of the Cochin royal family and their significant rule over the state.
Fort Immanuel
Fort Immanuel was built in 1503 by the Portuguese and was once used as a symbol of unity and support between the ruler of Kochi and the monarch of Portugal. Ruined but aged like wine, Fort Immanuel boasts its supremacy among the first European forts in India. It was built in 1503 by the Portuguese. Because of its attractive structure stretching down the beach, the gorgeously damaged fort, one of the best places to visit in Fort Kochi, provides for a wonderful excursion. Its ruins will make you think about the impressions of Portuguese royalty as well as the architectural expertise of the time.
Location and transportation: Fort Kochi, Kochi, Kerala 682001. Fort Immanuel is around 16 km away from the main train station Ernakulam North and can be reached by hiring a three-wheeler. The other option is to take a ferry ride from the main boat jetty.
Timings: open 24 hours
Highlights: Grabbing its place into the list of Kochi's historic attractions, the inscriptions and the fort itself narrates the story in detail about how the city remained a Portuguese stronghold until it was handed over to the Dutch colonizers due to one brutal defeat.
Fort Ayurveda Spa
Go into the Ayurvedic world when you decide to go to Kochi. Apart from museums and fortresses, Kochi is famous for its ayurvedic medications and many benefits to everyone's amazement. One amongst ayurvedic spas is Fort Ayurveda spa which is one of the best Cochin tourist places to visit. Get to know and experience many types of therapeutic massages and therapies which can help you get to know your senses, body, spirit.
Location and transportation: Fort Ayurveda spa is situated on cavalry road near the coast guard. The best way to commute the distance is by hiring a cab.
Timings: 9am- 6:30pm
Highlights: Do you fancy reliving your inner senses with some ayurvedic treatment? Fly straight to the spa in Kochi and make a comeback as a newer, better and improved version from within!
So, fellas, what's keeping you waiting? Book your tickets at Hiker Wolf and embark on the most exhilarating and invigorating experience of your life. One that you will remember for years to come. Take advantage of this opportunity to go through the lovely panorama of Kochi city with your family and friends. A land which is ornamented with old buildings, ancient churches, breezy beaches, and many more tourist sites that are to be explored. Make the most of your time in this intriguing southern city and return home with a collection of memories to cherish!