Uttarakhand is a place that leaves a lasting impression on one's mind with its serene hill stations. And, one among them is the lesser explored beauty of Lansdowne.
Tracing its roots to the colonial influence and to the present time command office of the Garhwal Rifles of The Indian Army, Lansdowne has a sort of systematic and historical touch to it. Even the name Lansdowne was taken from the viceroy of India (1888-1894) Lord Lansdowne. This was a different take from all the other hill stations at Uttarakhand!
Kotdwar is the nearest railhead to Lansdowne situated at a distance of 40 km. The major cities of India are well connected by railway networks.
It was among the cleanest and even leveled motorable roads I've seen in hill stations. As soon as I reached the destination, a small board with a picture of a saluting soldier. Along with the words "Welcome to Lansdowne" written on it welcomed me. Further, it was almost impossible to not stop the car and click a picture of the vast green forests and the milky fog covering it. To my friend's annoyance, this process kept on going every 10 minutes because that's just how pretty the place looks.
Not surprisingly, Lansdowne is a famous eco-tourism spot. If you've ever been to an area with the army presence, you'd know just how clean and disciplined the area would be. You will not find even one dry leaf across the path. Further, they also ensure that the surroundings around remain untouched and preserved. Moreover, this makes the view from here unmatchable to any other hill station in Uttarakhand.
As I stood there, tall dense oak and blue pine trees encircled me. And, the memory remains afresh in my mind. The skies here always have a different story to tell. As a kid, I remember trying to find shapes and images in the clouds. But when I grew up and got busier with life, the habit also died. Walking around Lansdowne, I started reliving my childhood. That's just how beautiful the hill station is.
What makes the places around Lansdowne a perfect holiday spot is that it pulls you back from the maddening crowd. Moreover, making you feel relaxed. If a place could feel like it came along with a pause button, this would be it.
And, while at Lansdowne there are few things you cannot miss out on:
1. Adventure activities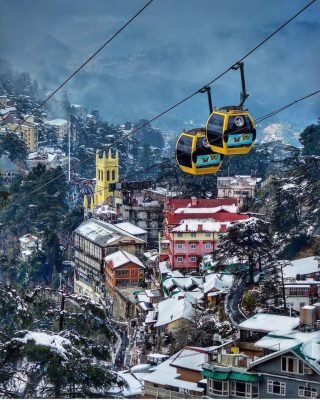 Not far away from the colonial era St. Mary's Church is the Tip-n-Top viewpoint. It is famous for being the ideal sunrise and sunset viewing point. The trek up to the point is the most exciting part.
It's perched up on a ridge that overlooks the Shivalik Hills and the snow-frosted Himalayas. Also, known as Tiffin Top, it has a really pleasant climate. That made the trek even easier.
Sitting down amidst the green forests and mountain ranges just got me as energized as I was at the start of the trek. Moreover, a barely 3-kilometer walk from here is the ancient Kaleshwar Temple as well.
Yet, another thrilling experience was the Snow Viewpoint hiking. The hiking went on for about 2-3 days. Moreover, I got to witness both Snow Viewpoint and Hawaghar in all its icy glory. And, another activity that you can try around here is rock climbing.
2. Nature walks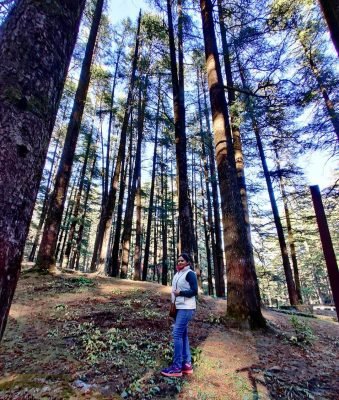 Visiting Lansdowne in October to January sure is a risky business. Because, the hills experience heavy snowfall, and the temperature drops to around 4 to 15 degrees Celsius.
So, if you're among those who are not a fan of the cold, the ideal time to visit would be during the summer and autumn period when you can enjoy nature walks.
Blessed with lush greenery and abundant natural beauty, the forests here are home to above 600 species of migratory birds.
Bird spotting and nature walks are a classic combo and this place sure sets the tune right for these activities. Another hand in hand activity you shouldn't miss out on is the camping experience.
After a long day of navigating around the hill station, they assist you in pitching an overnight tent in the hills.
Even in summers, the temperature can drop down a bit. So, they're always prepared to create a warm bonfire!
3. Boating
The man-made lake – Bhulla Tal, is created & dedicated to the Garhwali youth who are serving the nation. Bhulla in Garhwali language means "Younger brother".
Maintained completely by the Indian army, it has been open for the public and tourists to enjoy their time at Lansdowne.
While here for boating, they also have other attractions such as bamboo tree houses, amusement parks, children's park, and sculpted water fountains.
Few other places around the area that I visited were the Garhwali rifles regimental war museum, garhwali mess, Bhim pakora, Kaleshwar temple, and St Mary's Church. All of them hold a historical significance and narrative close to their hearts. And, it was beyond interesting to know all of it!
Before leaving back, make sure to treat yourself to some authentic local cuisine and a box of Garhwali sweets!
If you are visiting Uttarakhand, try to cover Dehradun also.