Whenever we hear the word "Monastery", the first thing that comes to our mind is a serene and sacred place, with a plethora of archaic designs, devoted monks, and of course, Buddha. A place that can bring peace to your mind with enchanting sights and smells that are bound to captivate you. Now imagine such a fascinating place atop the Ladakh mountains! Yes, to your surprise, such a place exists! It's the Lamayuru monastery.
Located in Lamayouro, at an altitude of 3510 meters, this is one of the largest and oldest gompas in Ladakh. As holy as it sounds, the auspiciousness and the harmony of this place are divine! This monastery was constructed in the 11th century and it is the place where a renowned Indian Buddhist, Mahasiddha Naropa, was born. The monastery is popular for its interesting history and the traditional festival of Yuru Kabgyat.
Every year, on the 17th and 18th day of the fifth month of the Tibetian calendar this festival is celebrated which lights up the spirit of this place. Masked daces hit the floor and displays are made for the devotees to worship. Who would want to miss a festival like this?
At times the monastery is also called "The place of freedom" or "Tharpa Ling". Over the years Lamayuru has become a great spot for tourists not only because of the rich historical and spiritual significance but also for the stunning scenic beauty. The altitude of the Lamayuru monastery also serves as a platform to watch the breathtaking views of the mountains, lakes, and villages nearby.
1. How To Reach Lamayuru Monastery
The Lamayuru monastery, a quintessentially serene place of devotion, is situated on the road that connects Leh to Srinagar. It is almost in the midway of highway NH1D connecting Kargil and Leh. Here is how to reach Lamayuru monastery.
Lamayuru by Air
Despite being located at a whooping high altitude, I've got some good news for aviation lovers. Yes, the place is connected to major airports like that of Srinagar and Leh. Kushok Bakula Rimpochee Airport of Leh is just 113km away (roughly 2hr drive), which is the nearest of the two.
Srinagar to Leh: 45min
Jammu to Leh: 45 min
Delhi to Leh: 1hr 10min
You can also travel to the monastery after reaching Srinagar airport. It will be an eight-hour drive (309km).
Lamayuru by Rails
This place is not connected by rails but worry not! You can make a train journey up to Jammu and hit the roads to reach this place which is just 115km from Leh.
Lamayuru by Roads
This landlocked region is connected is well connected via roads. You can easily reach this place from both Srinagar as well as Leh. State-run JKSRTC buses connect Leh and Srinagar and pass through Lamayuru. It might be a long journey but the scenery and the picturesque views will be fruitful and totally worth a shot. There is also a bus service from Kargil and Leh that departs at 10 am and 12 pm.
By car or taxi, one can easily travel from Leh to the monastery which only takes like 2 hours to reach.
Leh to Lamayuru monastery: 115km (2hr 10min)
Srinagar to Lamayuru monastery: 309km (8hr 9min)
Jammu to Lamayuru monastery: 568km (15hr)
2. Best Time To Visit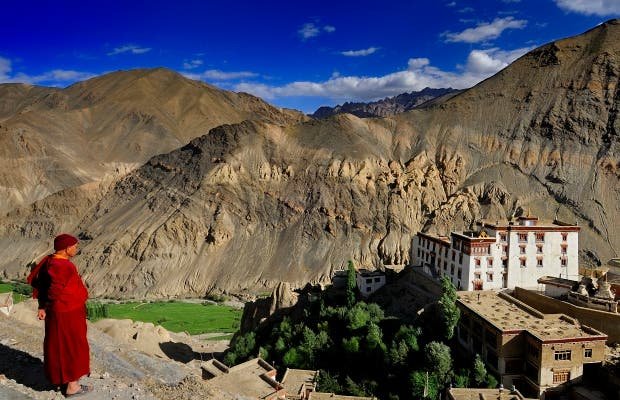 Being at a very high altitude, the place is difficult to visit during the winters due to the extreme cold conditions and frequent landslides.
The best time to visit the Lamayuru monastery would be from May to October. During this time, the weather will be moderate enough for you to experience the sacredness and serenity of the monastery.
Moreover, if you visit this place around June/July, you'll be able to experience the traditional festival of Yuru Kabgyat, held in the monastery itself, a key feature being the Cham dance. Now, who would like to miss such an opportunity?
3. Things To Do Around Lamayuru
Go on camping
There are a lot of places over here to pitch your tent and camp out the night. Imagine how fun it will be setting up those tents, lighting up the fire, and having all those worldly talks with each other till you fall asleep under the star-filled sky.
Lamayuru, Walna, and Hinju are the places where you can set up your camps. But the best location to watch the moonscapes would be to climb up the meditation mountain. March to November would be the best time to settle for a camp in this place.
Meditation and Yoga
A serene place like the Lamayuru monastery will serve as the perfect place for you to meditate and calm your body and soul. The beauty and solitude of this place will also help you in your quest for a better life.
This place also has a yoga retreat centre. Established in 1970 by a yogi, monks and people from the village come over here to practice yoga.
Trek up the Lamayuru
If you are interested in trekking, then this is a good place to do so. You can opt for the trans-Himalaya trekking. This trek goes from Lamayuru to Darcha in Zanskar and is an 18-20 days trek.
Some people also opt for Lamayuru-Wanla trekking which is for a maximum of 5 days.
4. Places To Visit Around Lamayuru Monastery
Wanla Gompa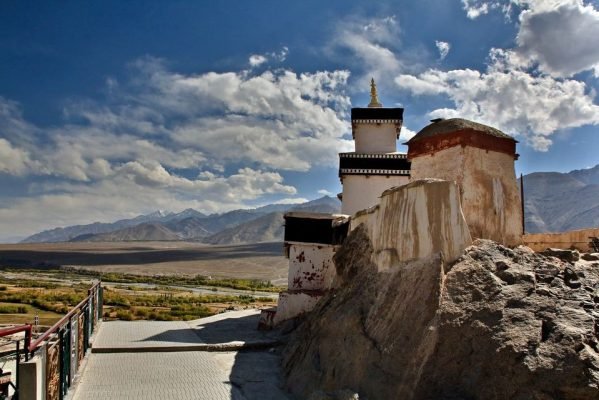 Distance: 14.4km
This is another amazing monastery in the vicinity of the Lamayuru monastery. It is a sub-monastery of the Lamayuru one and thus is like a continuation with an even richer knowledge of the Buddhist practices and traditions.
Wanla monastery also offers stunning views of the surrounding mountains and valleys and is a must-go for people visiting this monastery.
Moonland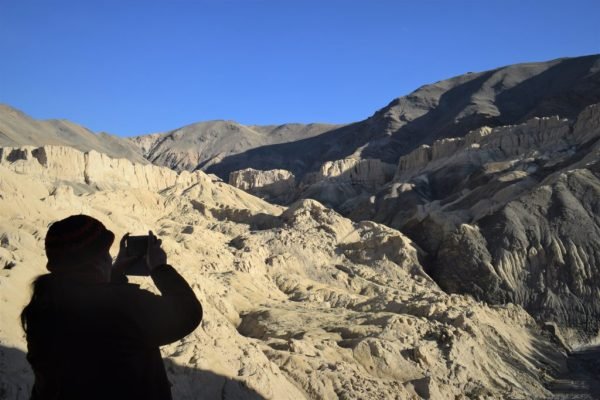 Distance: 3.1km
Have you ever thought about going to the moon? Well, here's your chance to experience the lunar surface by visiting Moonland. This is a stretch of land that greatly resembles the surface of the moon. The uneven surface and the strange rock formations will give you an out-of-the-world experience.
Uleytokpo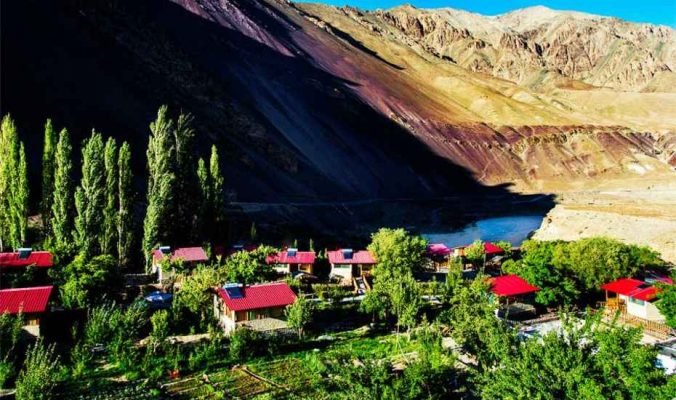 Distance: 46.1km
This is a trekking town located close to the Lamayuru monastery. This place is hailed by tourists because of the amazing camping spot that this place provides as well as the picture-perfect atmosphere.
You can also get accommodation facilities over here where you can put your body to rest or delve into the amazing views it provides.
5. Useful Info On Lamayuru Monastery
Here is some essential information that you can consider before heading out.
Pack up a lot of woollen garments. Because of the altitude, the place is chilly enough.
No Permit (ILP) will be required to visit this place because it doesn't fall in Leh.
You must take permission from monks to take pictures. It's their sacred place, therefore, try to be respectful towards them.
First-aid and mountain-sickness-related medicines should be kept in handy.
If you will hire a car to visit this place, make sure to have enough petrol for your journey.
6. Frequently Asked Questions
Where is Lamayuru monastery?
Lamayuru monastery is a Buddhist monastery located on the highway between Leh and Kargil. It is a wonderful place to visit if you're craving some captivating landscapes and a peaceful atmosphere.
How to reach Lamayuru monastery?
Lamayuru monastery can be easily visited via the roads that connect it to Leh and Kargil. It is only 115km away from Leh and can be reached by boarding on a state bus or renting out a car.
This area can also be visited from Srinagar but you'll be needing to spend an entire day to experience the place in its full glory.
Which is the oldest monastery in Ladakh?
The Lamayuru monastery also known as Yuru Monastery is the oldest monastery in the union territory of Ladakh. With its beautiful architecture and breathtaking views, this place is a must-go for tourists.
Where to stay in Lamayuru?
The Monastery is situated far from the town of Leh, about 125 Km, therefore it will be a wise decision to stay in Lamayuru village overnight. The village offers you plenty of hotel options and guest houses. The monastery itself has accommodation facilities for guests.
Is a permit required for visiting the Lamayuru monastery?
This monastery in Ladakh does not fall in the town of Leh so you do not have to get a permit (ILP) for giving this place a visit.
Why is the Lamayuru region known as moonland?
This region in Ladakh, called Lamayouro is also sometimes referred to as moonland because this area is filled with vast areas of land with uneven terrains and rock formations that eerily resemble the lunar surface. They never fail to awe the tourists who visit this place to have something parallel to the moon.