Mount Abu is the only mountain in the state of Rajasthan, India. This Mountain serves as a source of comfort for the mild climate. It is located at an altitude of 1,722 meters above sea level. The green hills of the Aravalli mountain range surround it. We have hereby curated a list of the 10 best places to visit in Mount Abu:
Mount Abu appears to be nothing short of a wonder in this dessert state. It has a colorful mix of rustic tribal community palaces and elegant homes, including British-style bungalows and royal cottages. This region allows you to enjoy panoramic views all year round. It Covered by vast expanses of green forest, serene lakes, and bubbling waterfalls,
Almost all of the itineraries of Rajasthan have Mount Abu as one of the main destinations to go.
Here are the top places to visit at Mount Abu to enjoy Rajasthan Tourism
1. Lake Nakki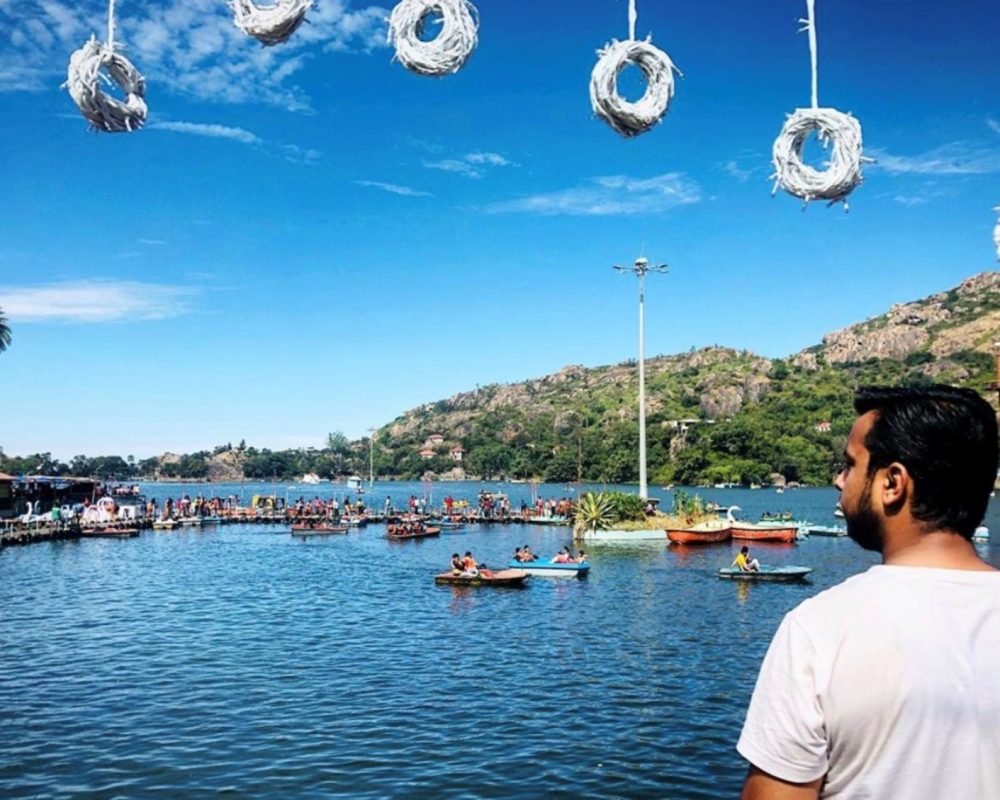 Lake Nakki at Mount Abu is the first artificial lake in India and a privileged place one can see. You can choose to take a boat ride on the lake and watch the sunset as you cross the beautiful hills that surround this place. Lake Nakki is also famous for being the place where the submersion of the ashes of Mahatma Gandhi took place. Toad Rock one more place to visit in Mount Abu located near Lake Nakki.
2. Guru Shikhar
Guru Shikhar is the highest point of this mountain range. It is one of the exquisite places to visit Mount Abu. Taking about 300 steps towards Guru Shikhar, we arrive at the temple of Guru Dattatreya. It is an incarnation of the divine Trinity (Brahma, Vishnu, and Shiva). People visit this place both for its religious aspects and panoramic views.
3. Toad Rock Lookout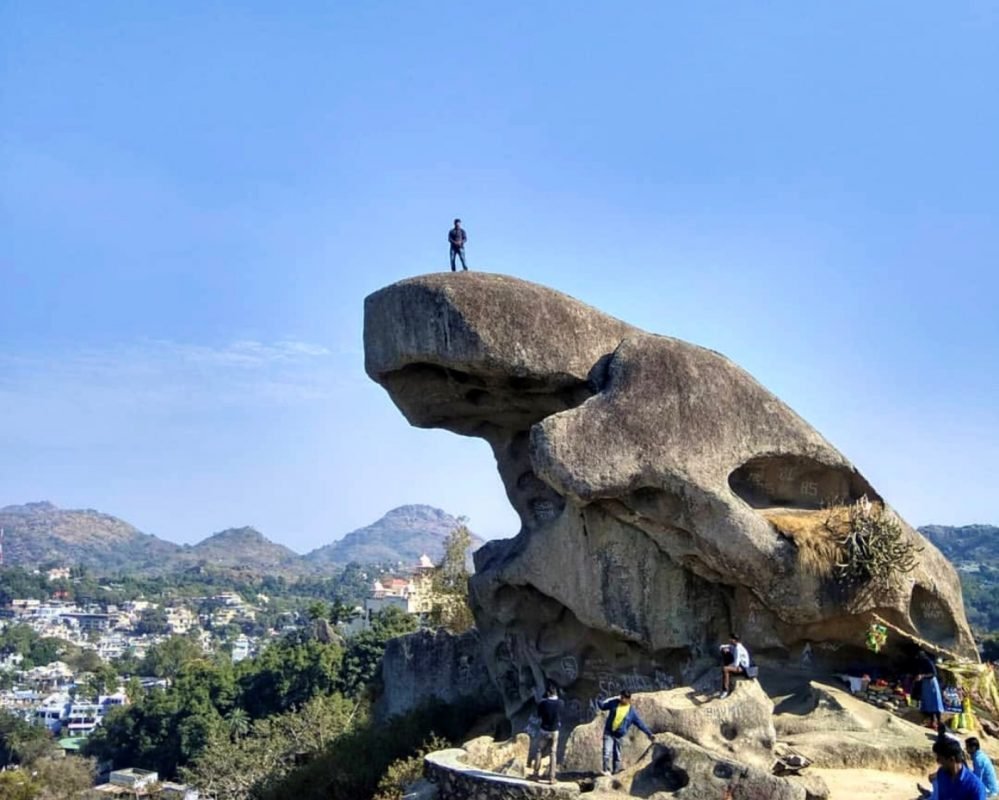 a series of rocks with strange shapes surround Lake Nakki offering many photographs to its visitors. However, one of the most popular destinations located on the main path near Lake Nakki is Toad Rock View Point. This massive rock structure is shaped like a "Toad" and often called "Mount Abu's Pet". It is an excellent illustration of the igneous rocks. People visit this place out of curiosity. Climbing on the rock is quite easy and the views it offers of Lake Nakki and the surrounding vegetation are unprecedented. In addition to the novelty of the rock itself, the magnificent scenery from above enriches the whole experience, which is worth it.
4. Dilwara Jain Temple
Considered among the best examples of architectural perfection in the country are the Dilwara Jain temples. Their establishment took place between the 11th and 13th centuries. A collection of five temple structures, Dilwara Jain temples are located about 2.5 kilometers from Mount Abu. Carved in white marble, these times have intricate interior designs that extend from doors to ceilings. Dilwara Jain temples are a must on Mount Abu.
5. Mount Abu Sanctuary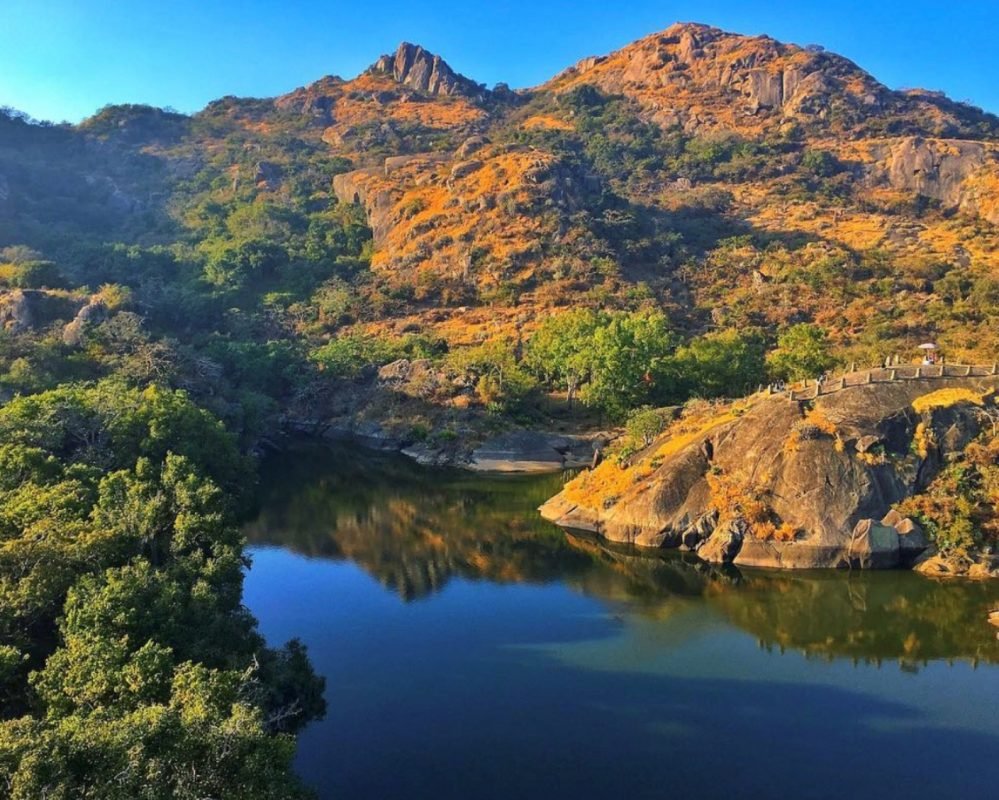 An area of ​​288 square kilometers is the spread of Mount Abu Sanctuary. It is part of the subtropical forest of this region. With a rich flora and fauna, this sanctuary allows you to come closer to some rare and exotic species of wild animals, such as the Indian fox, grey jungle fowl, pangolin, striped hyena, and also Indian leopard are the apex predator here.
6. Peace Park Mount Abu
Located between two famous Aravali peaks, Achalgarh and Guru Shikhar, Mount Abu Peace Park is part of the Brahma Kumari's establishment. With an environment that creates the perfect combination of tranquility and serenity. The park offers a splendid backdrop for silence and peaceful recreation. In Peace park, you can visit the rock garden which has houses of a large variety of Cactaceae, the orchard, the citrus corner and see the numerous floral displays that include Coleus, shrubs, hibiscus, vines and vines, and a magnificent rose garden. The park also has several areas, such as a stone cave and cabins, where people can meditate in a peaceful environment. Brahma Kumaris also offers a guided tour of the park and you can also watch a short video explaining some interesting meditation concepts. This place of solitude in the heart of nature is something you need to experience.
7. Lal Mandir Mount Abu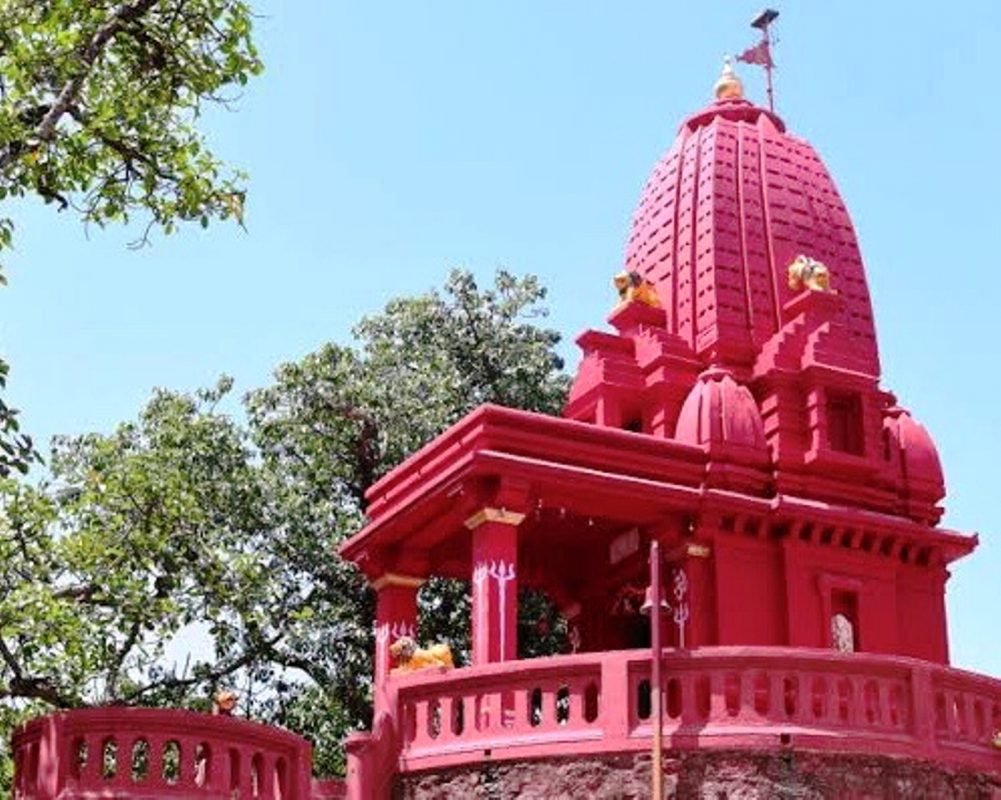 A small temple dedicated to Shiva is located on Delwara Road, near the Jain temple of Delwara. Considered to be one of the oldest sacred places located on Mount Abu, this temple offers a very calm atmosphere. Small and beautiful Lal Mandir got its name from the fact that all the walls of the temple were painted red. The temple is one of the must-see places on Mount Abu, popular with religious and other tourists. It is also known by the name of Shiva temple in Swayambhu.
8. Trevors Tank Mount Abu
Trevor Tank, a crocodile park, is an artificial crocodile farm located about 5 kilometers from Mount Abu. The place offers incredible panoramic beauty and a great place to watch crocodiles, birds and other wildlife (such as the black bear). The green surroundings make it a fairly popular picnic spot that is always worth visiting. The Trevor reservoir is a small but immaculate ecosystem for crocodiles and creates a unique blend of artificial creations and natural environment. Being located in a mountain resort, the Trevor reservoir can be visited all year round. However, it might be a good idea to avoid the monsoon season, as it can make your explorations a little more difficult. Whether you're here for a roller shutter or want to see birds or other wildlife, the Trevor Reservoir is a destination to add to your wish list of places to visit at Mount Abu.
9. Achleshwar, Mount Abu
Achleshwar Mahadev temple on Mount Abu is dedicated to Lord Shiva. Local legends believe that the temple is built around Lord Shiva's imprint. The temple is known for its setting, its magnificent filigree work and the numerous bull statues representing Nandi – the noble bearer of Shiva. Like most temples, people worship Shiva in the form of shiva-linga, but what makes it interesting is the fact that the shiva-lingam is a natural structure here. There is also a well Inside the temple, that would be the entrance to Narak, the hell. When you consider the local legends and stories surrounding this magnificent temple, it is only then you understand why it is worth a visit.
10. Fort of Achalgarh
Fort Achalgarh is undoubtedly one of the most visited places on Mount Abu. It is located about 26 kilometers north of the city. in 1452 AD this fort was renovated and renamed Achalgarh by Maharana Kumbha and was built by the Paramara dynasty. Another popular place to visit near Mount Abu, the Achaleshwar Mahadev temple, is located just outside this fort.